5 reasons to visit Italy in autumn
Submitted by HedonisticHiking on 10 Apr 2019
Anyone who has been on one of our gastronomic walking holidays in Italy will know that they are planned with military precision! In fact the timing of the tour itself is also a big consideration – we want you to experience each region at its finest and also enjoy the best seasonal food!  Researching a new tour is always very exciting but we need to weigh up all sorts of things before we decide exactly when to run it. Not surprisingly, weather is a key consideration. Hiking in Italy in the heat of the summer is, at best, uncomfortable, but head into the mountains too early or too late and there's every chance that your guided walk might be affected by inclement conditions. Several of our tours are for more suited to September and October so if you've never done any hiking in Italy in autumn, read on to find out why you should!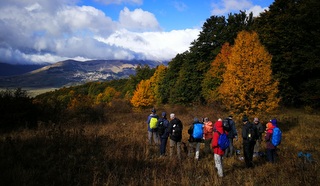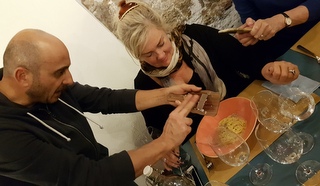 Autumn food and wine
With such a strong emphasis on seasonality, what you eat on a food holiday in Italy in the autumn will be quite different from the spring. More than anything, autumn in Italy is synonymous with harvesting olives and grapes. Roasted chestnuts find their way on to the street corners of Italy's main cities, and pumpkins fill tortellini and plump parcels of ravioli di zucca. October also famously marks the start of the truffle season. If you like the idea of trying a spot of truffle hunting as part of a guided walking tour in Italy, take a look at our Jewels of Piedmont tour in October (23-30). Meanwhile, the Abruzzo is known as the larder of Rome for good reason.  Alongside its abundant crop production, it is here that, in autumn, the famous L'Aquila saffron is harvested.  The Navelli plain produces some of the best saffron in the world, resulting in its appearance in everything from rice, pasta and meatballs to fish.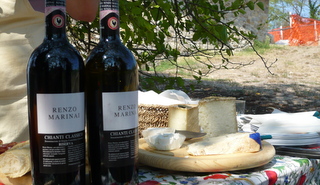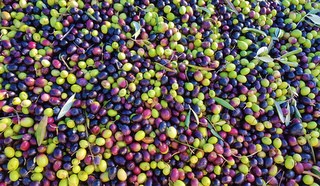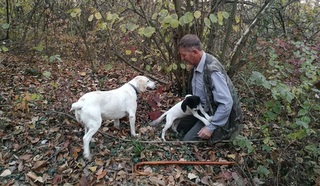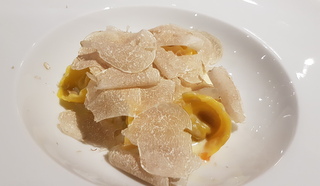 Italy's autumn landscapes
The Abruzzo is also memorable for its stunning autumnal landscapes. Forests of ancient beech trees carpet the mountains, setting them aflame with burnished reds and golds. Our ultimate away-from-it-all autumn experience is an 8-night guided Wilds of Abruzzo tour (12-20 October), with hikes amongst the region's awe-inspiring peaks and silent valleys. There's also a cooking class and a visit to Sulmona, famous for its sugared almonds.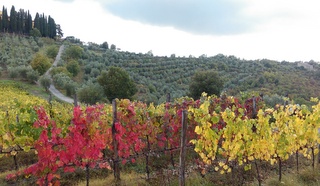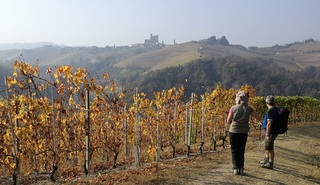 Fewer people
By the time we get to September and October, Italy's more popular towns and cities are beginning to quieten down. By the end of September, when we run our Tuscan Harvest tour (22-29 September), grape harvesting is in full flow and the Tuscan landscape is in maximum show-off mode.  We take time out from our hiking to explore some of the picture postcard villages and enjoy a day in Siena, by now emptied of the summer tourists and the crowds who gather each year for the world-renowned Palio horse race. 
Cooler temperatures
September days are still largely warm and sunny and of course the further south you go, the better the chance of gentle heat.  Even in October, temperatures can still hover around 18-20° in many parts of Italy. On our most challenging tours in the Alps and Dolomites, however, cool, crisp days with plenty of blue sky makes for comfortable hiking and plenty of dazzling photo opportunities!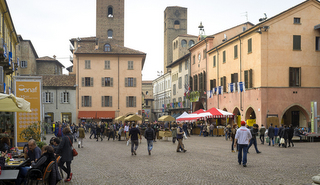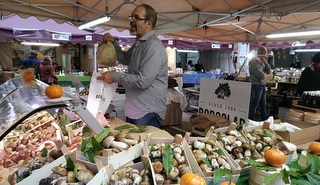 Take in an autumn festival
Many of our guests extend their Italy holiday with guided tours of some of Italy's top cities, more great walks and the best Italian food. Autumn food festivals, which take place in most regions, are a great way to feel part of the scene and get immersed in local culture. In Alba in Piedmont, the International Alba White Truffle Fair dominates autumn weekends (6 October – 24 November 2019).  Elsewhere, towns and villages host festivals celebrating everything from chestnuts, mushrooms and figs to chocolate and nougat.