Three Great Reasons to visit Beechworth
Submitted by HedonisticHiking on 7 Dec 2022
Beechworth is one of north east Victoria's best-preserved gold-rush towns and a charming place for visitors to the region to spend a few days.  Our Hiking around Beechworth weekend takes place from 14-16 April 2023 and includes two fully-guided hikes, two dinners in town including one at the award-winning Provenance restaurant, wonderful picnic lunches showcasing the brilliant produce from the area and a wine tasting of local nebbiolo grapes. Aside from our walking weekend, the town of Beechworth has much to offer, so if you don't know this part of Victoria why not spend an extra day or two exploring?
Historical sites
The small town is packed full of nationally significant buildings reflecting the story of how Australia grew and prospered in the past two centuries.  The Historic and Cultural Precinct is home to Beechworth's Courthouse, the Robert O'Hara Burke Memorial Museum and the Telegraph Station, all of which make for fascinating visits.  Equally interesting is the Powder Magazine, a solid granite building dating from 1859, constructed specifically to store gunpowder used for blasting on the nearby goldfields.  The Old Beechworth Gaol is also located in the centre of town and played an important role in the chain of events that led to the execution of Ned Kelly.  It housed Ned's mother, Ellen Kelly, many of the Kelly sympathisers and Ned himself, alongside his brother Dan and the rest of the Kelly gang.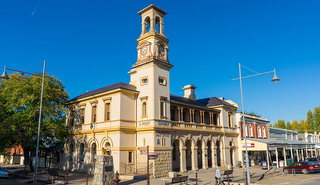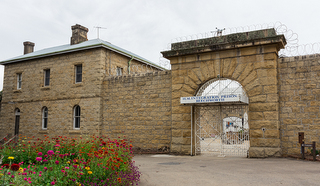 Eating & Drinking
The food, wine & beer scene in Beechworth is vibrant and varied. There are a huge number of eateries to choose from, ranging from cafes and pubs to elegant hatted restaurant experiences.  The famous Beechworth Bakery is a favourite with many, offering a vast array of cakes, slices, pies, pastries and sandwiches. Loved by the locals and regarded as one of Australia's benchmark craft beer producers, Bridge Road Brewers offers the complete craft beer experience. The orchards between Beechworth and Stanley are full of berries, apples, pears, chestnuts and walnuts, so picnic lunches here are a real treat, and many of the food stores in town offer freshly baked breads, artisan cheeses, pickles and olives.  We've also recently heard great things about Isabella's Cocktail Bar, hidden behind Billson's Soda Bar on Camp Street, where renowned Chef Douglas Elder is providing a fabulous menu of seasonal dishes.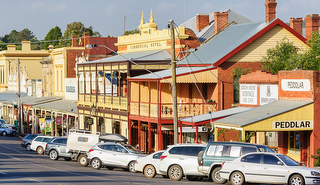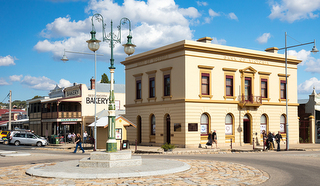 Retail Therapy
The beautifully preserved streets of Beechworth are home to some wonderful shops.  Some of our favourites include the iconic Beechworth Honey Shop. It has over 40 Australian single varietal honeys to taste, a working bee hive and a self-guided educational tour. We also love the Beechworth Emporium for its natural fibre knitwear, including luxurious New Zealand Possum Merino jumpers and soft summery linens.  In keeping with the town's history Beechworth Gold Gemstone and Gold Gallery is a family-owned business housed in the beautiful former 'Bank of Victoria' building.  The gold vault here has been opened to the public and Beechworth Gold holds small rolling exhibitions throughout the year. 
There are literally hundreds of accommodation options in town and the Beechworth Tourism site is a great place to start looking.  Beechworth is an easy drive from Albury airport and about 3 hours drive from Melbourne. 
We'd love to see you there in April, so do get in touch and take the opportunity to explore this fabulous historical gem.