Exploring with Experts
Submitted by HedonisticHiking on 10 Jun 2022
Often when we are visiting major cities at the start or end of our tours, we draw on the knowledge of licensed guides who can truly bring the city to life, or help us to focus on a particular building or artwork. We have worked with a number of highly qualified guides over the years, and we thought it would be good to share them with you here.  Of course if you are travelling in Italy independently of Hedonistic Hiking you would be free to make contact with any of them and book tours to suit your own itineraries and interests.
Freya Middleton: Florence Tour Guide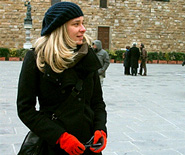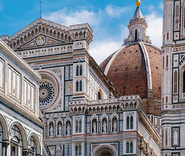 Born in Sydney, Freya has a Bachelor's degree with a double major in French and Art History from Sydney University. She first discovered Europe as a Rotary Youth exchange student in Belgium the year after high school and her passion for art, romance languages, European culture and history was born. During her degree she studied Art history and French language at the Sorbonne in Paris.  She arrived in Florence on a postgrauduate research grant in 2000 and has never really left. She worked at the Peggy Guggenheim Museum in Venice followed by the Venice Arts Biennale before returning to Florence permanently where she has been conducting tours of the city and its museums for many years. She caters to all ages and enjoys bringing the history alive, weaving in stories and anecdotes in order to recreate the atmosphere of Renaissance Florence. She is a licensed tour guide for the city and Province of Florence and all its museums.     www.freyasflorence.com    Contact Freya
Rachel Potts: Rome Tour Guide
   
Born in England but raised in a lakeside village just north of Rome Rachel was convinced she was English until she went to the UK to complete a BA in Philosophy and French. After graduating from Manchester University and taking a course in Garden Design, her love for Italy brought  her back to the area near Rome where she became a botanical guide at the Gardens of Ninfa. This seasonal role she combined with leading groups, firstly tours for students "racing" across Europe, but then more in depth walking tours through rural Tuscany, Umbria, Sicily, Liguria and Basilicata. After a number of years living out of a suitcase she chose to focus entirely on Rome, and took the public exams to be a local guide, and has been showing people round the Eternal City ever since. She is still fascinated by Rome's seemingly endless depth and influence and most of all feels lucky to have a chance to share this interest with others.   Rachel Potts Tours    Contact Rachel.
Alice Salvagnin: Milan Tour Guide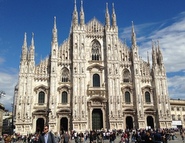 Alice Salvagnin runs private guided tours in Milan and is an experienced guide in the city who comes highly recommended.  She completed a degree in Tourism (IULM University of Communication of Milan) in 2005 and went on to gain a Specialist Degree in the Management of Heritage and Culture (Cattolica University of Milan) in 2008. She collaborates every 6 months with Poleschi Auction House managing relations with foreign customers in the art world and speaks English and French fluently.  Alice can be contacted by anyone with time in Milan looking for a private guide to the city. See her email details or visit the website: http://www.milanprivatetours.com/
Fulvia Olivieri: Turin Tour Guide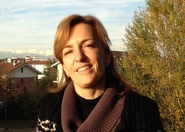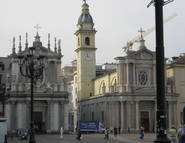 Fulvia is 100% "torinese" and has been working as a freelancer in incoming tourism for more than 12 years. She studied foreign languages (German, English and French) and in 2002 became a licensed tourist guide for Turin and then in 2011 for Cuneo and the Langhe district as well. Both cities are located in the Piedmont region in northen Italy,  surrounded by the the beautiful landscape of the western Alps, and they are rich in history, culture, wine and food traditions. Fulvia is passionate about her region and wants to show the very best of it to visitors. She can design bespoke itineraries depending on individual requirements. You can contact Fulvia by email.
Alessandra Antonelli: Pisa Tour Guide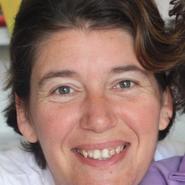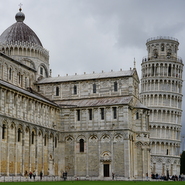 Alessandra was born in Pisa and graduated from the University of Pisa in Foreign Languages, with a thesis on Methodology in Art Criticism. Since 1998 she has been working as a tour leader, and since 2002  has been a licensed tour guide for the City and Province of Pisa. Her tours offer an authentic appreciation of the artistic and cultural background of the area she knows so well, and she is delighted to tailor her tours to suit adults, groups, students or families.  You can contact Alessandra via her email: alessandraantonelli@yahoo.it 
Debora Bresciani: Arezzo Tour Guide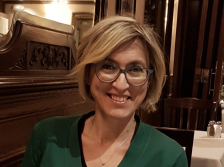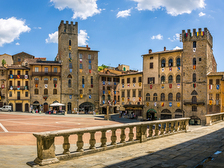 Debora was born, raised and lives in the city of Arezzo.  Driven by curiosity and interest in the city, she became a licensed tourist guide in Italian, English and German. It makes her happy to share the city with those who do not know Arezzo and to see when they appreciate "with the amazement of surprise" the art, history, monuments, wine and food traditions, and the folklore that is on offer.  She likes traveling, meeting new people, and spending time with family and friends, sharing good food and good wine.  She hopes to see you soon and do not hesitate to contact her to create a personalized itinerary according to your interests and needs.  www.travelwithdebora.it/en/