Budj Bim Cultural Landscape
Submitted by HedonisticHiking on 14 Jan 2021
When we are hiking in Italy we are spoilt for choice when it comes to UNESCO World Heritage sites, as Italy has over 50, and almost all of our tours have visits to one of these cultural highlights.  So we are more than excited to now have a UNESCO World Heritage site on one of our tours here in Victoria and to be able to take our guests for the first time to this truly fascinating place.
Budj Bim in south west Victoria is the first site in Australia recognised specifically for its cultural significance to the First Nations people, and was inscribed on UNESCO's World Heritage List in August 2019. It is one of only four cultural sites on the continent at the current time.  The Budj Bim Heritage Landscape dates back thousands of years and shows evidence of large, settled communities systematically farming and smoking eels for food and trade.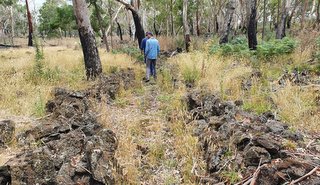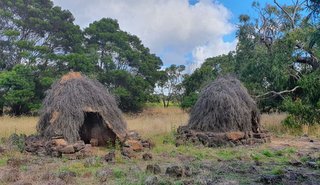 Archaeologists calculate that an eruption of the Budj Bim volcano occurred around 30,000 years ago, sending lava flows from the volcano through to the sea bed 50 kilometres away, evidence of which is still visible today along the coastline. The lava flows enabled the local Gunditjmara to develop one of the largest aquaculture networks in the world. They used the rocks to build funnel systems to divert water into various channels, dams and pools to trap, store and harvest eels, ensuring a food supply throughout the different seasons and therefore allowing semi-permanent settlements.
Walking as a guest on Gunditjmara country is to experience a culture that is over 60,000 years old.  The site is wholly managed by the Gunditj Mirring Traditional Owners Aboriginal Corporation and expert First Nations guides share with visitors the important history of this region.  We also experience lunch provided by the Budj Bim rangers.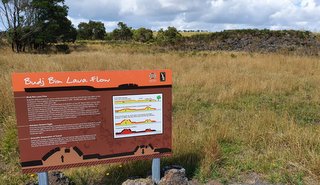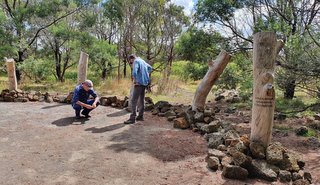 We visit the Budj Bim Cultural Landscape on our South West Coast and the Grampians tour which is brand new for 2021.  It's a fascinating mix of hiking in coastal and mountain landscapes and, as with all our tours, we focus on the very best food and wines the region has to offer. We stay in two accommodations: a charming guesthouse in Portland by the coast and Mount Sturgeon Homestead in Dunkeld at the southern tip of the Grampians mountain range.  Dunkeld is home to the award-winning Royal Mail restaurant, one of Victoria's culinary icons, which we of course have the chance to enjoy.  We have two departures coming up, April 17-23 and May 22-28.