The South West Coast and The Grampians
From the Southern Ocean to the Southern Grampians
Known as "the birthplace of Victoria", the far south west coastal region of our home state is wonderfully wild and remote.  Our new tour here explores this fascinating landscape before we head north across the plains to the spectacular mountains of the Southern Grampians.  Traditional owners have been occupying these ranges for thousands of years and refer to them as Gariwerd.  With three nights in each location we get to enjoy a fantastic variety of hikes, seeing seal colonies, volcanoes, petrified forests, unique rock formations and a rich diversity of flora and fauna.  As with all our tours we focus on the very best local produce along the way and our final evening is at the renowned Royal Mail in Dunkeld, where we enjoy the inspirational cuisine of chef Robin Wickens.  Not only does The Royal Mail have one of Australia's finest working kitchen gardens but also an award-winning wine cellar.  We stay in two accommodations, a charming guesthouse in Portland by the coast and Mount Sturgeon Homestead in Dunkeld at the southern tip of the Grampians mountain range.
Cost: $3795 per person based on two sharing
Single Supplement: $385
What's included?
•    Two professional guides to look after your every need and bring the area to life
•    Six nights' accommodation, 3 nights each in Portland and Dunkeld
•    Five fully-guided hikes
•    Fabulous dinners every evening with excellent local and award-winning wines
•    Final evening in one of Victoria's best restaurants: Wickens at The Royal Mail in Dunkeld
•    Exceptional picnic lunches and snacks en route
•    Private tour of UNESCO World Heritage site, Budj Bim, with a First Nations guide
•    Support vehicle
•    Free transfers to and from Ballarat
•    Comprehensive pre-trip information
Your Health and Safety
See our new protocols to ensure the safety and wellbeing of both our guests and HH staff.
Tour Highlights
Fabulous hiking in coastal and mountainous landscapes
Visit UNESCO World Heritage site Budj Bim
Dine in one of Victoria's finest restaurants
To see a brief film of highlights put together by guest Greg Sedgwick after the tour in March 2022, view it here.
Walking/Terrain
Shortest day: 4km  Longest day: 17.5km
This is a Level 3 hike with 5½ days of hiking.  Undulating terrain on the coast with two big climbs (up to 600m ascent/descent) when in the Grampians. The trails are a combination of purpose-built paths, farm and bush tracks. In the Grampians expect more rugged terrain and some boulder-hopping. Sturdy boots with good ankle support are recommended.  Walking poles are an advantage, especially for the descents. The support vehicle meets the group at lunch each day. In order to maximize your enjoyment of the holiday we recommend you exercise regularly prior to the trip in order to build up your fitness level.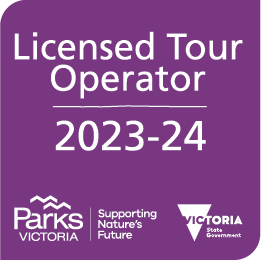 Accommodation
We stay in two different accommodations on this tour, 3 nights in each.
In Portland:  Victoria House - a heritage bluestone Guesthouse close to the sea
In Dunkeld:  Mount Sturgeon Homestead  - a fabulously-restored colonial house on the Royal Mail estate. Some rooms have ensuites and others have private bathrooms. There are two bedrooms which share a bathroom and we also use nearby bluestone cottages if required.
Tour Dates
9 - 15 March 2024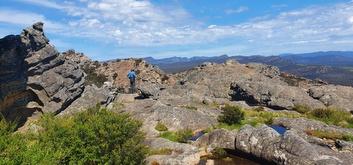 Learn more about our Victorian hikes