6 Good Reasons to visit Abruzzo
Submitted by HedonisticHiking on 30 Jun 2021
You may think that finding a tourist-free region of Italy is improbable, or even impossible. Think again.  The Abruzzo, situated to the east of Rome, is one of the country's true hidden gems. Gloriously green and bordered by the long sandy Adriatic coast, this is one Italian region that should be on everyone's radar, for so many reasons.  We have been running tours here since 2013 and we instantly fell in love with the landscape and the wonderful, warm people of the region.
Pasta and guitars 
Travel round Italy and you'll find a refreshing variation in food from one region to the next so it isn't surprising that the Abruzzese cuisine has its own specialities and distinctive flavours. You won't be surprised to learn that pasta still features on most menus … but you may be puzzled by the 'guitar' connection. The answer is that traditionally, Abruzzese pasta is made with a rectangular wooden frame with parallel wires, the 'chitarra'. The pasta dough is then pushed through the wires with a rolling pin, resulting in a type of square spaghetti, which is served with a variety of sauces such as a meat ragù, a spicy tomato sauce or a spicy Abruzzese pesto. Other culinary highlights include 'arrosticini' meat skewers and saffron, from the province of L'Aquila, which features in traditional risotto. Lamb, wild spinach harvested from the high mountain pastures, and 'patate maritate', a traditional potato dish layered with scamorza cheese, rosemary and breadcrumbs, are all typical of some of the mouth-watering feasts that round off our hiking days.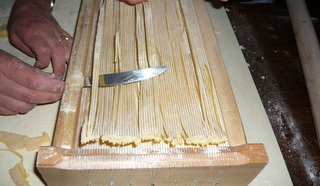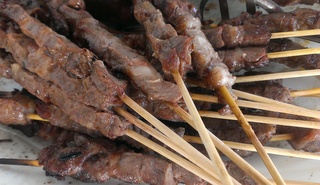 Rivers deep, mountains high
Actually, working up an appetite ahead of those delicious meals is easier than you'd think! Firstly, forget any pre-conceived notion that the Dolomites or Italian Alps are the only mountains in Italy. In fact the Abruzzo is one of Italy's most mountainous regions, with dramatic peaks and rolling poppy-filled hills. Add to that three national parks, over 30 nature reserves and glassy lakes. Spring or early summer, when wild orchids, gentians and peonies are in bloom, is one of the best times for hiking in the Abruzzo.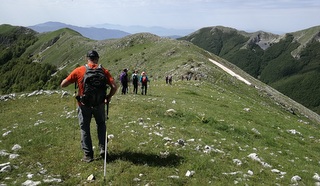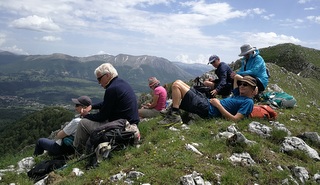 Bear-spotting in the Abruzzo
The region is also home to some extraordinary wildlife. Wild boars, wolves and the Marsican brown bear roam amongst the mountain forests, and while it is rare to catch sight of these, it is not uncommon to find their tracks. In fact, you're more likely to spot chamois and, in the skies above, soaring golden eagles, buzzards and peregrine falcons.
Amazing art and architecture
If art or people-watching is more your thing, the scattering of tourist-free medieval towns and villages on the hillsides and mountain slopes provides plenty of scope. In Sulmona, glorious churches compete with extravagant displays of sugared almonds in shop windows. Meanwhile, the lakeside town of Scanno presents a jumble of tightly-packed medieval palazzi and church spires and Chieti's historic centre boasts spacious piazzas, palazzo-lined streets and thrilling Roman ruins. In L'Aquila, wander through winding streets lined with Renaissance and Baroque building and pause to admire the iconic Fountain of 99 Spouts.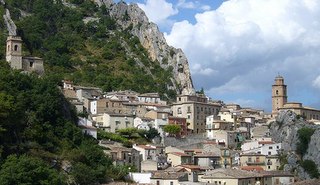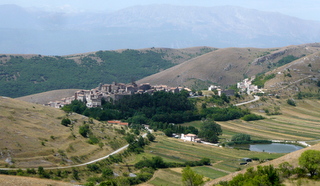 Hundreds of castles and towers
Alongside the churches and piazzas, most villages in the Abruzzo boast a tower or remains of some sort and some of the castles are truly spectacular. Amongst the most popular are Rocca Calascio, home to the highest fort in Italy with a 10th century watch tower, and Mancino Castle, not least for its views over Pescasséroli.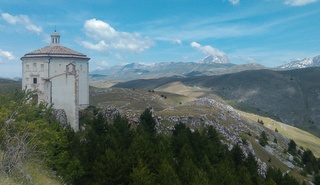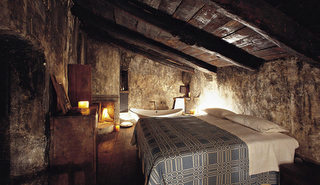 Authentic living – with all mod cons!
So what about accommodation? The good news is that you can combine an authentic experience in the Abruzzo with a touch of indulgence. After all, it is your holiday! One place that really stands out is the tiny medieval village of Santo Stefano di Sessanio. When the village was abandoned by its local inhabitants in search of work elsewhere, the 'albergo diffuso' project was launched to conserve and revive the village. Village homes were transformed into hotel rooms using locally sought materials and artisan traditions. The end result is rustic simplicity with Apennine views, slipper baths, roaring log fires, and memorable dinners in the timbered medieval restaurant.
All being well our Wilds of Abruzzo tour will run in 2022 from June 5-13th and the tour starts and finishes in Rome, so many Hedonistic Hikers choose to spend a few days in the Eternal City before or after the trip.