Chocolate Paradise in Piedmont
Submitted by HedonisticHiking on 5 Jun 2019
Looking for your next chocolate fix? While your inner sweet tooth may instinctively point you in the direction of Switzerland and Belgium, head a little further south and you'll find yourself in the gloriously chocolatey region of Piedmont! Although best known for its internationally renowned wines, cheese and truffles, the region actually produces 40% of all of Italy's chocolate – to the tune of around 85,000 tons a year.
In fact gourmet chocolate is an institution in Turin and neighbouring Piedmontese towns, with the city of Turin having been the chocolate epicentre of Europe since as far back as the 17th century. Its first chocolate house opened in 1678, when the first official licence to produce chocolate was granted, with hot chocolate topping the menu.
Which are the best chocolate stops in Turin?
Today, the luxury chocolate boutiques and cafés are still very much in evidence in Turin. Stop by the Guido Gobino chocolate factory in Via Lagrange for a classic gianduiotto or a more unusual miniature ganache chocolate with Barolo, vermouth, lemon and cloves. Meanwhile, at Peyrano in Corso Vittorio Emanuele II, the family have been making chocolate delicacies for over 100 years. Last but not last, for a taste of the café society for which Turin has become famous, dip into a dense, creamy hot chocolate at the uber-glamorous Baratti & Milano which remains one of Turin's most magnificent confetterie.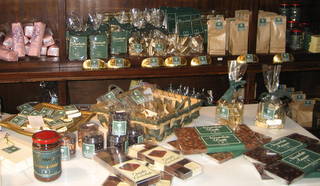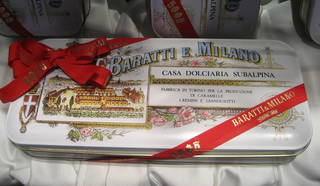 Coffee society and 'bicerin'
The Torinese have elevated the coffee break to an art form. While in the rest of the country people might grab an espresso at the bar, here the favourite caffeinated tipple is a bicerin (Turin dialect for a bicchierino – 'a little glass') a triple layer drink of coffee, chocolate and cream. For the ultimate treat, sip it at leisure in the elegant surroundings of a grand café such as the award-winning Al Bicerin, once the haunt of Puccini and Alexander Dumas.
Gianduiotto
It's the chocolate that everyone loves but finds so hard to pronounce! First invented by Michele Prochet, traditional gianduiotti owe their existence to the shortage of cocoa during the Napoleonic war, and the consequent addition of ground hazelnuts. The gold and silver foil wrapped wedge-shaped chocolates were named after Gianduja, a Turinese carnival mask character.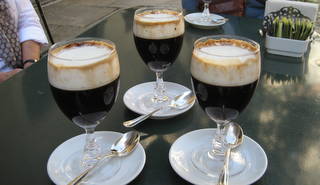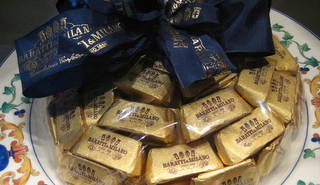 Chocolate kisses and snails
The Barbero shop in the small Piedmontese town of Cherasco has been making Baci ('kisses') di Cherasco since 1881. The small chocolate treats are made from pure dark chocolate mixed with DOC hazelnuts which are roasted in wood-fired ovens and crushed. Snails are Cherasco's other gastronomic delicacy – we always try to pick up a bag or two of the chocolate version to supplement our picnics when we visit the town on our Jewels of Piedmont tour!
Nutella
No article about Piedmont and food is complete without paying homage to Italy's best loved hazelnut and chocolate spread. It origins date back to 1946 when Pietro Ferrero, a pastry chef, invented a gianduia chocolate spread in Alba. Having invented Nutella, Sig. Ferrero went on to create Ferrero Rocher and Kinder chocolates. The Ferrero factory is in the centre of Alba but it is not open to the public.
CioccolaTÒ
One way of getting a chocolatey taste of Piedmont is to visit during Cioccalatò (8-17 November 2019), an annual festival in Turin featuring events, tastings and exhibitions.
If you want to include chocolate nibbling in a bigger picture of Piedmont's gastronomy and incredible wines, our next Jewels of Piedmont tour runs from 23-30 October 2019 and includes truffle hunting and visits to Cherasco and Alba. The tour starts and ends in Turin.