A 2 Star Dining Experience
Submitted by HedonisticHiking on 11 Oct 2022
On the final evening of our Tuscan Harvest tour we dine in one of very few restaurants in Italy to have 2 Michelin stars.  The restaurant is called Arnolfo and is in the centre of Colle di Val d'Elsa, a small town more or less half way between Siena and Florence.  It is named after the sculptor and architect Arnolfo di Cambio, born in Colle in the 13th century.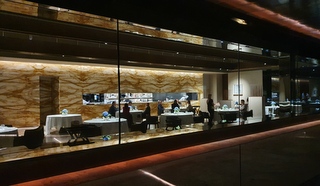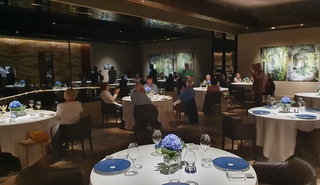 The Chef is Gaetano Trovato and his brother Giovanni is Restaurant Manager and Head Sommelier. The brothers have been working together for decades and, in 2022 which marked the 40th anniversary of the Arnolfo restaurant, a brand-new purpose-built location was opened which is both beautiful and spectacular.  They created the space to reflect their love of the territory and their philosophy of hospitality, and it's sleek design is finished with Siena yellow and Crete Senesi travertine marbles, with huge glass windows giving magnificent views of the medieval center of town.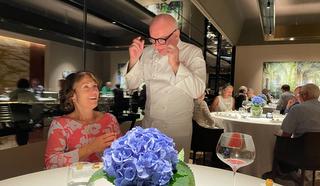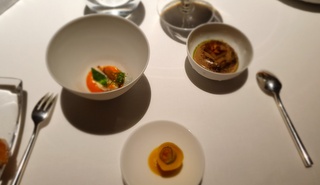 The family originally came from Sicily, moving to Colle di Val d'Elsa when the children were still young.  To make extra money in the summer holidays Gaetano used to work in the local bakery, each day watching bread being made with a sourdough starter and baked in an old wood-fired oven.  He can still remember the smell of the fresh bread permeating the streets of the town and the experience had a profound influence. Even today his kitchen bakes fresh bread twice daily to serve to the customers.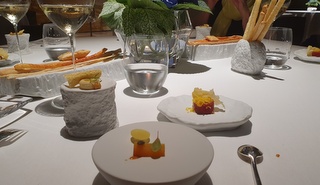 The new kitchens were designed not only to give guests a unique dining experience, but for the environment to be a pleasurable workplace for his young team. He is passionate about the new generation "falling in love" with cooking and handing down the traditions and craftsmanship of his art. Colle di Val d'Elsa is also a famous centre in Tuscany for glass production and glass-blowing, and the restaurant makes use of a full range of specially designed local glassware to adorn the tables and add to the enjoyment of tasting wines carefully chosen to match each course.
Here is a snapshot of our autumn menu, although the written word does not do justice to the exquisite artistry and flavours of the cooking!  In addition to the formal menu below we were treated to 2 trios of tasters (amuse bouche) to start and a little platter of 5 tiny pre-desserts!  We will return to the Arnolfo next September on our Tuscan Harvest tour which runs from September 23rd - 30th. Contact us now and join us next year!
CAPONATINA, MELANZANA, PEPERONI, SEDANO  
A vegetable starter made with aubergine, peppers and celery
SAN PIETRO,  MANDORLA, POMPELMO ROSA
John Dory with almonds and pink grapefruit
VORTICE DI PASTA FRESCA, FUNGHI PORCINI
Swirl of fresh pasta with porcini mushrooms
PICCIONE DI LAURA PERI, SUSINA, MOSTARDA
Pigeon bred by local farmer Laura Peri, served with plums and mostarda
MILLEFOGLIE, MIELE, FRUTTI DI BOSCO
Millefoglie with honey and wild berries