Three of the Best Food Festivals in Italy
Submitted by HedonisticHiking on 16 Sep 2021
Autumn is a great time to visit Italy, not only for its colourful landscapes and cooler temperatures, but because this is a season full of Sagre.  A Sagra is a local festival, the origin of the word coming from the Latin word sacrare, (to consecrate), because in centuries gone by it was usually a religious event or a feast to celebrate the harvest.  It is usual for the members of the local community to volunteer at the event and to cook and serve traditional dishes.  If we were free to visit Italy this year then several of our hiking tours in September and October would coincide with local Sagre.
Porcini Mushrooms - Borgotaro
The Borgotaro Mushroom Fair in Borgo Val di Taro, in the province of Parma, takes place usually over two consecutive weekends in September and this year it will be celebrating its 45th anniversary.  Over the four days there is a full programme of events, including tastings, street food, exhibitions and music.  The Borgotaro mushroom is a particular kind of porcini mushroom, considered superior for its olfactory and aromatic qualities, and absolutely delicious to eat.  The mushrooms grow wild and are found in the woods of the Tuscan-Emilian Apennines where oak and chestnut forests cover the hills. Hundreds of mushroom hunters from all over Italy come to the woods in the months of September and October and we often see them with their collecting baskets on our hikes from Pontremoli. The Borgotaro mushrooms have a PGI designation (Protected Geographical Indication) which guarantees that the product's production, processing or preparation takes places in a specific area.  Borgotaro is a member of the CittaSlow movement, an organisation which encourages support of local food and drink and a generally slower pace of community life.  When our Parma, Tuscany and Ligurian Sea tour runs in September we always get a chance to attend this festival.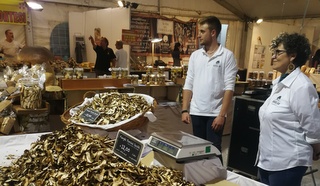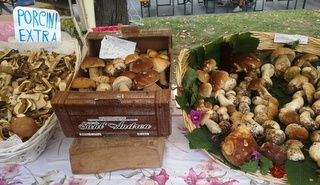 White Truffles - Alba
The small town of Alba in Piedmont plays host to the annual White Truffle Fair which happens each year in October and November. Truffles are traded not just between locals but internationally, as consumers, philanthropists and chefs from around the world bid for the tartuffi bianchi at an auction which is the highlight of the Fair. This famous fungus, or tuber magnatum pico to give it its latin name, has an irregular shape with a pale yellow or ochreish outer layer. Inside the flesh has tiny white veins and it can vary in colour from milk white to dark pink through to brown.  White truffles are collected in a short season from late summer to early winter. What makes them so rare is that the truffle only grows wild, among the roots of specific trees and, in spite of many attempts to cultivate them, this has never been achieved.  Alba's white truffles are nowadays most often sniffed out by trained truffle dogs. White truffle is a seasoning and should always be eaten raw, never cooked, and it is perfect sliced at the table over a fresh egg pasta like tajarin, or over fried eggs. A special truffle slicer is required with a fine blade. Our Jewels of Piedmont tour not only coincides with the Alba Truffle Fair but we also have an opportunity to hunt for the famous fungus with local expert Marco Varaldo and his trusty dogs Lilla and Fido.
       
Chestnuts - Palazzuolo sul Senio
The famous chestnut festival in Palazzuolo sul Senio, not far from Florence, happens every Sunday in the month of October. This festival, known in Italian as La Sagra del Marrone, is a food and wine event dedicated to products typical of the Mugello area, and the chestnuts are selected from local producers and celebrated for their extraordinary quality and sweetness.  A small market is usually set up in the heart of the medieval village in Piazza IV Novembre and many food stands showcase chestnut products, such as the traditional chestnut cakes, breads, tortellini and many other desserts.  The Mugello chestnut, like the Borgotaro mushroom, has the PGI designation.  In 2018 Palazzuolo sul Senio was included among "I Borghi più belli d'Italia", one of the most beautiful small towns in Italy. Our Northern Tuscany and Ravenna hike brings us to this wonderful spot in October and we have the chance to enjoy the Sagra.