Ravenna's mosaic masterpieces
Submitted by HedonisticHiking on 24 Aug 2017
Anyone joining our new tour next year in Northern Tuscany and Ravenna will have the chance to visit this extraordinary city. Ravenna is a treasure trove of exquisite art and culture and has ancient origins and a glorious history. It was a capital three times: of the Western Roman Empire in 402AD, of Theodoric King of the Goths in 476AD, and of the emperors of Byzantium from 540AD for just over 200 years.
The UNESCO organisation has given eight Early Christian monuments of Ravenna World Heritage Site status. They are decorated with precious marble, stuccos and mosaics, and reflect the major political and religious events that took place in Ravenna in the fifth, sixth and seventh centuries.  It is an awe-inspiring collection so here we have tried to lay out simply all that there is to see:
The Mausoleum of Galla Placidia was built for the half sister of Roman Emperor Honorius. It is small but lavishly decorated with fabulous mosaics against a dark blue background. 
The Neonian Baptistery is ornate with inlaid marble, stuccos and multi-coloured mosaics in the cupola, and is the finest surviving example of an Early Christian baptistery.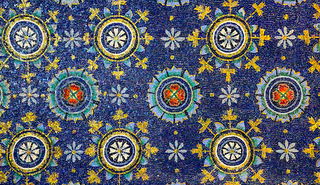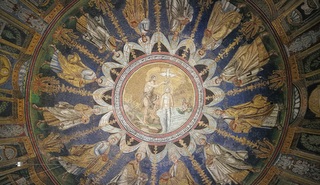 Detail of the Mausoleum of Galla Placidia                              The Dome of the Neonian Baptistery
The Basilica of Sant'Apollinare Nuovo was built during the reign of the Goths.  The stunning interior has mosaics in traditional Roman style that also show a strong Byzantine influence. 
The Arian Baptistery was also built by the Goths, and the well-preserved mosaics show the baptism of Christ and details that reveal principles of the Arian faith.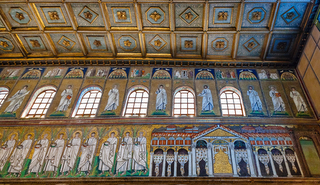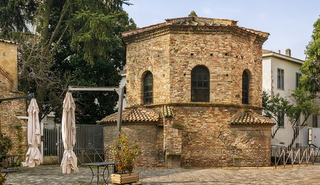 Interior of the Basilica of Sant'Apollinare Nuovo                      The Arian Baptistery
The Basilica of San Vitale, dating to the time of  Byzantine Emperor Justinian, is one of the finest examples of Byzantine architecture in Italy. It combines elements from both the Western and Eastern traditions, with lavish interiors decorated in greens, golds and blues.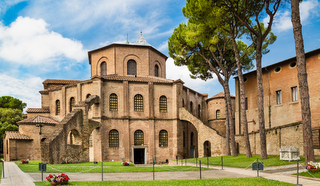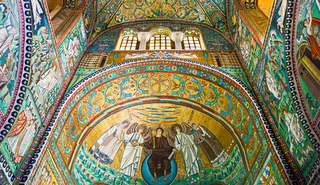 Exterior and interior of the Basilica of San Vitale
The Mausoleum of Theodoric is a unique architectural work, constructed out of large blocks of uncemented stone with a 300 tonne dome, and is the only surviving example of a tomb of a barbarian king of this period. 
The Archbishop's Chapel, housed in the Museo Arcivescovile, has beautiful mosaics and a carved ivory throne.
Five kilometres from the centre of Ravenna is the Basilica of Sant'Apollinare in Classe. This impressive building has a cylindrical bell tower, vast interiors and rich marbles and mosaics in its star-spangled apse.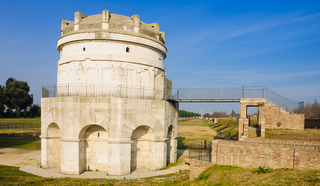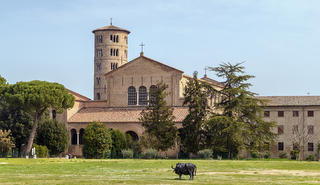 The Mausoleum of Theodoric                                                   The Basilica of Sant'Apollinare in Classe
Alongside these celebrated UNESCO sites, Ravenna has an elegant centre with wide piazzas, attractive public gardens and the tomb of Dante Alighieri, Italy's famous author of The Divine Comedy.