Ribollita
This classic Tuscan soup is something we always enjoy on our Northern Tuscany and Ravenna tour with Francesco at Trattoria Ai Portici in Palazzuolo sul Senio.  The name literally means "reboiled".
Ingredients for 8 people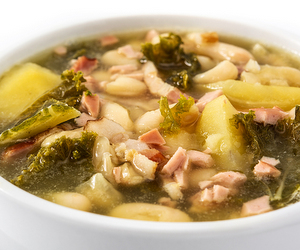 Dried white cannellini beans gr. 400
Black cabbage gr. 400
Savoy cabbage (half a ball) gr. 700
Chard leaves 300 g
2 Medium potatoes 
• 1 tablespoon of home-cooked tomato sauce or 300 g of canned peeled tomatoes
• Thyme 
• Herbs (1 onion, 2 cloves of garlic, 2 stalks of celery, 2 carrots)
• Extra virgin olive oil 
• Salt and black pepper
• Stale, wood-fired, unsalted bread, 400 g
Method
Cook the beans, soaked the night before, in two liters of slightly salted cold water, sieve about three quarters of them and put the remainder back into the cooking broth.
In a large saucepan, brown the chopped onion and garlic in eight tablespoons of oil and, as soon as they soften, add a little thyme, the carrots and sliced ​​celery. After a while, add the potatoes and the remaining cleaned, washed and chopped cabbage and chard leaves. Add the home-made tomato sauce diluted in a little hot water (or the peeled tomatoes), add salt and simmer for a few minutes.
Pour in all the bean broth and cook slowly for about an hour, adding water if necessary. Finally add the whole beans.
Cut the bread into thin slices and put them in the soup, then stir well, cook for a few minutes and remove from the heat.
Let it rest for a long time (overnight is best for flavour), then "reboil" for a few minutes, adding a little oil. Serve the ribollita hot or warm, with a drizzle of raw oil and freshly ground pepper.  Never serve this soup with cheese!
Laura's Zucchini Soup
Pour three tablespoon of extra virgin olive oil in a tall sauce pan. Chop a leek and fry it slightly. Dice two big potatoes and cover with water (or chicken stock, or vegetable stock).  When it starts to boil toss in four big zucchini (diced) and add rock salt.
After 20 min blend everything and finish with fresh mint leaves, toasted pine nuts, grated Parmesan cheese, white pepper and a swirl of olive oil
You can add some croutons if you like.  These quantities should suffice for four people.
Zuppa di Lenticchie
The area around Santo Stefano in the Apennine mountains where we hike on our Wilds of Abruzzo tour is famous for its lentils.  Lentils are hardy plants which can survive the harsh mountain conditions and are full of vitamins, iron and protein. Their small pods usually contain between two to four of the lens-shaped legumes. We were given the recipe for a classic local lentil soup by Liliana in the agriturismo "Al Borgo" where we eat with our groups on the tour and it couldn't be simpler.
Heat five or six whole cloves of garlic in a little oil, add the Santo Stefano lentils and cover with water. Add a slice of pork fat and a thick slice of pancetta and several bay leaves to the liquid and bring to the boil and then simmer for around 40 minutes. The pork fat slowly dissolves, so remove any remnants before serving, but its addition gives a wonderful flavour to the broth. You can add a little extra water if required during the cooking time.
Goulash Soup
Guests on our Slovenia and Friuli tour have asked for the recipe of Goulash Soup which we had in the Rifugio Pelizzo high on Mount Matajur. Isabella at the refuge has kindly shared her recipe:
In a large casserole slowly simmer 2 finely chopped onions in olive oil with a little rosemary and sage and thyme if you happen to have it.
Cut into small cubes about 200 grams of lean beef and add to the mixture. When well browned, add a glass of red wine. Meanwhile, cut into small pieces two or three peeled potatoes. Add to the meat a tablespoon of cornstarch dissolved in cold water, add the potatoes, some salt and a generous sprinkling of paprika, a little of a hot spicy one, but more of a sweeter one, like the Hungarian Sweet Paprika which is typical in goulash recipes.
Cook slowly adding good beef stock and water until the pieces of meat are very tender.
Spelt Soup
1 onion
1 clove garlic
Finely chopped stick of celery
1 finely chopped carrot
Glass of red wine
Approx 300g spelt - rinsed well
Sprig of rosemary and a bay leaf
1 tin of tomatoes
Water
Finely chop the veg and fry off in some oil and add the rosemary and garlic. When soft, add the spelt and a generous splash of wine. Add the tinned tomatoes, bay leaf and about 500ml water. Bring to the boil and then simmer for 40 mins - the spelt should be "al dente". You may need to top up the water. Check for seasoning and add salt and pepper. If you like you can add cannellini beans or some brown lentils. Serve with a drizzle of good quality olive oil.
Spicy Chickpea Soup
This soup really is a meal in itself and uses lots of lovely Moroccan spices.  The flavours in this are totally different to European tastes and full of eastern promise ...  Chickpeas are protein-rich and excellent fuel for hikers and this soup could really fill you up for a day's walking.
Ingredients
500g of soaked drained chickpeas (or 2 tins)
1 tin of chopped tomatoes
1 medium onion chopped
5 or 6 cloves of pressed garlic
Two thirds of a teaspoon of ground cinnamon
Two thirds of a teaspoon of ground cumin
Two thirds of a teaspoon of paprika
A good pinch of cayenne pepper
Half a teaspoon of sugar
Approx 600ml of vegetable stock
Extra Virgin olive oil
Three good handfuls of baby spinach
Sauté the onion and garlic in the olive oil on a low heat for about 10 minutes, and add the spices and sauté for about a minute more. Add the tomatoes, chickpeas, stock and sugar and a little salt and pepper.  The chickpeas should be just covered by the amount of liquid. Simmer for around 45 minutes.   Remove pan from heat and mash some of the chickpeas in the pan using a potato masher. Put back on heat and stir in the spinach leaves until they wilt.  Serve with a drizzle of olive oil on top. If you like your soup a little thinner you could add more stock after you have mashed the chickpeas.
Pea, Broad Bean and Mint Soup
Those of us lucky enough to be in Italy in the next few weeks will be enjoying the broad bean (fava in Italian) season and this soup is light, summery and refreshing.
Ingredients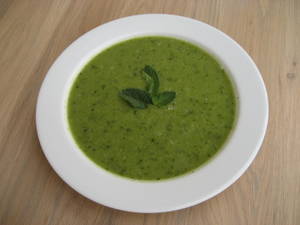 500g of fresh (or frozen) mixed peas and broad beans 
Extra Virgin olive oil and a knob of butter
1 medium onion chopped
1 litre of vegetable stock
A bunch of fresh mint
A few fresh thyme leaves
Sauté the onion and thyme in the oil and butter on a low heat for about ten minutes.  Add to this the stock and the peas and beans, and simmer until the beans are very tender.  Add salt and pepper to taste. Add roughly chopped mint leaves and cook for a further minute. 
In a blender whizz together all the ingregients and return to the pan to heat through if required. 
Serve with a swirl of olive oil and a few whole mint leaves.  You could sieve this after blending if you wanted a very smooth texture.
Pappa al pomodoro
This is a classic Tuscan tomato and bread soup which has very humble origins but is a great way to use up old stale bread - in fact the recipe calls for it.  It's hearty and satisfying and brings to life some of the true flavours of Italy.
Ingredients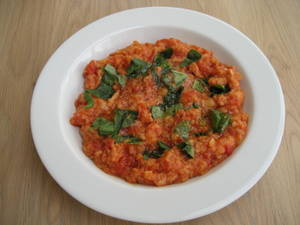 500g peeled, chopped fresh tomatoes
250g stale crusty bread diced into small pieces
1 litre of vegetable stock
4 cloves of pressed garlic
Roughly chopped basil
Extra virgin olive oil
In a bowl cover the stale bread in the warm stock for about an hour until it soaks up the liquid.  Sauté the garlic in about a tablespoon of olive oil slowly and then add the tomatoes and simmer for about 20 mins.
After an hour or so squeeze any remaining liquid out of the bread and add it to the tomatoes with a little salt and pepper and cook for another 15 minutes over a low heat.
Serve with a good glug of the olive oil on top and the torn basil.  In the depths of winter you could eat this piping hot, but in the summer its nice served just warm.