Cinzia's Antipasto
Ingredients:
1/1.2kg of courgette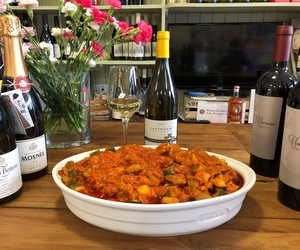 s
2 large or 4 small white onions 
1 water glass of sunflower oil or olive oil
1/2 water glass of white wine vinegar
400g tuna in oil
1 small bottle of ketchup 400ml
1 tube of tomato purée 200g
Salt and pepper
Method:
Cut the courgettes in pieces 2x3 cm and slice the onions thinly.
Fry the onion for 3 minutes in two tablespoons of oil, then add the courgettes and let fry for another 3 minutes. 
Add all the remaining ingredients in a deep pan. Leave the tuna aside. 
Bring to the boil and then simmer for 20 min. Leave it to cool slightly and then add the tuna.
Put it in sterilised jars and you have a delicious antipasto ready for the winter time. 
Valentina's Tarallini
Hikers on our Tuscan Harvest tour in September 2018 were thrilled to eat these traditional and yummy little dough snacks prepared by Valentina during our tasting of their wonderful Bichi Borghesi wines from Scorgiano.  Here's how to do them:
40 gr pine nuts
8/10 basil leaves and 2/3 mint leaves
A couple of chives and two sage leaves
300 gr flour
80 gr lager
Approx 50 gr water (as much as is needed)
70/80 gr olive oil 
10 gr Parmesan cheese
Salt
Chop the herbs, parmesan and pine nuts. In a large mixing bowl mix all the ingredients until you have an elastic dough. Make the dough into a ball and rest it in the fridge for 20 mins. Cover a baking sheet with baking paper and heat the oven to 180 degrees (fan oven).  Take a small piece of dough and roll it in your hand to make a ring shape, and lay on the baking sheet. Brush all the tarallini with cold water and bake for 30/35 mins until they are golden in colour.  Cool on a rack and enjoy with an aperitivo!
Iole's Mum's White Zucchini Parmigiana
Ingredients: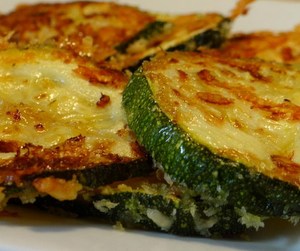 500 g zucchini
200 g of mozzarella or scamorza cheese (white or smoked)
200 g of emmental
200 g of cooked ham (optional)
Extra virgin olive oil
Salt
Parsley
00 flour
Grated cheese (Parmesan or other to your taste)
Wash the zucchini and slice them thinly and salt them lightly. Take a baking dish and add a little oil. Now pass some zucchini slices in flour and place them in the baking dish. (If you want, you can fry or grill them before the following process! If you fry them, first you pass the zucchini in flour and beaten eggs and then you fry them; if you grill them, first brush them a bit with oil and then grill).
Process:
Cover the first layer of zucchini with ham (optional), then slices of emmental cheese and mozzarella or scamorza. Sprinkle with a handful of grated cheese and chopped parsley, and start to arrange other slices of zucchini as before until the end of the ingredients. Of course the last layer must be of cheese. Sprinkle with more grated cheese and a little extra olive oil and bake in oven at 200 ° for 30 minutes or at least until the surface forms a delicious golden crust. Take out of the oven and let it cool a little before serving your white zucchini parmigiana.
Millefoglie di Melanzane
This is the recipe for Shirley's Millefoglie di Melanzane, which we enjoyed on our Palio tour this year in Siena at her lovely restaurant Vivace. Shirely is not a quantity chef but does everything by sight and not measurements. So, in her own words:
1. Eggplants/aubergines need to be sliced about 1cm thick in rounds, tossed in flour and deep fried until golden.
2. For the tomato sauce (Napoletana) put a lot of extra virgin olive oil in a saucepan with a piece of garlic. When hot add a can of whole peeled tomatoes, add a little sugar and salt and cook for about 20 minutes. When cooked add fresh basilico.
3. For the Pappa Pomodoro you will need to cube some old bread and dry out further in the oven, this is to be added to the tomato sauce and combined until smooth.
4. Take a metal ring mould and place the first layer of eggplant, then pappa pomodoro and keep layering until to the top of the ring. In the last place a slice of bufala mozzarella.
Remove the ring 'e voila' ! A batch can be made in advance and kept in the fridge until needed, then just zap in the microwave to reheat. For the cheese sauce heat cream in a saucepan and add gorgonzola cheese, rosemarino ...do not boil or the sauce will split.  Serve underneath the eggplant!
Red Onion Sformato
This is an antipasto we always enjoy at Ristoro di Lamole, high in the Chianti hills of Tuscany, which is unbelievably delicious!
(For Four) Chop and cook in olive oil 4 sweet red onions (add a teaspoon of water to stop them burning) and add a little salt and pepper.
Separately prepare a fairly thick bechamel sauce with 1/2 litre of milk, 40g of butter, 20g of fresh black truffle or a drop of white truffle oil and 30g flour.  At the restaurant they use butter blended with fresh truffle or a dash of truffle oil to give the same flavour.
Wizz the cooked onions in the blender and add the bechamel with two tablespoons of grated parmesan cheese.
Pour the mixture into aluminium moulds prepared with butter and flour to prevent the flan from sticking.  Place the moulds on a baking tray with 1 cm of water in the oven dish, and cook at 150° for around 30 mins.
After cooking allow the flans to rest before plating up. To really finish the dish, generously grate fresh black truffle on top of each one.
Blue Cheese and Pear Risotto
This recipe belongs to Alberto at Il Sigillo restaurant near Saluzzo in Piedmont.  Northern Italy is famous for its risotto dishes, where the conditions along the Po Valley are perfect for rice cultivation.
Ingredients:
Arborio Rice (allow approx 50g per person)       
Blue Cheese from Monviso (you could substitute gorgonzola)
Abate Pears
Saffron
Butter
Spumante Brut
Dry white wine
White onion
Olive Oil
Salt and Pepper
The make the stock brown chopped onion, celery and carrot in olive oil with veal bone marrow, cover with salted cold water, bring to the boil and simmer for around an hour.
Method:
Peel the pears, and cover them with the Spumante.  Add the saffron to infuse in the liquid and cook in the oven for 10 minutes at 180°.
In a large pan brown the chopped onion in olive oil, add the rice and stir for a couple of minutes. Add a good dash of the white wine and allow it to evaporate. Then cover the rice with the hot stock and let it continue to cook for around 10 minutes.
Cube the pears and add them to the rice and let them cook for a further 5 minutes.  Turn off the heat and allow the blue cheese to melt into the rice with a little butter and black pepper. Allow the risotto to rest for one minute in a copper pan before serving.
Pesto
This recipe is from our favourite Osteria della Bietola in Pontremoli in the north of Tuscany.  They are close to the region of Liguria which is famous for its fragrant sweet basil and they make the most delicious pesto.  Here's how they do it:
 Ingredients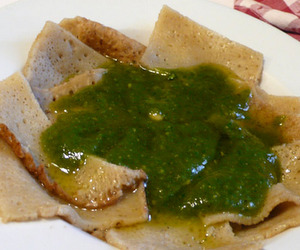 50/60 fresh basil leaves
 2 cloves of garlic
 Extra Virgin Olive Oil
 Pine Nuts
 Grated parmesan and pecorino cheese
 Salt to taste
Method
Put in a blender the basil leaves, pine nuts, chopped garlic and a little salt.  Add a handful of the grated parmesan and pecorino and blend again. Pour the mixture into a bowl and add the olive oil until you have an almost creamy consistency.  In Pontremoli they eat it with their unique pancakes known as "testaroli" but it is delicious on fresh pasta too.
Polpette Contadine
This traditional meat balls are one of the ancient recipes from Abruzzo we learn how to make when we stay at the Albergo Sextantio in Santo Stefano.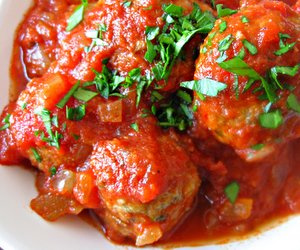 Ingredients
(Serves 4)
 
300g of mixed minced lamb and pork
100g of small chunks of dry bread, soaked in milk and squeezed out
1 egg
50g grated pecorino sheep's cheese
20g breadcrumbs
Clove of crushed garlic
Fresh flat leaf parsley
Salt and black pepper
Method
Mix together well all the ingredients in a bowl with your hands and add the egg at the end to bind them all together.
Roll them individually in the palms of your hands until they are small round balls.
Fry them in hot olive oil and try to get them evenly golden all over.  You can eat them like this or cover in rich tomato sauce.
Mortadella Mousse and Pork Balls
These two easy starter recipes were cooked by Mick and served on our Lazy Lunch menu in February 2015.
Mortadella Mousse - Serves 4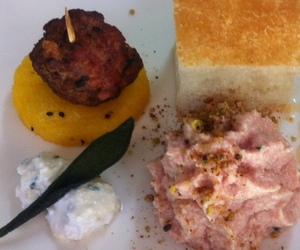 200g good quality Mortadella - available in supermarket deli section
1 egg white
150 mls thickened cream
Pepper
Squeeze of lemon juice
Method:
In the food processor wizz the mortadella until it becomes a paste.  Add a sprinkling of pepper and the lemon juice.  Place in mixing bowl. Add 1/3 cream and stir. 
In two other bowls separately whisk the cream and the eggwhite until they both peak.   Fold whipped cream into the mortadella mix and then fold in the egg white and serve with squares of fresh foccaccia.  This is the signature dish of the chef Massimo Bottura at the Osteria Francescana in Modena.  We tried it there and loved it!
Pork Balls
250g pork mince
1 finely chopped onion
1 finely chopped garlic clove
Chopped mixed sage, parsley, thyme, chives and oregano
1 egg yolk
Pepper and salt
Method:
Mix together all ingredients in bowl and refrigerate.
Shape into small bite-size balls and fry in pan until golden brown all over.  Make the polenta as per instructions and add a knob of butter.  Flatten out onto tray 1.5 cm thick.  Using a cutter, make circles 4-5 cm across.  Heat olive oil in pan and fry until golden brown on both sides.  To serve, place pork ball on polenta and serve with creamy horseradish sauce.