Sample Menu - A Tuscan Harvest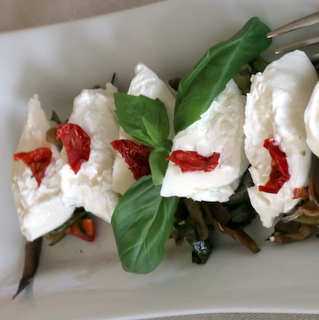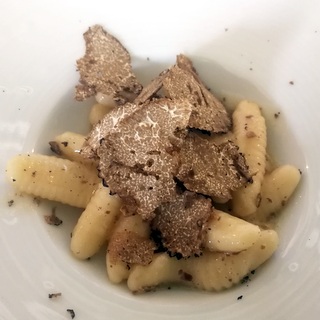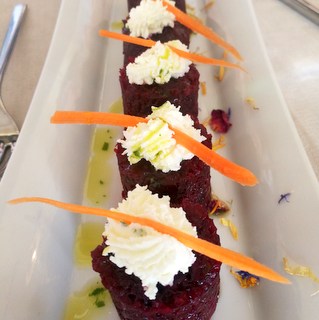 Quite apart from the food, the Ristoro di Lamole is stunning for its position high in the hills above Greve in the heart of Tuscany's Chianti Classico vineyards. We come here on foot on our Tuscan Harvest tour to meet up with old friends Filippo and Paolo and be treated to a selection of their exquisite Tuscan delicacies. Their cooking has a real lightness of touch and celebrates the best seasonal and local ingredients. This is a lunch stop for us on this tour, so we have a wide selection of tiny tastes of many different dishes which just keep coming, served on the pretty terrace overlooking the immaculate vines which lie beyond. This is the ultimate long, lazy Italian lunch!
Carciofi con prosciutto - Artichokes served with thinly sliced prosciutto ham
Bruschette di pomodoro fresco - Toasted Tuscan bread with fresh chopped tomatoes, olive oil and basil
Carne cruda - Italian-style steak tartare
Barbabietola cruda con formaggio fresco di capra - Beetroot with fresh goat's cheese
Burrata con zucchine e pomodori secchi - Burrata cheese served with zucchine and sun-dried tomatoes
Crespelle con zucchine e pecorino - Fine pancakes served with zucchine and sheep's cheese
Cavatelli con tartufo nero estivo -  A hand-made twist of pasta served with a shaving of black summer truffle
Wine choice: Tre Calvi Rosato
A rose wine made by the owners of the restaurant from the local Sangiovese grape.  The label represents the three bald heads of the winemakers!
Wine choice: Lamole di Lamole Chianti Classico
The historic Lamole di Lamole winery stands on a building dating from the mid-14th century just close to the restaurant where we are eating. Their Chianti Classico is made with Sangiovese grapes planted in high-altitude vineyards, and the wine is aged first in steel before being transferred to oak casks. It is the ideal partner for traditional Tuscan dishes.
On all our tours we offer a variety of dining experiences, from small characteristic osterias to restaurants of renown and, on occasion, award-winning establishments with big reputations. We work hard to plan menus which celebrate the best local and seasonal ingredients and which showcase the traditions of the regions where we are hiking. We are often quite literally walking through the menu each day as we pass vineyards, orchards, waving wheat fields or fishing ports, and our time spent with cheesemakers or truffle hunters truly helps to bring the menus to life. We also seek to balance the evenings so that dinners with four or more courses are interspersed with lighter meals, and we always take into the account the amount of walking completed on a given day. It goes without saying that all courses are matched with excellent regional wines and we like to share a little of our local culinary knowledge before the start of each meal.