Sample Menu - Southern Italy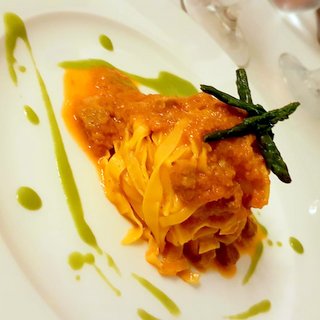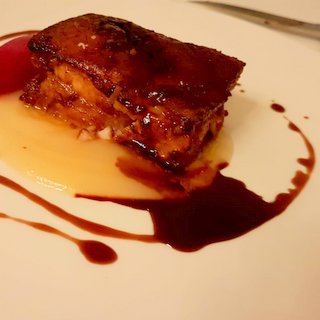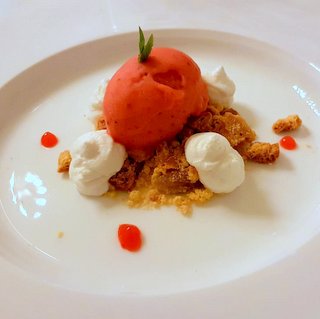 This is our final night on the Southern Italy tour where we find ourselves in the extraordinary cave city of Matera. In the 1950s the town was dubbed "the shame of Italy" but today it has regenerated its ancient cave dwellings to make spaces for hotels, restaurants and craft shops and in 2019 it will be a European Capital of Culture. This restaurant is situated in an historic palazzo on the edge of the Sassi (cave neighbourhood) and the menu cleverly combines the traditional specialities of the region with a modern twist.
Antipasto:
Mousse di ricotta    A light mousse of local sheep ricotta cheese
Baccalà acqua di ceci e crusco   A taste of salt cod on a chickpea sauce flavoured with cruschi - the famous fried dried chillies of Southern Italy
Uovo e ciambotta    A speciality of Basilicata - a dish of eggs, onions and peppers
Wine Choice: Martino - Greco "I Sassi"
This family have been making wines in the area of Vulture in Basilicata for over a century.  This white is made with 100% Greco grapes, a variety brought to the south of Italy originally by the Greeks.
Primo:
Tagliolino al ragù d'agnello e crema di piselli   A hand-made ribbon pasta with a lamb and pea ragout  
Wine Choice:  Masseria Cardillo - Bacche Rosa
This is a light red (cerasuolo style) made with Primitivo grapes which pairs well with antipasti dishes, soups, rice and pasta dishes.
Secondo:
Pancia di maiale con crema di sedano rapa e salsa all'aglianico   Pork belly with celeriac cream and a red wine sauce
Wine Choice:  Tenute Iacovazzo - Primatem Primitivo
The vineyards of this winery are located a few kilometers from the Ionian coast at Metaponto.  The wine is made with 100% primitivo grapes which thrive in Southern Italy and it is aged in stainless steel tanks before being transferred to french oak barrels.
Dolce:
Gelato ai lamponi con Crumble e crema di ricotta    Raspberry icecream with crumble and ricotta cream
We finished dinner with a taste of a local liqueur made from walnuts, known as Padre Peppe's Elixir di Noce.
On all our tours we offer a variety of dining experiences, from small characteristic osterias to restaurants of renown and, on occasion, award-winning establishments with big reputations. We work hard to plan menus which celebrate the best local and seasonal ingredients and which showcase the traditions of the regions where we are hiking. We are often quite literally walking through the menu each day as we pass vineyards, orchards, waving wheat fields or fishing ports, and our time spent with cheesemakers or truffle hunters truly helps to bring the menus to life. We also seek to balance the evenings so that dinners with four or more courses are interspersed with lighter meals, and we always take into the account the amount of walking completed on a given day. It goes without saying that all courses are matched with excellent regional wines and we like to share a little of our local culinary knowledge before the start of each meal.