Sample Menu - Slovenia and Friuli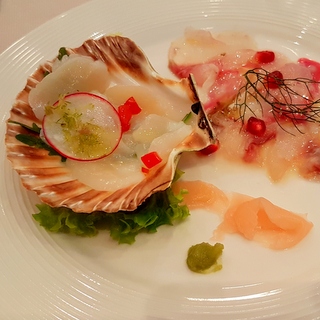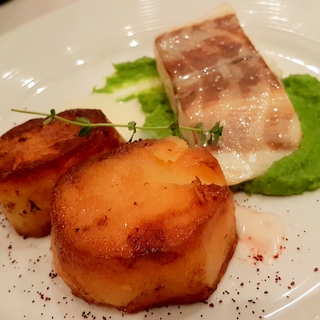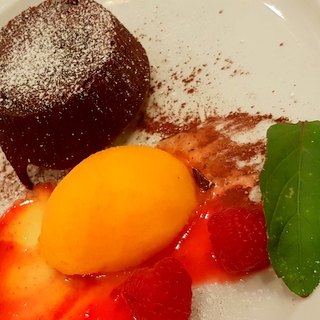 The Hotel Hvala is a family-run four-star hotel in the centre of Kobarid, in the heart the Soča valley.  The restaurant which forms part of the hotel, known as the Topli Val, has an excellent reputation for fish and seafood and an extensive wine list to match.  All members of the family are involved in the running of the hotel and restaurant and the welcome we receive each time we visit with our groups is second to none.  The menu is a little different each time we eat here as the courses depend very much on the seasonal fish available, but it is always a stunning experience.  Here is an example from the summer of 2018.
Antipasto:
Scallop ceviche and marinated slices of sea bass with honey and pomegranate juice
Wine Choice - Zelen, Ferjančič, Vipava Valley
The Vipava Valley lies about an hour's drive south-west of Ljubljana and is most well known for its dry whites, especially the zelen and pinela grape varieties that are unique to the area.
Primo:
Saffron risotto with fried scampi tails and spinach
Wine Choice - T.F., Sirk Valter, Goriška Brda
Goriška Brda is a hilly region at the Western edge of Slovenia near the Italian border.  This white is made with the Tocai Friulano grape.
Secondo:
Sea bream fillet, fondant potatoes, pea cream, beetroot powder
Wine Choice - Rebula Bagueri, Kz Brda, Goriška Brda
Made with 100% Rebula grapes, this deep yellow, smooth, balanced wine pairs perfectly with fish and seafood dishes
Dolce:
Lava cake with mint, mango icecream, fresh raspberries
Wine Choice - Rumeni Muskat, Prus, Bela Krajina
Bela Krajina is situated in the far southeastern corner of Slovenia, on the Croatian border. This rich sweet wine is made with Muscat grapes.
On all our tours we offer a variety of dining experiences, from small characteristic osterias to restaurants of renown and, on occasion, award-winning establishments with big reputations. We work hard to plan menus which celebrate the best local and seasonal ingredients and which showcase the traditions of the regions where we are hiking. We are often quite literally walking through the menu each day as we pass vineyards, orchards, waving wheat fields or fishing ports, and our time spent with cheesemakers or truffle hunters truly helps to bring the menus to life. We also seek to balance the evenings so that dinners with four or more courses are interspersed with lighter meals, and we always take into the account the amount of walking completed on a given day. It goes without saying that all courses are matched with excellent regional wines and we like to share a little of our local culinary knowledge before the start of each meal.