Sample Menu - The Italian Lakes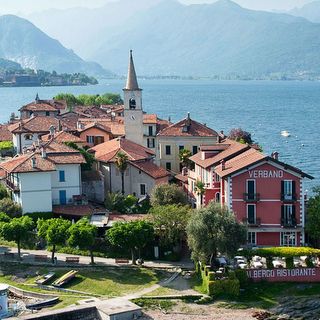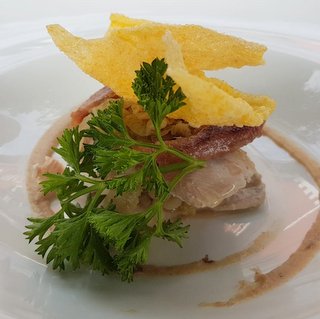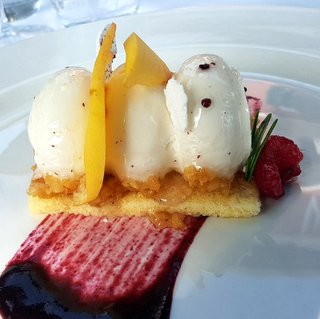 As locations go, the Albergo Ristorante Verbano takes some beating.  It sits on the tiny island of Isola dei Pescatori in the middle of beautiful Lake Maggiore.  The clear waters of the lake lap against the dappled wisteria-clad terraces of the restaurant and diners can soak up views of the stunning Borromeo Palace which stands regally on the island opposite.  Not surprisingly many of the specialities of the menu involve fresh lake fish. We always come here on our free day on the Italian Lakes tour, arriving by boat from the private jetty of our hotel, to enjoy an incredibly picturesque long, lazy lunch by the water.
Antipasto
Trota del maggiore, polenta croccante, verza e acciughe cantabriche    Trout from Lake Maggiore, crispy polenta, cabbage and Cantabrian anchovies
Primo
Riso Carnaroli al pesce persico e crema di limoni di Sorrento    Risotto with lake perch and a Sorrento lemon cream
Secondo
Lucio perca, scarola, semi di papavero e scapece di carote     Pikeperch wrapped in escarole and poppy seeds on a carrot puree made with vinegar and garlic
Dolce
Biancomangiare con cuore ai lamponi su biscotto di arachidi e rosmarino e salsa ai frutti di bosco   Blancmange with raspberries on soft peanut and rosemary biscuits with berry sauce
Wine Choices:   
Erbaluce di Caluso "Bianchera"  Orsolani
Erbaluce is a white grape originating in the Piedmont region of Italy, probably as far back as Roman times. It is produced only in the small Caluso area, and is usually referred to as "Erbaluce di Caluso". Along with dry table wines, the grape is also often used for sweet and sparkling wines.
Barbera "Bricco del Conte"  Castello di Uviglie
This winery lies due east of Turin in the wine-making zone known as Monferrato.  Piedmont is the supposed birthplace of the red Barbera grape but it is widely grown now across other regions such as Lombardy and Emilia Romagna.  This wine is made with 100% Barbera grapes.
On all our tours we offer a variety of dining experiences, from small characteristic osterias to restaurants of renown and, on occasion, award-winning establishments with big reputations. We work hard to plan menus which celebrate the best local and seasonal ingredients and which showcase the traditions of the regions where we are hiking. We are often quite literally walking through the menu each day as we pass vineyards, orchards, waving wheat fields or fishing ports, and our time spent with cheesemakers or truffle hunters truly helps to bring the menus to life. We also seek to balance the evenings so that dinners with four or more courses are interspersed with lighter meals, and we always take into the account the amount of walking completed on a given day. It goes without saying that all courses are matched with excellent regional wines and we like to share a little of our local culinary knowledge before the start of each meal.