Sample Menu - Best of the Italian Alps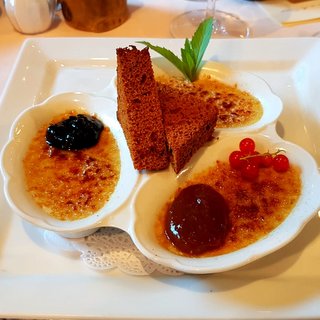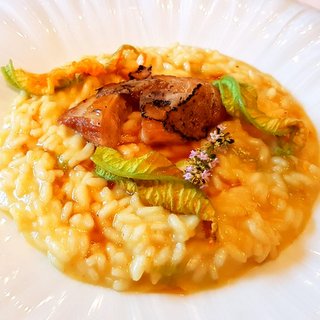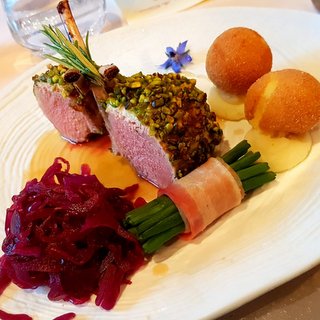 The end of our Best of the Italian Alps tour sees us arrive in the Gran Paradiso National Park, where we stay in the wonderful Bellevue Hotel.  For nearly 100 years this hotel has been offering hospitality to visitors to Cogne and it has spectacular views of the Gran Paradiso glacier.  The Bellevue has been run by four generations of the same family, has fabulous spa facilities, its own kitchen garden producing the freshest ingredients for its many restaurants, its own wine and cheese cellars, and its own bakery.  The hotel has a Michelin Star. The cooking of this far north-western corner of Italy benefits from both French and Italian influences, and this four-course dinner which we enjoyed in July 2018 was utterly delicious!
Antipasto:
La crème brulée di foie gras  Goose liver with a caramelised top
Wine Choice: La Vrille Vallée D'Aoste Chambave Muscat
These white Muscat grapes grow at around 650 metres above sea level in the Aosta Valley to make an aromatic, fresh and citrusy wine. 
Primo:
Risotto ai fiori di zucca, petto di quaglia e veli di tartufo nero   Risotto with zucchini flowers, quail breast and a shaving of black truffle
Wine Choice: L'Aîné di Didier Gerbelle
Grown in the Aosta Valley by this young experimental winemaker, this red is made with a grape called Neret, which is an antique variety of the region but which had become almost extinct. 
Secondo:
Carré d'agnello in crosta di pistacchi, cavolo rosso marinato  Rack of lamb with a pistacchio crust and marinated red cabbage
Wine Choice: Tenute Cisa Asinari Dei Marchesi di Gresy -  Martinenga Barbaresco
From vineyards in the heart of Piedmont, this Barbaresco is made with 100% nebbiolo grapes, is aged for 24 months in barriques and a further 12 in the bottle.
Dolce:
Il cannolo al limone e basilico  Crisp pastry tubes filled with lemon cream and basil
On all our tours we offer a variety of dining experiences, from small characteristic osterias to restaurants of renown and, on occasion, award-winning establishments with big reputations. We work hard to plan menus which celebrate the best local and seasonal ingredients and which showcase the traditions of the regions where we are hiking. We are often quite literally walking through the menu each day as we pass vineyards, orchards, waving wheat fields or fishing ports, and our time spent with cheesemakers or truffle hunters truly helps to bring the menus to life. We also seek to balance the evenings so that dinners with four or more courses are interspersed with lighter meals, and we always take into the account the amount of walking completed on a given day. It goes without saying that all courses are matched with excellent regional wines and we like to share a little of our local culinary knowledge before the start of each meal.