Broccoli Salad with Honey & Mustard dressing
Broccoli Salad
1 pound of broccoli florets sliced and roughly chopped
1/2 cup raw sunflower seeds or slivered almonds
1/2 cup finely chopped red onion
1/3 cup dried cranberries or dried tart cherries chopped
1/2 cup grated cheddar cheese (optional)
Honey & mustard dressing
1/3 cup extra-virgin olive oil
2 tablespoons apple cider vinegar
1 tablespoon Dijon mustard
1 tablespoon honey
1 medium garlic clove pressed
1/4 teaspoon fine sea salt
Toast the sunflower seeds in a frying pan over a medium heat, making sure not to burn them.  When they are turning golden on both sides remove to a large serving bowl.  Add all the other salad ingredients.  Whisk together all the dressing ingredients and pour over the salad.  It is delicious if left to marinate for 20 mins or so before eating.
Pumpkin and Brussel Sprout Salad
Butternut pumpkin 
Brussel sprouts
Fresh ginger
Honey
Pumpkin seeds
Red onion - sliced
Oil - olive, pumpkin seed, whatever you like
Red wine vinegar or verjuice
Salt and pepper to taste
Cube the pumpkin and roast until cooked but not mushy, adding the sliced onion half way through. Toast the pumpkin seeds - this is optional but does bring out the flavour. Halve the sprouts and steam until cooked but still a little al dente (ie with a little bite to them).   For the dressing, mix freshly grated ginger, honey, oil and verjuice/vinegar. Add S&P to taste. Dress the salad while still warm, but you can serve it warm or cold. 
Laura's Black Rice Salad
This quantity is for a large group - 15 to 20 people.    Boil 500 gr of black rice and set it aside with some olive oil to prevent it from sticking
In a pan stir fry briefly one finely diced red onion, 10 black cabbage or kale leaves, and 300 gr of diced pumpkin. Add salt and very little water and cook until soft on high heat, adding water in small amount if needed.  Add it to the rice.
Chop 200 gr of sundried tomatoes, 200 gr of grilled bell peppers (if you don't have time you can use the pickled ones) and add them to the salad, along with some cooked chickpeas.
Season the salad with basil pesto to taste before coarsly chopping 200 gr of hazelnuts, toasted in a pan, to sprinkle on top for a bit of crunch!
Please note: with this many ingredients it is difficult to make small quantities of this salad.  It's ideal for dinner parties or weekly meal prepping, and it's better to prepare it one or two days ahead of time to let the flavours develop.
Couscous and Pesto Salad
This is a super-easy and super-tasty salad which Cinzia made in Piedmont with couscous, but it would work well with any cooked grain. The other ingredients are a good-quality pesto, taggiasche olives, cubed zucchini fried in oil and garlic and toasted hazelnuts. Season to taste with salt and freshly ground black pepper.
Thai Carrot Salad
50g sesame seeds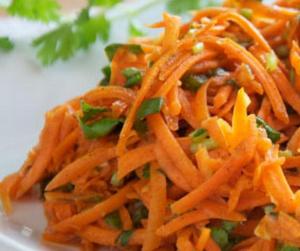 400g grated carrot
3/4 red chilli seeded and finely sliced
150ml light coconut milk
Zest and juice of one lime
3 tbs chopped coriander
This is a simple recipe which was another real hit on our Highlights of Mount Buffalo weekend in March 2017, and these quantities will feed between 4-6 people.
Toast the sesame seeds on a baking tray in a pre-heated oven at 180 degrees until they are golden brown. Make the dressing by mixing together the coconut milk, chilli and lime zest and juice. Add the grated carrot to the coriander and sesame seeds with the dressing and mix thoroughly.
Datterini tomatoes, tuna and Taggiasche olives salad
200g of Datterini tomatoes, ripe and sweet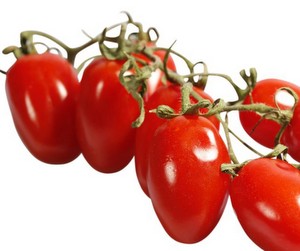 2 jars or tin  of very good quality tuna
1 small sweet onion
100g of Taggiasche olives from Liguria in extra virgin olive oil
Dried mixed italian herbs or fresh chopped herbs
4 hard boiled eggs
Extra virgin olive oil
Wine vinegar
Salt
Another of Cinzia' recipes and very easy to do. Drain the tuna, and put it in a salad bowl. Add the datterini tomatoes cut in halves, the white sweet onion sliced very thinly and the olives roughly drained from their oil. Use the oil from the olives, add 1 tbsp of wine vinegar and a pinch of salt if necessary.
Dress the salad, mix all the ingredients together. Slice the eggs in quarters then put them on top of the tuna mix. Sprinkle with the herbs and enjoy. Will serve 4-6 people.
Peppers, pinenuts and raisin salad
4 thick peppers from Cuneo (2 yellow, 2 red)
1 small white sweet onion
30g of pinenuts
2 tblsp raisins
Extra virgin olive oil
Apple or cider vinegar
Salt
Sugars
This recipe belongs to Cinzia and she made it on our Jewels of Piedmont tour.  Slice the onion very thinly. Heat 2tblsp of oil in a large frying pan or a wok. Fry the onion until translucent. Add the peppers cut in long strips (smaller is better than bigger) and let it fry for 5 mins.  Add 3 or 4 tblsp of apple vinegar according to the strengh of the vinegar. Add 1 tbsp of sugar or honey if you prefer. Season to taste and, after 20 mins, add the raisins and pinenuts.  This recipe serves 4.
Easy Apple Salad
A very refreshing summer salad devised by Iole on our France & Italy tour in September.  Simply shred lettuce and finely slice crispy apples and throw in some whole hazelnuts. If you have a mandolin you can make the apple slices super thin, and leave the skin on.  Then dress liberally with good olive oil, apple vinegar and salt and pepper.  It makes for a great salad with contrasting textures and flavours.
Zucchini and Carrot salad
This is one of Cinzia's recipes which she made on our inaugural tour of the new Lucca, Volterra and Elba trip. It is made with finely sliced raw zucchini and carrots. If you have a mandolin you can achieve lovely thin slices but, if not, a potato peeler is just as good. 
On top are some toasted pinenuts and the salad is dressed with pesto mixed with a splash of water and olive oil to thin it down a little. Very simple but satisfying and tasty at the same time! See a good recipe for pesto further down the page!
Italian Lentil Salad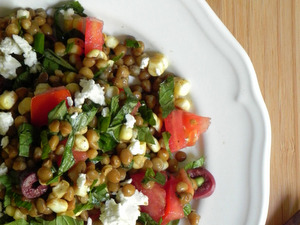 This very easy salad is both filling and nutricious as lentils are a great source of protein.  All you need to do is mix tinned Italian lentils (or you could use Puy lentils) with crumbled feta cheese, a finely chopped red onion, some chopped sweet cherry tomatoes, a few leaves of basil and dress the ingredients with olive oil and red wine vinegar.  If you have other green leaves you could also add those - rocket or fresh baby spinach would work really well.
Apple and Zucchini Salad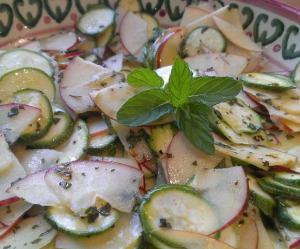 So simple but light, crunchy and delicious!  This is great if you have a mandolin slicer so that you can make wafer thin slices of fresh apple and zucchini (courgette).   The key is the dressing which is made with extra virgin olive oil, apple vinegar, and finely chopped fresh mint, giving the salad a really clean and refreshing flavour.  Salt and pepper too to taste. Lovely at the time of year when lots of fresh mint is growing in the garden!
Beetroot and Feta Salad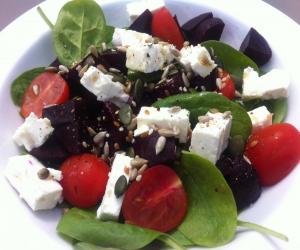 This is a very easy light summer salad.  It's made with fresh baby spinach leaves, chopped cooked beetroot, feta cheese, cherry tomatoes, (or you could dice cucumber) and a generous sprinkling of mixed seeds which gives the salad a nice texture and crunch.  Sunflower, pumpkin and sesame seeds for example will all work a treat.  We used barrel aged feta for a really intense flavour and dressed the salad with hemp oil to make a super healthy!
Rock Melon and Water Melon Salad
This is a very refreshing salad on a hot day. Use a melon baller to chop up equal quantities of water melon and rock (cantaloupe) melon. You can also add cucumber and some finely chopped red chilli. Garnish with mint leaves and dress with verjuice or a mild flavoured vinegar, sea salt flakes and ground black pepper. If you like, crumble some feta cheese over the top.
Cold Roast beef with fresh horseradish
Using thin slices of succulent cold roast beef, mix them with baby spinach leaves and then freshly grate some horseradish root on top just before you eat it.   This is something we have come to enjoy on our travels in Slovenia and it gives the salad a real kick.   We added some roasted asparagus spears and a few fresh peas, and drizzled with a little olive oil. Delicious!
Bulgur wheat, avocado and smoked trout salad
This salad looks great if you build it upwards on the plate rather than mixing it all together. At the base is some cooked bulgur wheat doused in lemon juice, olive oil, salt and pepper while still warm, to absorb the flavours.   On top lay some watercress, sliced avocado and bite-size pieces of smoked trout and cover again with a little lemon juice and a good slug of olive oil.  It is really filling and gives you a good energy boost - especially if you're hiking in the afternoon!
Chicken and Mango Salad
This is a surprisingly good mix of flavours and a very satisfying salad for lunch or a light supper.  Shred roasted or grilled chicken and dice a ripe mango into little cubes. Serve on a bed of rocket leaves and sprinkle over some pomegranate seeds for a little colour and texture.  A lovely dressing for this salad is a blend of olive oil, lime juice, a red chilli finely chopped and seeded and some roughly chopped coriander leaves.
Shredded carrot and beetroot salad
This is a crunchy and colourful salad and full of healthy nutrients! If you have a food processor it takes seconds, but the recipe calls for finely shredded raw carrot along with shredded cooked beetroot and crisp crunchy fresh apples.   To add even more crunch we like to add a few toasted hazelnuts on top.   A great dressing for this is olive oil, apple cider vinegar, a squeeze of lemon juice and a little honey for sweetness.
Cucumber, Fennel, Feta and Radish Salad
This fresh and cleansing salad takes seconds to make - especially if you have a mandolin to hand!   All you need is a bulb of fresh fennel finely sliced with thin slices of cucumber and pretty pink radishes to add a little colour.  Liberally crumble over the top some Greek feta cheese.   Season well and dress with good white or red wine vinegar and extra-virgin olive oil.   It is very light but satisfying at the same time!
Mixed Tomato Salad
Find a good selection of different tomatoes - ranging in size and colour - such as beef tomatoes, baby plum tomatoes, cherry tomatoes and yellow or orange ones if possible.   Roughly chop them and serve on a wide platter with lots of fresh basil leaves and some lightly toasted pinenuts.   To add another flavour you can roast or grill red or yellow capsicum, peel the skins off, and slice into the salad.   Drizzle with good quality extra virgin olive oil and little salt and freshly ground black pepper.
Ancient Grain Salad
200 gm red or white quinoa
150 gm (¾ cup) freekeh
100 gm (½ cup) wild rice
100 ml olive oil
240 gm canned green lentils
1 pomegranate for the seeds
½ bunch dill roughly chopped
15 mint leaves, torn
60 gm pistachios, crushed
Dressing:  Make in the blender adding oil slowly
1½ tbsp lime juice
1½ tbsp tarragon vinegar
30 gm ginger, roughly chopped
2 tsp Dijon mustard
185 ml extra-virgin olive oil
Cook all the grains separately, until they are al dente, and allow them to cool before blending them together.  You can garnish the salad if you wish with fried shallots.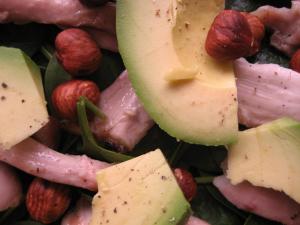 Chicken and Avocado Salad
First up is an incredibly simple but tasty green salad, using tender baby spinach leaves, ripe avocado, grilled or cooked chicken and toasted hazelnuts.  This is really delicious served with a simple dressing of good olive oil and balsamic vinegar and a little salt and pepper, and is a complete meal in itself.  Toasted pine nuts would also be a tasty alternative.
Roasted Tomato Salad
An interesting twist on a tomato and mozzarella salad but in this one the tomatoes are slow-roasted first.  Often in the winter months tomatoes tend to be short on flavour, but once slow-roasted with herbs and garlic the sweetness is intensified and the flavour enhanced.  If you can find buffalo mozzarella to tear into strips then this will be the most delicious option, and you can add a few juicy black olives and some bright green basil leaves.

Quinoa Salad
This recipe is a salad of roasted vegetables and quinoa.  Quinoa is a wonderfully nutty high protein seed, originally from South America, which is filling but very nutritious.  The vegetables to chop through it can be anything you can find such as red and yellow peppers, courgettes, eggplant/aubergine or tomatoes. Drizzle with a bit of good quality olive oil, some sea salt and a little lemon juice.  You could also make this with spelt - an ancient grain known in Italy as "farro", but equally good in salads.
Chickpea and Celery Salad
This is a very simple mix of chickpeas with chopped celery which has a lovely crunchy texture.  As a dressing for this we used fresh pesto which gives a delicious garlic and basil twist to this simple salad.
Green Bean Salad
Top and tail the beans, cut in half and boil or steam until they start to soften but still have a little bite to them.  Rinse under ice cold water to maintain the colour.  Sprinkle over chopped walnuts and dress with good extra virgin olive oil and some lemon juice, salt and pepper.  If you like garlic, finely chop a clove and add, and fresh rosemary is delicious too.
Roast Capsicum Salad
Halve a selection of red, orange and yellow capsicums (peppers) and scorch the skin under a hot grill.   When black and charred remove the skin and slice the soft peppers into thin strips.   Add some delicious salty anchovies and a few capers and drizzle with good extra virgin olive oil.
Orange and Fennel Salad
Peel and slice the oranges into thin segments.   Finely slice the fresh fennel - if you have a mandolin you will get good results or a potato peeler is useful too.   Mix together and let the juice become the dressing with a little extra olive oil, salt and pepper.   Sprinkle with sunflower seeds or toasted pine-nuts to finish off.
Pear, Walnut and Blue Cheese
Peel and slice the pears and cover with lemon juice to maintain the colour.  Add the chopped walnuts and small cubes of blue cheese such as gorgonzola.  Dress with good extra virgin olive oil, salt and pepper.  Serve it on a bed of chopped red radicchio or some peppery rocket to really bring the flavours out.