See all city guides
Many people choose to extend their walking tour in Italy by visiting Venice. This could be easily done if you have booked Hedonistic Hiking's Slovenia and Friuli, The Jewels of Piedmont, or The Italian Alps.
Arguably the most romantic city on earth, Venice is a heady mix of art and architecture, of music and fashion and of the old and new.  Once the centre of a trading empire stretching from Lombardy to Constantinople, Venice is built on a series of islands separated by over 150 canals and crossed by some 400 bridges. It has more artistic masterpieces per square kilometre than any other city but remains at the forefront of contemporary art and design. Its residents today are often outnumbered by tourists, but if you wander off the beaten track in the tiny alleys and back streets you will be richly rewarded.
Highlights
Piazza San Marco
This magnificent square is the heart of Venice, surrounded by stately buildings including the Doges Palace and the Basilica San Marco. The Doges Palace (or Palazzo Ducale) was the residence and political headquarters of the Dukes of Venice for 900 years, and was finely decorated by famous Venetian artists such as Tintoretto, Titian and Bellini.  It is open every day from 8.30 am to 7 pm and tickets cost €16. The Basilica San Marco is an extraordinary marvel reflecting influences from East and West. Domes and columns, gold and marble, statues and dazzling mosaics - the city cathedral is truly breathtaking. It is open from 9.45 am to 5 pm and entry is free.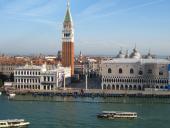 The Grand Canal and Rialto Bridge
One of the best ways to see the city is from the Vaporetto No 1 which follows the Grand Canal all the way through the centre, passing beautiful churches and palazzos, the lively Rialto fruit and vegetable market, crossing under the famous Rialto Bridge and delivering you to Piazza San Marco at the end.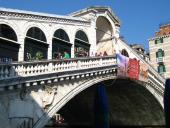 Accademia Galleries and Peggy Guggenheim Collection
The first is a truly stunning collection of 14th - 18th century masterpieces to rival the Uffizi in Florence.    Campo della Carita - open 8.15 am to 7.15 pm except Mondays when it closes at 2 pm.   Entrance fee €9.00.     The second is the private modern collection of Peggy Guggenheim housed in her former home at Palazzo Venier dei Leoni on the Grand Canal. Open 10 am - 6 pm Wednesday to Monday.    Entrance fee €14.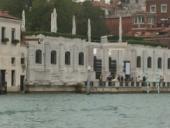 The Islands
If you have a longer stay in Venice don't overlook a ferry ride to the Islands. Murano has been famous for its crystal and glass industries since the 10th century and has a museum and several shops selling authentic pieces.   Burano is a colourful fishing community famous for its lace-making and Torcello is a quiet haven, with some of the most famous mosaics in Italy.  The Lido is Venice's glamorous beach resort and home to the annual Venice International Film Festival.
If you have a few days in Venice it may be worth investing in the VeniceCard which gives you unlimited use of the vaporetti boats, free entry to the 11 civic museums and 16 churches.    See details at www.hellovenezia.com
Anna Pietrobon is a local Venetian tour guide and she can be contacted at annapietrobon@inwind.it.  Tel +39 041 526 7006 or her mobile number is +39 348 472 5636.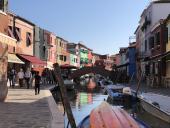 Where to stay
Venice has a huge number of hotels, many with eye-watering room rates, and your budget will make a big difference to where you might stay.   A useful website is http://en.venezia.net/venice-hotels/ which you can peruse in English and search by the areas of Venice and/or by budget.  Some of the hotels listed below are known to Hedonistic Hiking and others are recommendations from people who have extended their walking tour in Italy in Venice.
Ca' della Corte 
Situated in a converted 16th century Palazzo with its own courtyard, the rooms have been elegantly renovated.     Situated close to Piazzale Roma, towards the northern end of the Grand Canal.
Locanda Ca' Zose
A 17th century Locanda carefully restored and close to the Peggy Guggenheim museum at the southern end of the Grand Canal.
Pensione La Calcina
Right on the Giudecca Canal, this charming pensione retains its antiques and polished floors but also offers mod cons such as wifi.   It has a lovely roof terrace where you can enjoy breakfast.
Hotel Al Duca di Venezia
Situated just a few steps from the Ponte Rialto and the Grand Canal this 15th century palace offers an excellent location and some genuine old world charm.
Corte 1321
A B&B in the San Polo district with a pretty internal courtyard.
Dorsoduro 461
With just three bedrooms this inexpensive B&B is simple but brilliantly located and run by the charming Francesco. Comes highly recommended for anyone on a tighter budget.
Hotel Villa Igea 
A small hotel with 17 pretty rooms located close to the Campo San Zaccaria in the Castello district.
Ca Maria Adele
2011 Award Winner as Most Romantic Hotel in Europe by Condé Nast Johansens
Hotel Metropole
Much more expensive but a luxurious 5 star with a Michelin-starred restaurant, close to Piazza San Marco in the Castello district.
Domus Venetia
A luxury art apartment not far from Piazza San Marco with one double room and a sofa bed in a separate room.
Where to eat
€€€ Osteria Da Fiore
Sophisticated and renowned restaurant where the menu changes depending on what is fresh at the market.    Reservations are definitely recommended.   Calle del Scaleter, San Polo district.   Tel +39 041 721 308
€€€ Do Forni
Close to Piazza San Marco this restaurant is frequented by politicians and local businessmen.   Excellent for fish and seafood.  San Marco 457.   Tel +39 041 523 2148.
€€ Vini da Gigio
Tiny restaurant but a big reputation - and an interesting wine list.   Fondamenta San Felice, in the Cannaregio district. Tel +39 041 528 5140
€€ Cantinone Storico
Well recommended for food, service and atmosphere.    In the Dorsoduro district.
Fondamente Bragadin    Tel +39 041 523 9577
€€ Al Raspo de Ua
Situated on the Island of Burano, this trattoria is great for fish and also has a few bedrooms if you feel like staying over.      Via Gallopi 560.   Tel +39 041 730 095
€€ Trattoria Al Gatto Nero Da Ruggero
On the island of Burano , excellent seafood and highly recommended is the seafood risotto di go' alla buranella.                    Fondamenta Giudecca, 88  Tel. +39 041 730120
€€ L'Osteria di Santa Marina
In the Castello district, a well-loved osteria with tables outside.   Campo  Santa Marina     Tel +39 041 528 5239
€€ Trattoria "Alle Vignole"
Situated on the island of Vignole, this eatery is only open in summer months and all seating is outside.   Lovely rural setting away from the hustle and bustle and managed by the same family for almost 100 years.      Vaporetto route 13 brings you to Vignole from the stop at Fondamente Nove.
€ La Mascareta
This is primarily an Enoteca (wine bar) serving food too, so the menu perhaps not as extensive as a full restaurant, but a lively Venetian experience.   In the Castello district.   5183 Calle Lunga Santa Maria Formosa   Tel +39 041 5230744
€ Il Refolo
Owned by the same family who run Osteria Da Fiore, this is a great pizzeria but also serves good pasta, fish and meat dishes.    Santa Croce 1459.    Off Campo San Giacomo dell'Orio.   Tel +39 041 524 0016.
€ Rosticceria Gislon
Tucked in an alleyway close to Rialto bridge, this is more of a counter-service cafe but people rave about the mozzarella in carrozza - a deep-fried mozzarella sandwich.   Off Campo San Bartolomeo.
Harry's Bar
Worth a mention if you feel like splashing some cash on Venice's most famous cocktail - the Bellini - a smooth mix of fresh peach juice and sparkling prosecco.  Ernest Hemingway was a devotee!    Calle Vallaresso 1323.
What to order
Fish and seafood dominate the Venetian cuisine - look for Sarde in Saor which are fried sardines marinated in a sweet and sour sauce.    Risottos with fish and seafood are excellent, and pasta is often flavoured with cuttlefish - seppia, the ink of which turns the dish completely black.   Fegato alla Veneziana is calves' liver cooked slowly with onions and vinegar.
As well as the famous Bellini mentioned above, Venetians also love an aperitif called a Spritz, which is white wine mixed with a bitter such as Aperol and little mineral water.  White wines from the area include Soave and Pinot Grigio, and reds Cabernet, Valpolicella or Amarone.
If you fancy a day of shopping and cooking with a renowned Venetian chef who will bring the local cuisine to life visit www.enricarocca.com to learn about Enrica Rocca.
Transport
Venice has the international Marco Polo airport on the mainland, from where you can take the Orange Line ferry to Venice centre, or a water taxi, although this is cheaper if you can double up with other passengers. Trains into Santa Lucia station are often the easiest way to travel into Venice and there are good connections with Padova and Verona, but also Milan, Bologna and Florence.    Once in Venice, the vaporetto boats are the best way to get about.
For all train information visit www.trenitalia.com which has an English version.
Train travel in Italy is inexpensive and comfortable. Major cities are served by non-stop fast trains known as the Eurostar.
If you are making plans for wider Europe then www.raileurope-world.com is a useful site. Another highly recommended train travel website is Seat 61.
Italo
NTV (Nuovo Trasporto Viaggiatori) is a new private company which started operating it's Italo high-speed trains on the Milan-Florence-Rome-Naples route in April 2012, in competition with State-owned operator Trenitalia.  NTV have added new routes subsequently and are Europe's first private high-speed train operator, with a real emphasis on customer service. Travellers should be aware that the city stations used are not always the same as those used by Trenitalia.
If you are finishing our Slovenia & Friuli tour at Venice airport and would like to take a train to an onward destination without visiting Venice itself then Mestre railway station is the best option.  There are regular weekday half hourly buses from outside the terminal which drop off at Mestre station.  Click here for more details.
GoOpti is a car transfer service which can been booked in advance and has come recommended by many Hedonistic Hikers. It connects airports and major cities in the north of Italy with eachother and fixed destinations in Austria, Croatia, Germany, Hungary, Slovakia and Slovenia. See the website for more details.  Another useful car transfer website which has been recommended by HH guests is mydaytrip which can arrange private cars to and from most European cities.
See all city guides