See all city guides
If you have booked Hedonistic Hiking's tour in Slovenia and Friuli, you may consider extending your walking holiday by visiting Trieste, on the the border of Italy and Slovenia.
Although starting life as a Roman colony and going on to be an important trading port for the Goths, Byzantines and Lombards, Trieste belonged to the Austro-Hungarian Empire from the 1380s until the end of WW1 when it was given back to Italy.  This variety of cultural influences means that today Trieste is hard to define -  it feels a little isolated from the rest of Italy and is surrounded by the Adriatic on one side and Slovenia on the other.    It was a grand and cosmopolitan city in the 18th and 19th centuries and, in the 20th, home to James Joyce and other intellectuals of the period.    As a place to visit, it is memorable for being so different from other Italian cities, and the locals will tell you that the "bora scura" sea winds can have a strange effect on people!
Highlights
Castello di San Giusto
Sitting on top of a strategic hill the castle was built in the 15th century as part of the city's fortifications.    Today it contains a renovated museum and armoury.   Open daily from 9 am to 7 pm.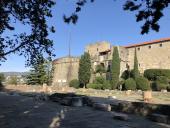 Basilica di San Giusto
Finished in 1400, the city cathedral contains an interesting mix of 13th century frescoes and 12th century mosaics - reflecting the styles of Ravenna and Byzantine architecture.    The chapel known as Escorial Carlista houses the tombs of 9 members of the Spanish royal family.   Carlos V fled here in the 1830s after troubles in Spain and set up the "Carlist" court.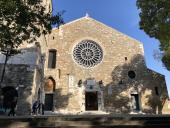 Piazza dell'Unita d'Italia
Praised as a triumph of Austro-Hungarian town planning, this vast square opens up on to the waterfront and is especially beautiful when lit at night.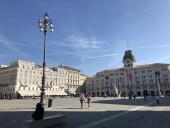 Castello di Miramare
8 km north west of the city is the Castello di Miramare, built for Archduke Maximilian of Austria in 1856.  He was a keen botanist and the castle gardens still contain a variety of exotic trees, as well as butterflies, hummingbirds and parrots.  Sadly he lived there only a few years - he was persuaded by Napoleon III to become Emperor of Mexico during a time of raging civil war and was executed three years later.  The castle remained untouched and hence extremely well-preserved for visitors today.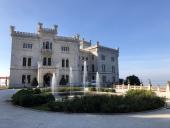 Where to stay
Grand Hotel Duchi d'Aosta
The hotel as it looks today was built in 1873.    Historical and grand but with modern Spa facilities and Harry's Grill - one of the best restaurants in Treiste.   Located right on the stunning Piazza dell'Unita d'Italia.
Albergo Alla Posta
An old-world atmosphere but very modern amenities. Good location on the northern side of the city for both the train station and the bus station.
Hotel James Joyce
Clean bright rooms in a building dating back to 1770. 12 rooms in all and excellent central location.
Urban Hotel
Uber modern design and good central location.
Where to eat
€€€ Harry's Grill
Alongside the famous hotel Grand Hotel Duchi d'Aosta, the Grill was opened by the Cipriani family who own Harry's Bar in Venice.    Serving regional and international dishes in elegant surroundings.     Piazza dell'Unita d'Italia.   Tel +39 040 760 0011
€€ Al Bagatto
Situated close to the waterfront, this family run restaurant specialises in fish and has been run by three generations of the same family.    Open only in the evenings.  Via L Cadorna 7,   Tel +39 040 301771
€€ Buffet da Pepi
In business for over 100 years, this traditional buffet serves a mixture of boiled meats, hams, sausages and hot mustards and horseradish sauces.   Via della Cassa di Risparmio 3,  Tel +39 040 - 366 858   Closed Sunday.
€€ Caffè Tommaseo
The oldest caffè in Trieste and a favourite haunt of James Joyce and Sigmund Freud. As well as coffee it has good selection of antipasto, pastas, meat and fish.  Riva Tre Novembre 5, Tel + 39 040 362 666
€ Pasticceria Caffè Pirona
For all lovers of pastries and sweet things, this historic caffè is situated on the east side of town at Largo Barriera Vecchia, 12.    Tel +39 040 636 046.
What to order
Trieste is well known for its buffets and you should try one or two of these as well as restaurants.   Boiled meats, sausages, sauerkraut and beer reflect the city's middle European heritage and dumplings often replace pasta.    Goulash is another favourite of the city.  Trieste is also famous for its cafes and coffee itself played an important role in its trading history - as a free port after 1719 it became the major gateway for all of Italy's coffee imports, and is today the headquarters of the famous Illy family coffee empire.
The white wines of Collio Goriziano are admired throughout Italy, the most commonly grown grapes being Pinot Bianco,  Sauvignon Blanc, Pinot Grigio, Chardonnay, Malvasia and Ribolla Gialla.    Closer to Trieste are the smaller growing areas of Isonzo and Carso. Isonzo makes wonderful Sauvignon and Chardonnay wines, as well as some striking reds based mostly on Merlot.    Carso is well known for its Terrano red - a favourite of the locals of Trieste grown on low-lying land which is very hard to cultivate and harvest.
Transport
There is an airport 33 km north west of the city (known as Ronchi) which serves the whole Friuli Venezia Giulia region and has flights connecting with Munich, Rome and London Stansted.    There is an APT coach service which connects the airport with the centre of Trieste.   
There is a good coach service between Trieste and Ljubljana in Slovenia which takes about 2.5 hours.  Timetables are different for weekdays and weekends - read more.   There is once again a train service between Trieste and Ljubljana.
For all train information visit www.trenitalia.com which has an English version.   Train travel in Italy is inexpensive and comfortable.    Major cities are served by non-stop fast trains known as the Eurostar.
If you are making plans for wider Europe then www.raileurope-world.com is a useful site.  Another highly recommended train travel website is Seat 61.
Italo
NTV (Nuovo Trasporto Viaggiatori) is a new private company which started operating it's Italo high-speed trains on the Milan-Florence-Rome-Naples route in April 2012, in competition with State-owned operator Trenitalia.  NTV have added new routes subsequently and are Europe's first private high-speed train operator, with a real emphasis on customer service. Travellers should be aware that the city stations used are not always the same as those used by Trenitalia.
GoOpti is a car transfer service which can been booked in advance and has come recommended by many Hedonistic Hikers. It connects airports and major cities in the north of Italy with eachother and fixed destinations in Austria, Croatia, Germany, Hungary, Slovakia and Slovenia. See the website for more details.  Another useful car transfer website which has been recommended by HH guests is mydaytrip which can arrange private cars to and from most European cities.
See all city guides