See all city guides
The city of Olbia dates back to 750BC when the first settlement was established by the Phoenicians. Situated in the north east of the island, the former fishing village has, over time, developed into one of Sardinia's busiest ports with an international airport as well. Its location means that it is often overlooked by holidaymakers in a rush to reach the island's spectacular beaches or rugged interior but with its interesting historic centre and lively atmosphere, it's an attractive town to visit.  Much of its charm lies in the hideaway piazzas and cobbled streets that lead from the main Corso Umberto and, with a smattering of well-preserved churches and an impressive Archaeological Museum, it's not hard to while away a leisurely day.
Highlights
Basilica di San Simplicio
Just a short walk from Piazza Margherita, the imposing Basilica di San Simplicio is one of the city's landmarks. Typical of the Pisan-style churches built in Sardinia during the 11th and 12th centuries, the granite church is one of the best preserved Romanesque churches on the island. Most notable features include its historic frescoes, the central triple mullioned window on the church's façade and the small Spanish-style bell tower. The Festa di San Simplicio is celebrated in May each year with a solemn procession, fireworks, a Palio horse race and Festival of Mussels.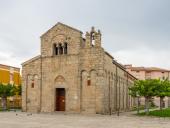 Chiesa di San Paolo
Right in the heart of the city's historic centre, and built on the remains of an ancient temple, the 18th century granite Chiesa di San Paolo church is another of Olbia's iconic symbols. It has a tall square-based bell tower but its multicoloured mosaic-tiled dome, added around 1939, is its attention-grabbing feature.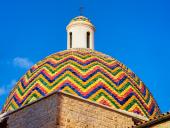 Cobbled streets, squares and people-watching
Leading up from the palm-lined waterfront to the city's historic centre, Olbia's main street, Corso Umberto, is lined with boutiques, bars, cafés and traditional restaurants. The street is pedestrianised in the evening and shops remain open till late but be sure to also veer off the main street on to cobbled alleys and into atmospheric squares. Top spots include the town's market square, Piazza Mercato, or, for leisurely people-watching, Piazza Margherita.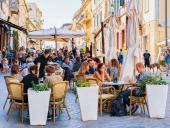 Museo Archeologico
The city's archaeological museum sits on its own tiny island on the harbourfront. Designed in the shape of a ship, with portholes and suspended walkways, by the architect Giovanni Maciocco, it's admittedly not to everybody's taste.  Inside, the museum traces Olbia's history, from the battles between Carthaginians and Romans to the growth of maritime industries, with exhibitions ranging from Nuragic artefacts to Roman warships.
 
Where to stay
Jazz Hotel
Located just 500 metres from Olbia airport and 2 km from the centre of Olbia, this bright modern hotel has a restaurant and a small pool.
Essenza Hotel
A few steps from the historic centre of Olbia this hotel has a wonderful panoramic terrace where breakfast is served, modern rooms and is easy walking distance to the shops and restaurants of Corso Umberto
The Hotel Panorama
Also located in the heart of the historical city, this building opened in 2009. The hotel is well positioned for visits to the main cultural sites, has a small Wellness Centre and a Roof Garden.
 
Where to eat
There's an excellent choice of reasonably-priced restaurants and pizzerias in the city's historic centre. Head to the Corso Umberto if you just want to amble, and follow your nose along the main street or the many alleways leading from it.
€€ Dolceacqua
On Via Giacomo Pala, 4 Tel+ 39 0789 196 6084. Specialising in Sardinian and Ligurian cuisine this charming restaurant has a keen following.
€€ L'Essenza Bistrot
Via delle Terme 10 Tel +39 0789 25594. Having worked in several top Italian restaurants Massimiliano Villani has returned to Sardinia to create this bistrot in the heart of Olbia, serving the food he loves best. Closed Sundays and Mondays.
€ La Lanterna
Via Olbia 13 Tel +39 0789 23082  The menu here ranges from easy pizzas to traditional Sardinian dishes.  Closed Wednesdays.
What to order
As elsewhere in Sardinia, the cuisine has been influenced by Romans, Arabs and Spanish. While you'll still find the roasted meats typical of the island's pastoral tradition, unsurprisingly, seafood dominates here on the coast. Mussels and clams in particular are used in many dishes, with specialities including 'zuppa di cozze e vongole' (garlicky clam and mussel soup), 'ricci' (sea urchins) and 'ortidas' (fried sea anemones). 
When it comes to wine, pair your seafood pasta with the pale straw-coloured white Vermentino di Gallura, Sardinia's only DOCG.
 
Transport
Olbia airport is one of three international airports on Sardinia, offering flights to many European destinations. The airport is just outside town, connected by half-hourly urban buses.  Taxis between the airport and the centre of Olbia should cost no more than €30 for a single journey.  There is a left luggage facility at the airport.
A ferry network provides access from the port to several towns and cities on mainland Italy, including Genoa, Livorno, Piombino and Civitavecchia.
 
See all city guides