See all city guides
Many people booking our France and the Martime Alps trip may like to take some time exploring Nice or the region of Provence before the start of the tour.
Nice is the capital city of the French Riviera, situated towards the eastern edge of the region known as Provence-Alpes-Côte d'Azur. The region of Provence itself offers a wealth of interest to the visitor. Geographically it encompasses mountains, rugged coastline, forests and Europe's deepest canyon. For history lovers there are the important Roman sites in Arles and Orange alongside beautifully preserved medieval centres such as Avignon. Provence boasts a unique artistic heritage with many masters like Matisse, Van Gogh, Chagall and Picasso forever connected to the area. For the shopper there is everything from wonderful fresh-produce markets to high-end fashion. On top of this come delicious culinary traditions using the region's sun-blessed fruits, vegetables, fish, wild herbs and olive oil, served up with fabulous wines with famous names such as Côtes de Provence, Côtes du Rhône and Chateauneuf-du-Pape.
For anyone wanting to explore the region Nice is a good place to use as a base and is the starting point for our new France & Italy tour. Lovers of Italy will feel at home here, with its Italianate facades and vibrant Mediterranean spirit. For gastronomes there are endless places to eat and drink and for art-lovers a wealth of museums. In its day Nice was Europe's most fashionable winter retreat, first popularised by the British aristrocracy in the 18th century, and today it still has a major tourist pull, even if its former glamour has given way to a more faded elegance.
Highlights
Vieux Nice and Le Chateau
As the name suggests, this is the oldest part of the city. It is a tangle of narrow streets and alleyways, now home to many shops, cafés and restaurants. At its heart lies the Cours Saleya with its impressive Chapelle de la Miséricorde and grand municipal buildings. This is also the site of the city's main market.  There is no longer a chateau but the park on which it was built sits high on the summit overlooking the rooftops of Vieux Nice to the glittering sea beyond, and offers one of the best views in the city. You can hike up or take the lift close to the Tour Bellanda.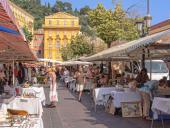 The Museums
Amongst the best-known in the city of Nice are the Musée d'Art Moderne et d'Art Contemporain, the Musée des Beaux-Arts and the Musée Matisse in the northern suburb of Cimiez. If you have a few days, it may be worth investing in Nice's French Riviera Pass which gives free entry to many museums and attractions and can be purchased for 24, 48 or 72 hour durations.  It also offers some discounts on local transport.
Promenade des Anglais
This famous palm-fringed promenade was created by the nineteenth century English residents for their afternoon stroll. Now it is one of the major thoroughfares of the city but is bordered by much of its most striking architechture. Amongst the grand buildings is the world-famous Negresco Hotel, one of the most lavish European palace hotels ever built. You can peak inside, but only if you are very smartly dressed!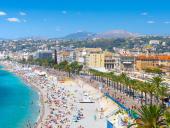 Where to stay
There are over 200 hotels to choose from in Nice and perhaps the easiest way to get started is to visit the local Tourism site which lets you seach by criteria such as grading of hotel and area of the city you wish you be. Please note that our pick-up hotel for the tour will be the Best Western Hôtel Masséna Nice at 58 rue Gioffredo close to the central Place Masséna.
Highly recommended by HH guests in September 2016 is a hotel close to the sea called Le Saint Paul.
Where to eat
€€€ Le Chantecler 
If you really feel like pushing the boat out this is the two-star Michelin restaurant in the Negresco Hotel.  Chef's Denis Rieubland's cooking is sublime - with a price tag to match! Hotel Negresco, 37 Promenade des Anglais  Tel +33 493 16 64 00
€€ La Terrasse 
10 floors up on a terrace on top of Le Méridien hotel this restaurant has stunning views to the sea and mountains. Good food and slick service.  1 Promenade des Anglais Tel +33 497 03 44 44
€€ La Rossettisserie
In Vieux Nice, this is a retro grocery-style place serving succulent roast meats teamed with delicious potatoes, ratatouille and salads. Find it at 8 rue Mascoïnat  Tel +33 4 93 76 18 80
€€ L'Acchiardo 
The Acchiardo family arrived in Nice from Piedmont in 1927, opened a restaurant in the Old Town and their great-grandchildren are still serving local staples in a jolly atmosphere. They will also pour for you local Provençal wine straight from the barrel.  38 Rue Droite  Tel +33 493 85 51 16
€ Chez Pipo
Perhaps the best place to head for in the Old Town if you want to try the local speciality known as "socca" - the chickpea flour pancakes. It has been making them since 1923 so should be good!  13 rue Bavastro Tel +33 4 93 55 88 82
€ Voyageur Nissart 
Not far from the station, the Nissart is nothing much to look at but offers amazing value with local classics served by a happy youthful team.  19 Rue Alsace Lorraine Tel +33 493 82 19 60
What to order
Two of the best-loved dishes from Provence are the fish soups known as bouillabaisse and bourride, along with wonderful seabream, monkfish, seabass and John Dory. The fantastic local vegetables are most famously served as ratatouille, and almost anything they make is enhanced by the delicious local olive oil, wild herbs and garlic. Lamb is perhaps eaten more than beef (although a good local beef stew known as Daube is worth a try) and, as a result, the region's cheeses are chiefly made with sheep and goats' milk, often wrapped in chestnut leaves or with coatings of pepper or herbs.  For those with a sweet tooth Provence is well-known for its candied fruits, sweet almond treats and nougat. In Nice itself the Salade Niçoise is of course a must - although there is much controversy over whether it should include anchovy or tuna or both, and fast food here is a delicious chickpea pancake known as a socca.  Another easy street food to look out for is the pissaladière - a kind of pizza with anchovy, olives and onions.
Transport
Nice has an International airport with many connections to other European hubs, and direct flights also to Dubai, Montreal and New York. There are numerous taxis on arrival at the airport, or a bus service which takes about 15 mins to the GARE SNCF (main railway station) for €6.00.
If you are making plans for wider Europe then www.raileurope-world.com is a useful site.  Another highly recommended train travel website is Seat 61.
Another useful car transfer website which has been recommended by HH guests is mydaytrip which can arrange private cars to and from most European cities.
 
See all city guides