See all city guides
Many people might choose to extend their walking tour in Southern Italy by spending more time in Naples or exploring the area around this vibrant city.
This is a city which elicits extreme responses from most visitors. You cannot be indifferent to Naples, you either love it or loathe it. It is chaotic, noisy, anarchic, grimy, lavish, exuberant and theatrical all at the same time. It sits on the sweeping Bay of Naples with brooding Mount Vesuvius hovering over its skyline serving up a constant reminder of the catastrophic damage it inflicted on the cities of Pompeii and Herculaneum 2000 years ago. It's an intoxicating muddle of crowded alleyways, royal palaces, buzzing vespas, ancient churches and, of course, the best pizza on the planet. Pizza was born here in Naples and nowhere in Italy does it better.
Highlights
Museo Archeologico Nazionale
This vast but unmissable museum houses one the world's greatest collections of Greek and Roman artefacts, along with many treasures taken from Pompeii and Herculaneum. It also contains the Borgia family collection of Etruscan and Egyptian antiquities. To make the most of your visit it is recommended to buy the guidebook or take an audio guide in English, as the sheer scale of the collection can be a little overwhelming.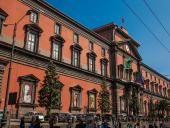 Certosa di San Martino
This early Carthusian monastery was revamped in the 17th century to reflect the pinnacle of the Neapolitan Baroque era. It has two stunning cloisters adjacent to the church and today houses the Museo Nazionale di San Martino, a fine collection of frescoes and paintings by Neapolitan masters. It also houses a fascinating display of Presepi, Christmas cribs, a tradition of the city which is still kept alive today. From the terrace of the Certosa you will get one of the best views in the city of the entire Bay of Naples.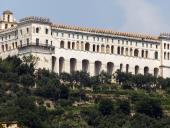 Palazzo Reale di Capodimonte
Built originally as a hunting lodge for the Bourbon monarchs, this monumental palazzo now houses the Museo Nazionale di Capodimonte which is arguably the best art collection in Italy after the Uffizi in Florence. It is an immense museum but highlights include works by Botticelli, Titian, Masaccio and Caravaggio.  The palace has a wonderful park which offers some welcome fresh air after the hub-bub of the city.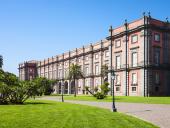 Mercato di Porta Nolana
Situated at the site of one of the city's medieval gates is this daily market selling everything from fresh fish to fruit and vegetables (as well as one or two contraband items such as cigarettes!) and its a great place to taste many of the famous Neapolitan street snacks.
It is difficult to choose highlights in Naples as it will depend on your personal interests and in many ways you can best soak up the atmosphere here by just observing street life.  But if you are searching for an authentic insight into the city we highly recommend a private guided tour with Giorgio Petracone and his team who have a wealth of experience guiding in the region.  He can be contacted at info@pompeigrandtour.com or on +39 335 104 1737.
If you have a few days in the city it might be worth investing in an Campania artecard which offers different packages, but includes free entrance to certain participating sites, a 50% discount on others and free transport in Naples.
Climbing Mt Vesuvius
It is possible to reach the crater of Mt Vesuvius which is about a 30 minute walk up from the car park where public transport options deliver you, or a couple of hours hike if you start lower down. In Napoli Centrale station you need to take the Ferrovia Circumvesuviana and alight at the ERCOLANO-SCAVI stop. Outside the station there is a piazza where the bus stops ( Trasporti Vesuviani ) and takes you to the car park.  There are also buses which take you up from the Piazza Anfiteatro in Pompeii (Vesuviana Mobilita).
Pompeii and Herculaneum
The sites of both these buried cities can be visited in an easy day trip from Naples. It was in AD79 that Vesuvius's devastating eruption occurred and life in the towns below uniquely preserved in the layers of mud and burning pumice stone. From Napoli Centrale station you need to take the Ferrovia Circumvesuviana and alight at the Ercolano-Scavi stop for Herculaneum and at Pompeii-Scavi-Villa dei Misteri station for Pompeii.
The Islands
Many people would choose to make time in Naples to hop across to one or more of the famous islands which sit opposite in the Bay of Naples. Perhaps the best known is Capri - something of tourist trap but still displaying great charm and natural beauty. Ischia is the biggest island and known for its thermal waters, and is also popular with tourists and weekenders from Naples. The smallest and less-well known is Procida, perhaps the most relaxing to head for if you want to avoid the crowds in high season. Hydrofoils and ferries leave from the main harbour in Naples (Molo Beverello) and from the quayside at Mergellina.
Amalfi Coast
The other obvious choice for a traveller to Naples would be to spend some time in Sorrento or on the Amalfi Coast. Sorrento sits on the Western side of the Sorrentine Peninsula and therefore affords spectacular views back across the Bay of Naples and Vesuvius, whereas the villages on the Amalfi coastline look south towards the toe of Italy and Sicily. Whilst Sorrento itself has few "must-see" sites (and no beach to speak of) it is an excellent base from which to explore the whole area as it has great rail and ferry connections.
Of the towns which cling to the sheer but breathtaking cliffs of the Amalfi coast it would be hard to choose a favourite. Positano is perhaps the most photogenic, Praiano has one of the best beaches, Amalfi has its maritime history and Ravello its unparalleled position high up at 335 metres above the sea with jaw-dropping views and spectacular gardens.
Where to stay
Naples has a huge number of hotels and your budget will make a big difference to where you might stay.  A useful website is the Time Out guide which you can peruse in English. 
Renaissance Naples Hotel Mediterraneo 
A modern hotel well located in the centre of the city with a roof top restaurant offering views over the bay. This is the pick-up hotel for our Southern Italy tour.
La Ciliegina
A boutique hotel in the city centre close to the main harbour. Roof top terrace and panoramic views.
Chiaja Hotel de Charme 
Tucked away off a courtyard, the former home of the Marchese Nicola Ledaldano is now a friendly, elegant hotel and quiet despite its central location. Good restaurants close by.
Excelsior
Royals, film stars and jet-setters of all ilks have walked the Excelsior's sumptuously decorated halls and corridors. A Neapolitan landmark, it exerts a heady glamour - helped by its enviable position overlooking the bay.
Parteno 
Billing itself as Naples first B&B, this charming little property has recently been done up, and is now more like a boutique hotel. The location is truly exceptional, ahead of all the grand hotels on the picturesque seafront.  Good restaurants close by.
Where to eat
As with the hotels, there is an enormous choice of restaurants in Naples and much will depend on where you are sleeping, or where you happen to be in the city when its time to eat!  Here are just a few ideas.
There are literally dozens of world-beating pizzerias in Naples and many belong to the organisation known as the AVPN or Associazione Verace Pizza Napoletana.  They will display this sign outside so you can spot if they belong.  Membership depends on a strict series of regulations from sourcing the freshest ingredients within the Campania region, to preparation of the dough, to the temperature inside the wood-fired oven, and then to the flavours. True Neapolitan pizza comes only two ways:  Marinara and Margherita.  We have not eaten in every place but reckon it would be difficult to have a poor dining experience in any of these participating pizzerias!
€€Sorbillo
This is the original Sorbillo outpost. Run by a third generation family of pizzaioli, this tiny, neon-lit space has three or four tables and a quick turnover. The pizza dough is truly excellent and only the finest ingredients are used in the small selection of toppings. There is a trendier, larger version on the same street ( although with slightly higher prices), but foodies rate the pizza at this one in preference.  Via dei Tribunali 32.  Tel +39 081 033 1009
€Gay-Odin
This small temple of excellent ice-cream in the heart of the Centro Storico is a heavenly outpost of the revered, old-world Gay Odin chocolate factory. There are a few other outlets around the city. Via Benedetto Croce 61. Tel +39 081 551 07 94
€€Gran Caffè Aragonese
A large selection of sweet and savoury food, tables outside, comfortable divans inside which sometimes seem a rarity in Naples, friendly service and daily newspapers make this bar a comfortable stopping off point in a busy day of sight seeing. Piazza San Domenico Maggiore 5/8. Tel  +39 081 552 8740
€Moccia
This is one of the most famous cake shops in the city, with prices to match, but it serves all sorts of delicious goodies from mini pizzas to ice-cream too. Via San Pasquale a Chiaia 21-22. Tel +39 081 575 5113
What to order
As we said at the top, Naples is the true home of pizza (and pasta with tomato sauce), and the city is full of pizzerias with their searingly hot wood-fired ovens. The fertile volcanic soil of the region throws up delicious sweet tomatoes, aubergines and zucchini, and the zucchini flowers fried in batter are one of the greatest of the many street snacks for which the city is famous. Seafood is excellent too all along the coast, with clams and mussels appearing in many dishes.  The region of Campania is also famous for its mozzarella cheese - made here from pure water-buffalo milk - and used in the world-renowned Insalata Caprese which was a gift to the culinary world originally from the island of Capri. Not to be missed is glorious Neapolitan ice-cream and a sweet pastry called a sfogliatella, flaky pastry filled with ricotta and candied peel.
Excellent white grapes from the Campania region include Falanghina, Fiano di Avellino and Greco di Tufo while the best red wine of the region is called Taurasi and made from the native Aglianico grape. The islands of Capri and Ischia produce a harmonious white from the grape Biancolella.
Transport
Naples' international airport is Capodichino about 7km north of the city centre.  There are public and private buses which connect the airport with Piazza Garibaldi where the main train station is, and the journey takes between 20 and 30 minutes.  Taxis from the airport take about the same amount of time due to traffic.
We do NOT recommend trying to drive in the centre of Naples.  Seeing the city on foot is far the best option but there is also a small metro system and funiculars to take you up the hill of Vomero.
For all train information visit www.trenitalia.com which has an English version.
Train travel in Italy is inexpensive and comfortable.    Major cities are served by non-stop fast trains known as the Eurostar.
If you are making plans for wider Europe then www.raileurope-world.com is a useful site.  Another highly recommended train travel website is Seat 61.
Italo
NTV (Nuovo Trasporto Viaggiatori) is a new private company which started operating it's Italo high-speed trains on the Milan-Florence-Rome-Naples route in April 2012, in competition with State-owned operator Trenitalia.  NTV have added new routes subsequently and are Europe's first private high-speed train operator, with a real emphasis on customer service. Travellers should be aware that the city stations used are not always the same as those used by Trenitalia.
Another useful car transfer website which has been recommended by HH guests is mydaytrip which can arrange private cars to and from most European cities.
 
See all city guides