See all city guides
If you have booked Hedonistic Hiking's Slovenia and Friuli trip you may wish to extend your walking tour in Italy and Slovenia by spending some time in Ljubljana.
Often compared to a "little Prague" Ljubljana is the capital city of Slovenia and its political and economic heart. It has by far the largest population of any Slovenian city and is also the centre of cultural events. But many people comment that this hidden gem does not feel like a capital city - the pace of life is measured,  it is never too crowded and the attractive narrow streets of the Old Town are bustling with welcoming cafes and bars.
Highlights
Ljubljana Castle
You can walk up to the castle in about 15 minutes, but the fastest way up is to take the funicular from Krekov trg.   (Trg is the word for Square.)   It is the city's most prominent landmark, a medieval fort overlooking the old centre which dominates the skyline.   The watchtower offers great views over the capital and visitors can see a permanent exhibition on Slovenian history. Open 9 am until 9 pm.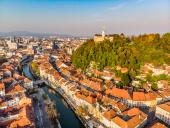 Cathedral of St Nicholas
Built in the 18th century out of pink marble the cathedral stands close to the river on the site of an early Romanesque church dating back to 1262.  It has a beautifully frescoed interior.   The open-air market close by sells good quality local produce.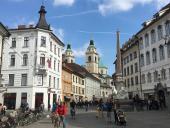 National Gallery
This impressive gallery keeps works by Slovenian and international artists from the period of Gothic art through to the famous Slovenian Impressionists.  It is open from 10.00 am to 6.00 pm Tuesday to Sunday.
If you plan to stay a few more days in Slovenia before the start of our tour then visit www.sloveniaforyou.com which is an Australian-based company specialising in all aspects of travel, tours and tourism in Slovenia.  Two other activities which have been recommended to us are a Walking Tour around the city and a Bike Tour.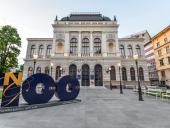 Local Guide
If you have longer and would like to explore more widely in and around Ljubljana, other parts of Slovenia (or even Croatia and other ex Yugoslav countries)  then we know a local guide Primož Kadunc who can who can design bespoke itineraries for visitors to the region.  He can be contacted by email.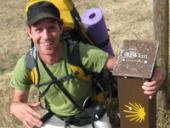 Where to stay
Allegro Hotel
A period hotel with a touch of Baroque style situated in Ljubljana Old Town's pedestrian zone.   Each of the 11 rooms is decorated in a different colour scheme.
Vander Urbani Resort
This unique hotel is four old town houses in a terrace nestling under Castle Hill on the banks of the River Ljubljanica. From the outside, they look like the other town houses in the old city, but they have been intricately re-designed with a contemporary passion.
Adora Hotel
Friendly hotel located in the centre of town near the Castle at affordable prices.
Where to eat
€€€  Restavracija JB
Managed by the world renowned Slovenian chef Janez Bratovž, this restaurant, with a very unassuming exterior, is committed to maintaining the traditions of both haute French and traditional Slovenian cuisines.  In 2010 it ranked no. 89 among the world's best 100 restaurants on the S.Pellegrino World's 50 Best Restaurants list.   Miklošičeva cesta 17    Tel +386 (0)1 474 72 19
€€€ Valvas'Or Restaurant
A contemporary design in an old building, this restaurant comes highly recommended for dinner and offers a cosmopolitan menu with an extensive wine list. Closed on Sundays.  Stari Trg 7, Tel: +386 (0)1 425 0455
€€ Gostilna As
Close to the Three Bridges on the curve in the river is this recommended restaurant with a wonderful upstairs patio for warm evenings. Good view of the castle and great wine list. Čopova ulica 5a, Tel: +386 (0)1 425 88 22
€€ Juliya
A good recommendation for lunchtime, this restaurant is central and just a short walking distance from the Antiq Palace Hotel & Spa.  Stari Trg 9, Tel: +386 (0)1 425 64 63
€€ Gostilna Na Gradu 
(Trattoria nel Castello). Typical slovenian dishes, prepared according to old recipes, but adapted to contemporary tastes. This is a sister restaurant to one we use in Kobarid on our Slovenia tour, and is situated right inside the castle walls.  Open daily 9am to midnight. www.nagradu.si,  Tel +386  (0)31 301 777.  
€€ Gostilna Kovač
A more traditional style restaurant serving Slovenian dishes plus some Mediterranean options.    A winner of Ljubljana's Quality award.    Pot k Savi 9    Tel +386 (0)1 537 12 44
€€ Pr' Noni
A little to the south west of the city centre, this interesting timbered restaurant serves Slovenian dishes, Mediterranean dishes, good buffet salads, and premium Slovenian wines.   A winner of Ljubljana's Quality award.  Cesta v Gorice 1,   Tel +386 (0)1 242 58 20
€€ TaBar
Ribji trg 6, www.tabar.si  Slovenian food with a tapas-style twist. Recommended by Hedonistic Hikers June 2016.
€€ Gujzina
Good for vegetarian and vegan options and centrally located. www.prekmurska-gostilna.si
Ljubljana is also home to myriad cafes and teahouses, so for a quick stop and something sweet, the narrow streets of the Old Town are full of options.
What to order
Kranjska klobasa (Carniolan sausage) is the best known Slovenian speciality. The earliest known mention of a sausage referred to by this name dates back to 1896.  Kraški pršut(Kras prosciutto) is dry-cured pork leg. It goes particularly well with a glass of Kras Teran, a red wine grown in the Kras region.
Prekmurska gibanica (Prekmurje layered cake) is a moist dessert consisting of layers of poppy seed, cottage cheese, walnut and apple filling. It is protected under the Traditional Speciality Guaranteed designation and can only be sold under its name when prepared according to the traditional recipe.    Štruklji is a traditional Slovenian boiled or baked dough roll with a variety of different sweet or savoury fillings, served either as a main or side dish. The best known are tarragon, cottage cheese, walnut, apple and poppy seed.  Potica, a yeast-dough cake with a variety of filling options, is the most typical Slovenian dessert. The best known of over 80 varieties are made with tarragon, walnut or poppy seed.
Slovenia does not yet have a wide global audience for its wines, but their output should not be under-rated and much fine wine is produced, so don't miss the opportunity to get tasting!  The grapes go by Slovenian names for familiar Western European varieties - Pinot Grigio is "Sivi Pinot" in Slovene, but you will find Chardonnay, Merlot, Pinot Noir, and other local grapes shared with Italy, such as Tocai Friulano ("Frilanski Tokaj"), Ribolla ("Rebula") and Refosco ("Refosk").
Transport
Ljubljana airport has flights to all major European cities but there is no long-haul service.    Routing through London, Paris, Frankfurt or Munich would offer the widest choice of onward connections.  There is a local bus service between the airport and the centre of town, or a taxi between the two should not cost more than €30.00.   Here are some  useful websites: http://www.ljubljana.info/airport/bus/ and http://www.zup-prevozi.eu/
The city has excellent rail links with major European cities such as Vienna, Budapest, Munich, and Zagreb, to name a few.  http://www.slo-zeleznice.si is a useful rail website, with an English version.  There is once again a train service between Venice or Trieste to Ljubljana.
There is a good coach service between Trieste and Ljubljana which takes about 2.5 hours.  Timetables are different for weekdays and weekends - read more.
If you are making plans for wider Europe then www.raileurope-world.com is a useful site.  Another highly recommended train travel website is Seat 61.
GoOpti is a car transfer service which can been booked in advance and has come recommended by many Hedonistic Hikers. It connects airports and major cities in the north of Italy with eachother and fixed destinations in Austria, Croatia, Germany, Hungary, Slovakia and Slovenia. See the website for more details.  Another useful car transfer website which has been recommended by HH guests is mydaytrip which can arrange private cars to and from most European cities.
See all city guides