See all city guides
Guests joining our Austria and the Dolomites tour might like to think about spending some time in Innsbruck, as this is the starting point of the tour.
The Tyrol region lies on the far western side of Austria and is home to the country's very best ski slopes. At the centre of the region lies Innsbruck, which began life in the 1100s as a small market town on the banks of the Inn river. Three centuries later, under the rule of the Habsburgs, the town became the administrative capital and cultural centre of the whole Tyrol region. Today it may often be regarded as just the starting point for the myriad winter and summer sporting activities for which the area is so famous but, for those who take time to stay and explore, it has a stunning medieval old town, an Imperial palace, fascinating museums and an impressive Baroque cathedral.
Highlights
Tiroler Landesmuseum Ferdinandeum
A fine collection of Austrian and European art ranging from Bronze Age artefacts through to the 20th century. Closed on Mondays.
The Hofburg Palace
This Imperial Palace was an important residence belonging to the Habsburg dynasty, has an impressive facade punctuated with cupolas and a beautiful inner courtyard.  It is widely regarded as one of the three most significant cultural buildings in the country and The Giants' Hall is a particular highlight.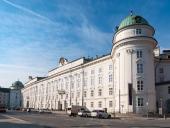 Hofkirche
This Gothic masterpiece is one of Europe's finest Royal Court churches. It houses the tomb of the Emperor Maximilian I, arguably the most important historical monument in the Tyrol region.  Innsbruck also has a lavishly impressive Baroque cathedral, the Dom St Jakob (St James's Cathedral).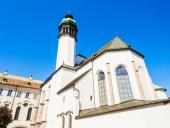 Goldenes Dachl & Museum
This famous building in the old town was built for Emperor Maximilian I and has a glittering golden roof, made with over 2,500 fire-gilt copper tiles. You can visit the museum inside with an audio guide.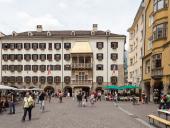 Bergisel Ski Jump
If you have a head for heights you can make your way to the Bergisel Ski Jump. The glass building at the top houses a restaurant and panoramic terrace which offer the best views of the city and the Nordkette mountain range behind. You can get out to Bergisel by tram or on the tourist Hop-on Hop-off sightseeing bus.
The Innsbruck card is worth the investment if you plan to visit most major sites, as it offers discounts and reductions and can be purchased for 24, 48 or 72 hour periods.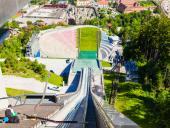 Free Guided Hikes
From June to October the Innsbruck tourist office arranges free daily guided hikes to anyone in possession of a Innsbruck Guest Card, which you will be given by your accommodation on arrival in the city. The tourist information office on Burggraben 3 has the full programme of hikes available.
Where to stay
The city's main tourist website can be found at www.innsbruck.info and has an excellent accommodation search service which is really easy to do online. You simply enter your dates and the type of accommodation you require and the site brings up all available options.
Our pick up hotel for the Austria and Dolomites tour is the Hotel Innsbruck which is conveniently located on the edge of the old town and close to the major sites.  If you prefer sleek and modern, then the Penz Hotel is also recommended.
Two hotels with plenty of history and character which have been operating for hundreds of years are the Hotel Weisses Kreuz and the Weisses Rössl.
Where to eat
€€€ Lichtblick
Located on the top floor of the stylish Rathausgalerien town hall and shopping mall, this restaurant is spectacular for its views as well as its blend of Austrian cuisine, Mediterranean flair and Asian flavours. There is a great wine bar next door. Maria-Theresien-Straße 18/7, Tel: +43 512  56 65 50
€€ Die Wilderin
A relative newcomer in the city, the chef here is obsessed with seasonal ingredients and is a great forager of local produce. The talk of the town as far as great dining is concerned!  Seilergasse 5, Tel: +43 512 56 27 28
€€ Fischerhäusl
This is a charming family style restaurant in the historic Old City of Innsbruck with a garden setting for lunch or dinner.  The menu has European/Mediterranean cuisine as well as traditional Austrian fare.  Herrengasse 8, Tel: +43 512 58 35 35
€ Cafe Munding
For wonderful coffee, chocolate, cakes and pastries head for this place which has been in business since 1803 and is in the heart of the old town. Kiebachgasse 16, in Mundingplatzl Tel: +43 512 58 41 18
The centre of the old town is pedestrianised and has many coffee houses, beer gardens and bistros to choose from.
What to order
The Tyrol and Vorarlberg regions are perhaps best known for their wonderful cheeses - the heumilchkäse is a real speciality which translates as hay-milk cheese. Another typically local dish is the gröstel or gröstl which is a sort of fry up of pork, onions and potatoes with a fried egg on top. A real Tyrol staple, speckknödel are large round boiled bread dumplings with bacon that are best enjoyed in broth or with sauerkraut and salad. Across wider Austria the wiener schnitzel is a classic (breaded veal cutlet) along with tafelspitz which is a dish made with boiled beef. The Austrians are great followers too of the 3 o'clock ritual of coffee and cake and there is a huge choice of local coffee houses in the old part of Innsbruck.
Austria's wine-growing regions lie on the eastern side of the country. Grüner Veltliner is the most important indigenous white grape variety in Austria and accounts for approximately a third of the country's white wine production. By far the most successful red grape variety is the Blauer Zweigelt. Other European grape varieties also do well here such as Riesling, Chardonnay, Pinot Blanc, Pinot Noir and Cabernet Sauvignon. The Austrians also make good sweet ice wines (Eiswein) from grapes which have been left frozen on the vine.
Transport
Innsbruck airport is situated about 4 km west of the city and is served by buses departing every 15 or 20 minutes into the centre. A taxi ride from the airport to the centre is not expensive - approx €15. The airport has no long-haul routes but flies to European destinations such as Vienna, Frankfurt, Amsterdam and a variety of UK airports. There are Express trains daily which connect Innsbruck with Munich and Verona.
For all train information in Italy visit www.trenitalia.com which has an English version. Train travel in Italy is inexpensive and comfortable.  Major cities are served by non-stop fast trains known as the Eurostar. 
If you are making plans for wider Europe then www.raileurope-world.com is a useful site.  Another highly recommended train travel website is Seat 61.
GoOpti is a car transfer service which can been booked in advance and has come recommended by many Hedonistic Hikers. It connects airports and major cities in the north of Italy with eachother and fixed destinations in Austria, Croatia, Germany, Hungary, Slovakia and Slovenia. See the website for more details. Another useful car transfer website which has been recommended by HH guests is mydaytrip which can arrange private cars to and from most European cities.
See all city guides