See all city guides
Florence is the regional capital of Tuscany and an absolute feast for the senses.  It is the home of the Renaissance and one of Italy's finest art collections.  But alongside the history, art and architecture, Florence is a crowded busy city full of lively bars and restaurants, with myriad shopping opportunities from designer stores to local markets.
Highlights
The Uffizi
One the most famous in Europe, this art collection comprises 1,555 pieces spanning ancient Greek sculpture, Renaissance masters, and on up to 18th century Baroque painting.  A visit here it is definitely worth booking in advance.    The English-speaking telephone booking centre (+39 055 294883) is open from Monday to Friday from 8.30 to 18.30 and on Saturdays from 8.30 to 12.30.   There is a booking fee of €4 and tickets can be collected and paid for on the day of the visit.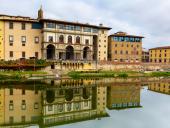 Galleria dell'Accademia
This is home to Michelangelo's genuine statue of David, carved from one block of marble when the artist was just 29.   There are two copies of the statue on the streets of Florence but if you want to see the real thing, make an advance booking to avoid the queues.   (+39 055 294883)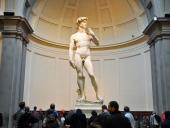 Piazza del Duomo
One the most iconic Cathedrals in the whole of Italy, Florence's Duomo is instantly recognisable from its striped marble facade, vast red dome and soaring campanile or bell-tower.   It's breathtaking.    To see the stunning original bronze doors of the Baptistry, visit the Museo dell'Opera del Duomo.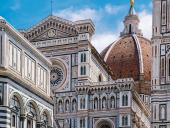 Ponte Vecchio
Florence's most famous bridge across the River Arno, which houses hundreds of jewellery stalls, from which views of the city and its river can be enjoyed at all times of the day, especially the sunset.
For €85 you can by the Firenze Card which, in a period of 72 hours from the first time you use it, allows you access to all major museums, gardens and exhibitions without the need to queue or book ahead.  It can also be used on buses and trams - all you need to do is swipe the card as you embark.   It can be purchased on-line or from selected stores around the city.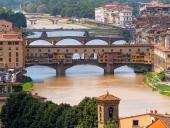 Local Guide
In fact, there is so much to see and do in Florence that it can be overwhelming with only a short amount of time.   For an authentic and entertaining insight into the city we highly recommend a private guided tour with Freya Middleton.    Her in-depth knowledge, enthusiasm and passion for the city will make it an unforgettable experience.   Contact Freya for her brochure and tour menu.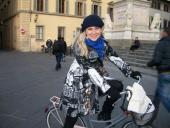 Where to stay
Some of the hotels listed below are known to Hedonistic Hiking, and others are recommendations from people who have extended their walking tour in Italy in Florence.
Hotel Rosso 23
This small dynamic, energetic, contemporary hotel, with its fascinating inner court, is located in a noble building at number 23 Piazza Santa Maria Novella. The Rosso 23, fully decorated in red and grey tones, is a high quality 3-star hotel with 42 rooms.
Grand Hotel Minerva
An excellent four star hotel just 3 minutes walk from the Santa Maria Novella station in the heart of Florence.  It also has a pool on the 5th floor with a panoramic view of the city. 
Hotel L'Orologio
Also situated close to the Santa Maria Novella station, this boutique hotel is designed around the theme of vintage clocks and wrist-watches.   Sounds unusual but stylish results!  We stayed here this year and loved it!
Dei Mori Bed & Breakfast
Another of our favourite places in the heart of the historical centre, just five minutes from the Duomo and the Piazza Signoria.    The five double rooms look onto an internal courtyard and there is a small terrace where guests can enjoy breakfast.   Friendly and welcoming and English is spoken.
Casa Del Garbo
Luxurious B&B centrally located in the Piazza Signoria.     Four beautifully furnished and well-appointed rooms.
Hotel Davanzati
Run by three generations of the same family this hotel is very central and each evening they serve complimentary drinks and nibbles between 6.30 pm and 7.30 pm.  There are 26 steps up to the lobby but elevators once you are inside!
Villa Antea
This luxury B&B offers six large, bright double rooms, all decorated with parquet flooring, silk tapestries, period paintings and antiques.
Antiche Dimore Fiorentine
A collection of Residences across the city offering B&B but many other services too such as an honesty bar, free WiFi, laundry and museum bookings.
Hotel Albani
This hotel is located on a quiet street within walking distance of Santa Maria Novella train station.  Refined and atmospheric.
La Locandiera
Just a short walk from Santa Maria Novella station this B&B has five comfortable rooms, very helpful English speaking staff, free WiFi and breakfast served in the rooms.
Where to eat
€€€ Ristorante Boccanegra 
Elegant and innovative Tuscan cuisine. Excellent wine list. Via Guibellina 124/r.
Tel +39 055 2001098. Opposite Teatro Verdi. Closed Sunday.  They also have a Trattoria, offering more simple cuisine, and a Pizzeria.
€€ Ristorante del Fagioli 
Near to Santa Croce.  The restaurant serves typical Tuscan food and excellent grilled meats. Closed Saturday and Sunday.  Corso Tintori 47  Tel +39 055 244285
€€ Trattoria 4 Leoni 
Simple Tuscan cuisine. Piazza della Passera – Via Vellutini 1/r. Tel +39 055 218562. Near the Pitti Palace.
€€ Osteria Santo Spirito
On the south side of the Arno and close to the Boboli gardens.  Piazza di Santo Spirito 16.  Tel +39 055  238 2383
€€ I Due G
This trattoria is very convenient for the station Santa Maria Novella and serves great grilled meats.    Via B Cennini.   Closed Sunday.   Tel + 39 055 218623.  
€€ Pane e Olio
Great for fish which is not always so easy to find in Florence.   Via Faentina 2   Tel +39 055 488381
€€ Taverna del Bronzino
Beautiful dining room and very friendly and helpful staff.   Via delle Ruote 27.
Tel +39 055 495220
€€ Ristorante Accademia
Very reasonably priced specialising in home-made pasta dishes, in Piazza San Marco.
Tel +39 055 217 343
€€ Trattoria del Carmine
A small, inexpensive, trattoria on the Oltrarno (the opposite side of the River Arno) near the church of Santa Maria del Carmine (Brancacci Chapel). Tables outside. Piazza del Carmine. Tel +39 055 218601
€€ La Bottega di Rosa
One of Freya's favourite eateries, the food here comes highly recommended with a great atmosphere.  Open every day.
Via del Campidoglio 8, Tel +39 055 267 0423
€€ Cucina Torcicoda
Just opened in the autumn of 2013 this new place has had great reviews and offers something for everyone: a pizzeria with wood-fired oven, a gourmet restaurant, an osteria with traditional dishes, an ice-cream parlour and a shop!  It is close to Santa Croce at Via Torta 5. Tel +39 055 265 4329
€ Rifrullo 
Bar/restaurant on the Oltrarno near the porta San Niccolò. Good for lunch or an aperitif before dinner. Tables outside.  Tel +39 055 2342621.
€ Sabatino
Very good value for money, this trattoria offers hearty Tuscan home cooking.   Across the river close to the bridge Ponte Amerigo Vespucci.   Closed Saturday and Sunday.  Via Pisana 2r   Tel +39 055 225 955
€ All' Antico Vinaio
A tiny but popular place to call for lunch, wine and some local colour.   Via de' Neri 65, close to the Uffizi.
€ Il Pizzaiuolo da Carmine 
Popular and long-standing Neapolitan pizzeria close to Sant'Ambrogio market. Via dè Macci 113/r. Tel +39 055 241171. Closed Sunday.
€ Trattoria Mario
Cosy and busy and near to the Central Market.   Delicious beef, rabbit and pastas.
Via Rosina 2r     Tel  +39 055 218550
€ Cantinetta dei Verrazzano
A wonderful place for coffee, wine, focaccia and fresh bread.  Full of character.
Via dei Tavolini 18-20    Tel +39 055 268590
For an interesting dining experience in Florence take a look at this site and think about trying a home restaurant. Those with the Verified Host badge have been visited personally by the BonAppetour team and been given their seal of approval.
What to order
It may not be your first choice, but one of the traditional specialities of Florence is tripe.   The "trippaio" is an old-fashioned seller of tripe from a cart on the street, and the tripe is boiled, sliced and seasoned.   Otherwise, bistecca alla fiorentina is a must - a grilled T-Bone steak - and look out for fiorentini biscuits - made with almonds, sugar and a little cocoa powder.
Here you are in the centre of Chianti production - try a Chianti Classico or Chanti Colli Fiorentini or Chianti Rufina.    For white wines try a Vernaccia from San Gimignano or a Montecarlo from the hills close to Lucca.  
Transport
Florence has an airport which caters for domestic flights and some other European connections, but Pisa (about 1 hour by road) has a much wider selection of international flights.    Florence's main train station is at Santa Maria Novella.  There is a regular bus service between Pisa and Florence and Siena and Florence.
For all train information visit www.trenitalia.com which has an English version.
Train travel in Italy is inexpensive and comfortable. Major cities are served by non-stop fast trains known as the Eurostar.
If you are making plans for wider Europe then www.raileurope-world.com is a useful site.  Another highly recommended train travel website is Seat 61.
Italo
NTV (Nuovo Trasporto Viaggiatori) is a new private company which started operating it's Italo high-speed trains on the Milan-Florence-Rome-Naples route in April 2012, in competition with State-owned operator Trenitalia.  NTV have added new routes subsequently and are Europe's first private high-speed train operator, with a real emphasis on customer service. Travellers should be aware that the city stations used are not always the same as those used by Trenitalia.
For help with car hire, or a chauffeur driven car or minibus in the Tuscany area, or aiport transfers and taxi services contact Marco at ABC Rental  Tel +39 0577 924542 or emailinfo@abc-rent.com. Another useful car transfer website which has been recommended by HH guests is mydaytrip which can arrange private cars to and from most European cities.
See all city guides