See all city guides
The Cinque Terre is the collective name for the five medieval towns on this stretch of Ligurian coast precariously constructed on and between steep cliffs plunging straight into the Mediterranean. The inaccessibility of these villages over the centuries led to skilled terracing of the land in between, so the inhabitants could cultivate vines, olives, fruit and vegetables. Until the railway line was built in 1874 locals travelled by boat or followed mule tracks from one village to the other, and today these paths are still the best way to explore and enjoy this unique area.
The walking trails of the Cinque Terre are very well marked and well trodden.  The area receives thousands of visitors each year enjoying this stunning coastline, but it is not typical of a Hedonistic Hiking walk.  Our trails are unique and researched by us in much wilder and less populated areas where, very often, we see no other hikers at all.  Our Parma, Tuscany and the Ligurian Sea tour brings us to the Ligurian coast in the pretty town of Lerici, which sits across the Gulf of Poets from the Cinque Terre villages, but is well situated for those wishing to continue on there for some self-guided walking. Italy is taking steps to limit the number of visitors to the famous Cinque Terre coast by capping numbers at 1.5 million, so make sure you book ahead on-line if this is something you plan to do. Those planning self-guided walks along this coastline should keep an eye on the Park website, as weather conditions can lead to trails being closed on occasion.
Highlights
Monterosso
The origins of this westernmost village date to Roman times and it is spread across two inlets, so there are two sides to it, the eastern one being the oldest. The church of San Giovanni Battista with its green stone tower dates back to 1244. This is the only one of the villages to have a beach.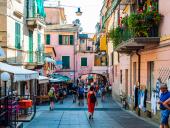 Vernazza
Vernazza was an important medieval harbour in the Middle Ages. Much of the village is built up on the rocky outcrop, so it would not have been visible from the sea, and therefore better protected from attack. The church of Santa Margherita frames the harbour and dates back to 1318.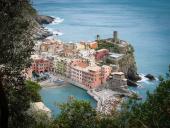 Corniglia
Unlike the other villages, Corniglia does not have direct access to the sea but is built higher up at 100 m. Walk through the village to Belvedere Santa Maria for spectacular views.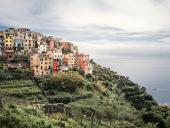 Manarola
Although geographically very close to Riomaggiore, the people of Manarola still use a dialect of their own and the village is best known for its sweet white wine known as Sciacchetrà.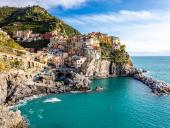 Riomaggiore
The largest and easternmost village of the five, Riomaggiore is built on a steep slope down to a tiny harbour.   If you want to walk the Sentiero Azzurro path the full length of the Cinque Terre, then this is the usual starting point.
There are several walking trails in the Cinque Terre and for full information on the hikes, the National Park, discount cards and the museums visit the Park website.
Where to stay
Some of the hotels listed below are known to Hedonistic Hiking, others are recommendations from people who have extended their walking tour in Italy in the Cinque Terre.
La Mala
Light and bright, this hotel has four charming rooms with beautiful views in the middle of Vernazza.
Hotel Pasquale
This 3 star hotel has 15 rooms, all with a sea view, and is located right on the beach in the oldest part of Monterosso.
Hotel Porto Roca
A 4 star built high above Monterosso, this hotel has lovely views across the sea.  It  also has a restaurant and a small spa.
La Sosta di Ottone
Perched high on the hill between Levanto and Monterosso is this tiny hotel with four suites in the village of Chiesanuova.    You will need to be travelling extremely light as there is no access by car, only on foot, but if you want real peace and quiet this could be for you.
When visiting the Cinque Terre many people choose to base themselves in Levanto at the western end and use a combination of the train or boats to get about.     Another option is to stay in Portovenere on the eastern tip, from which you can explore by boat, although the railway does not come this far.
Hotel Carla - Levanto
In the middle of Levanto but only a short walk to the sea, the Hotel Carla has 33 bright clean rooms and is close to the station if you are using the train to explore.
Hotel Paradiso - Portovenere
Slightly set apart from the bustle of the centre, this hotel has a lovely outlook across the Gulf of Poets and a good restaurant.   The rooms on the highest floors have the best views.
Where to eat
€€ Locanda Lorena
With its own boat service across from Portovenere, this great restaurant on the island of Palmaria is highly recommended - especially for a leisurely lunch.    There are also a few rooms.    Tel +39 0187 792370
€€ Miky Restaurant - Monterosso
Well known for its excellent fish and wood-burning oven.     Booking recommended.    
Via Fegina 104.     Tel +39 0187 817608
€ L'Alta Marea - Monterosso
On the main street in the old part of town, this restaurant serves typical Ligurian fare.    Via Roma 54    Tel +39 0187 817170
€€ Gambero Rosso - Vernazza
Traditional Ligurian dishes with a modern twist.    Piazza Marconi 7.
Tel +39 0187 812265
€€ Trattoria Gianni Franzi - Vernazza
Emphasis on very traditional Ligurian dishes and cooking methods.   
Piazza Marconi 5.    Tel +39 0187 821003
€€ Osteria a Cantina de Mananan - Corniglia
A small place but excellent fish and seafood pastas.    Via Fieschi 117.  Tel +39 0187 821166
€€ Cantina dello  Zio Bramante - Manarola For a good selection of locals wines and typical food.   Via Birolli 110   Tel +39 0187 920442.
€€ Marina Piccola - Manarola
This restaurant is right on the waterfront.    Via Lo Scalo 16, Tel +39 0187 920923
€€ Cappun Magru - Riomaggiore
Located in Groppo in the hills above Riomaggiore, this has spectacular food and spectacular views.    There is a tasting menu.    Tel +39 0187 920563.    Definitely worth the bus ride up!
€€ Osteria Tumelin - Levanto
Great position with outdoor seating, efficient service and delicious pesto!     Via Grillo 32    Tel +39 0187 808379.
What to order
This is a sea-food lovers paradise - plenty of fresh fish, mussels, shrimps, anchovies and calamari.    The area is also famous for its wonderful sweet basil made into pesto and served on "trofie" which is a hand-rolled short pasta.    Foccaccia, a delicious flat bread made with the local olive oil is a must along with farinata which is made with chickpea flour.  
Winemaking in Liguria is a heroic activity because of the steep slopes which make modern machine methods almost impossible.    Look for white wine by the name of Cinque Terre or from the Colli di Luni region a Vermentino.    The rare and expensive Sciacchetrà is a sweet wine good with desserts.
Transport
The railway which links the five villages and also Levanto connects with La Spezia at one end and Genoa at the other.   One to three trains an hour will stop along the way but we advise you to use a timetable as not all trains stop at all the villages every time.   Portovenere can be reached from La Spezia by buses running approximately every half hour from Via Chiodo.
The Consorzio Marittimo Turistico Cinque Terre Golfo dei Poeti runs the coastal boat service from March to October.
For all train information visit www.trenitalia.com which has an English version.
Train travel in Italy is inexpensive and comfortable.    Major cities are served by non-stop fast trains known as the Eurostar.
If you are making plans for wider Europe then www.raileurope.com is a useful site.  Another highly recommended train travel website is Seat 61.
Italo
NTV (Nuovo Trasporto Viaggiatori) is a new private company which started operating it's Italo high-speed trains on the Milan-Florence-Rome-Naples route in April 2012, in competition with State-owned operator Trenitalia.  NTV have added new routes subsequently and are Europe's first private high-speed train operator, with a real emphasis on customer service. Travellers should be aware that the city stations used are not always the same as those used by Trenitalia.
A new train route, launched in December 2022 from Austria's national rail operator ÖBB, offers a comfortable overnight train from Munich all the way to La Spezia, also stopping in other Ligurian favourites Rapallo and Levanto.  It is known as the Nightjet and is a very relaxing way to arrive in the heart of the Cinque Terre region.
GoOpti is a car transfer service which can been booked in advance and has come recommended by many Hedonistic Hikers. It connects airports and major cities in the north of Italy (La Spezia being one of them) with eachother and fixed destinations in Austria, Croatia, Germany, Hungary, Slovakia and Slovenia. See the website for more details.  Another useful car transfer website which has been recommended by HH guests is mydaytrip which can arrange private cars to and from most European cities.
See all city guides