See all city guides
Situated on Corsica's east coast, facing Italy, Bastia is Corsica's second largest city, and one of France's busiest passenger ports. Part of its attraction lies in the sense you get that this is a lived-in city, with a charming old town and enough things to see to fill a full day. All these sights lie within three main areas - Terra Vecchia, the old town, Terra Nova, the area surrounding the Citadel, and the Vieux Port.
 
Highlights
Terra Vecchia
The heart of old Bastia is the Terra Vecchia, a maze of jumbled narrow streets and alleys fronted with ancient shuttered windows and punctuated by baroque churches. Stop by the morning market in the main Place du Marché and visit Corsica's largest Baroque church, the 16th century Saint-Jean Baptiste church.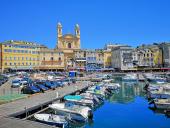 Vieux Port
Get the best views of the Saint-Jean Baptiste church from the old harbour which has a lovely waterfront with bars and restaurants and is lined with ochre-hued buildings.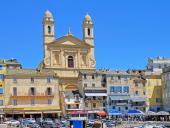 The Citadel
Wander through the Jardin Romieu to reach the imposing Genoese citadel (built between 1378 and 1530) which lies at the heart of the Terra Nova district, on the other side of the old harbour.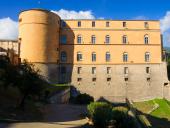 Terra Nova
This area is home to several churches, including the Oratoire de l'Immaculée Conception on Rue Napoleon, a small church with a splendidly ornate interior and outside, the pebble mosaic flooring that is characteristic of the area. Visit the 14th century Palais des Gouverneurs and enjoy a meal at a restaurant with a view of the old port. Victor Hugo lived in this part of town as a child.  Nearby, the plane tree-lined Place St Nicolas is one of the largest open squares in France, bordered by cafés, shops and restaurants, and situated just across from where the ferries dock.
On the outskirts of Bastia, take a walk up the hill behind the town to the two old forts, Fort Starforello and Fort Lacroix.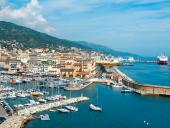 Where to stay
Hotel des Gouverneurs
26-room boutique hotel with a wellness centre, housed in the ex-governor's home, 500m walk from the town centre and old port.
Hotel Central Bastia
Small, charming and a more budget-sensitive option in a great location, close to the historic centre. There are 26 rooms and 7 suites, with an inner courtyard.
Best Western Bastia
Modest, functional and comfortable rooms. Well-placed for anyone arriving or departing Bastia by ferry.
 
Where to eat
€€Chez Vincent 
At 12 rue St.Michel, Chez Vincent is best-known for its pizzas and its terrace views of the port. There's also the option of steak and mussels. Head for sister restaurant Petit Vincent (1 rue du Dragon) lower down the Citadel slope for more fishy options.
€€€Le Pirate  
Feast on lobster tortellini and grilled John Dory straight off the boat at this fine dining restaurant, overlooking the sea at Erbalunga (20222 Brando - around 20 minutes by car from Bastia).
€€A Casarella
6 Rue Sainte-Croix. French and Mediterranean cuisines, fab fish and seafood and with great views and friendly service.  Very close to the Hotel des Gouverneurs.
€Raugi 
2 bis Rue du Chanoine Colombani. Established in 1937, Raugi is the place to go in Bastia for traditional Corsican flavoured ice-cream, including mandarin, fig and sweet myrtle.
What to order
Bastia's coastal location means that seafood, and particularly mussels, dominate, generally washed down with a glass of crisp Corsican white wine. A traditional first course is sturzapreti, large gnocchi-like dumplings made of seasoned spinach or chard, rolled into balls with brocciu cheese and baked. However, a strong mountain influence is still evident on the coast, with wild boar, charcuterie and meaty stews flavoured with forest herbs appearing on some menus and chestnut-rich cakes.
Start your evening with a pale golden amber Cap Corse aperitif, a bittersweet wine infused with fruits and spices, produced in Bastia.  Happily, Patrimonio, to the west of Bastia, is one of the most active wine producing areas of the island. Wines are from the traditional grape varieties – Vermentino for the whites and Nielluccio for the reds and rosés.
Transport
By air: International flights are available from many European capital cities to Bastia Poretta airport which is around 16km south of Bastia city centre.
By sea: This remains the most popular option, with ferries to and from Bastia from the French and Italian coast. Destinations include Toulon and Nice in France, and Genoa, Livorno, Piombino and Savona in Italy.
Travel across Corsica by train is popular. The Bastia-Ajaccio rail journey (U Trinighellu), across the mountains via Corte, is renowned for its dramatic scenery.
If you are making plans for wider Europe then www.raileurope-world.com is a useful site.  Another highly recommended train travel website is Seat 61.
See all city guides