See all city guides
Many people choose to extend their walking tour in Italy by visiting Arezzo. This could be easily done if you have booked Hedonistic Hiking's A Tuscan Harvest, Lucca, Volterra and Elba or of course Medieval Umbria which starts and finishes here.
First a significant Etruscan site, Arezzo was later an important Roman trading town on the Apennine route. Famous for its jewellery businesses and goldsmiths, it also has a monthly antiques market which draws people from far and wide. Its greatest monument is undoubtedly the cycle of frescoes painted by Piero della Francesca in the 1450s in the church of San Francesco.
Highlights
Chiesa di San Francesco
The Legend of the True Cross is the story depicted in the cycle of frescoes painted by Piero della Francesca and charts events in the life of the piece of wood which became the cross of the crucifixion of Christ. The best way to visit is with an audioguide, but since numbers are restricted, it's best to book ahead.    Tel +39 0575 35 27 27, or visit the Tourist Office.  Guests who join our Medieval Umbria tour will visit the church of San Francesco on the first day of the tour.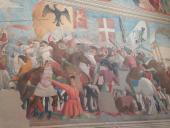 Piazza Grande
The main square is composed of an interesting architectural assortment of buildings from the Gothic to the Baroque. The piazza slopes down towards its fountain. On the first weekend of each month it plays host to the famous antiques fair.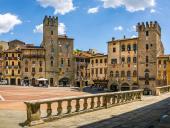 Pieve di Santa Maria
On your way to the Piazza Grande be sure to stop at this fine Romanesque church, construction of which started in the 1200s. The alterpiece by Pietro Lorenzetti dates back to 1320, and the bell tower was added in the same century.
For a fabulous local guide why not contact Debora Bresciani, born and bred in Arezzo, and passionate about the history, art, culture and food of her native city.  Debora has her own website and you can find her here.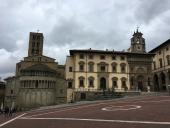 Where to stay
Hotel Continentale
Recently renovated, this hotel is well situated between the station and the historic centre of Arezzo and is the pick-up point for our Medieval Umbria tour. 
Graziella Patio Hotel
A historical palazzo in the old town with 7 themed rooms, each one dedicated to one of Bruce Chatwin's famous books.   
Hotel I Portici
The Hotel I Portici is a four star located on the fourth floor of a historic building above the famous Vasari arcades of Via Roma.    Close to the station if arriving by train.
B&B Tarussio
Recommended by Hedonistic Hikers in May 2019. Family-owned three bedroom B&B just 5 mins walk from the station.
Where to eat
€€ La Lancia D'Oro
Attractive location under the loggia on the Piazza Grande.    Tel +39 0575 21033
€€ La Torre di Gnicche
A traditional restaurant which is just off the Piazza Grande in Piagga San Martino 8.  It has a very good selection of local Tuscan wines.  Tel +39 0575 322035.
€€ Buca di San Francesco
Adjacent to the Chiesa di San Francesco this restaurant serves good traditional Aretine dishes.  You can find it on Via San Francesco 1.   Tel +39 0575 23271.   
What to order
Arezzo's best known soup is "acquacotta" - essentially an onion soup with tomato and bread and mixed with cheese and an egg.     In the heart of Tuscany here many dishes will be made from game, especially wild boar, and in season mushrooms will appear on the menus.    Finish with wonderful Tuscan Pecorino sheep's cheeses.
For red wines, look out for Chianti Colli Aretini, or Chianti dell'Etruria Centrale or the excellent Vino Nobile from Montepulciano.   Typical Tuscan whites include Vernaccia from San Gimignano or Vermentino.
Transport
Arezzo is on the train line which connects Rome with Florence and has a frequent service to both cities.  Travel time from Florence is approximately 1.5 hours and from Rome 2.5 hours. There are also daily buses to Cortona,  Siena and Sansepolcro.
For all train information visit www.trenitalia.com which has an English version.
Train travel in Italy is inexpensive and comfortable.    Major cities are served by non-stop fast trains known as the Eurostar.
If you are making plans for wider Europe then www.raileurope-world.com is a useful site.  Another highly recommended train travel website is Seat 61.
Italo
NTV (Nuovo Trasporto Viaggiatori) is a new private company which started operating it's Italo high-speed trains on the Milan-Florence-Rome-Naples route in April 2012, in competition with State-owned operator Trenitalia.  NTV have added new routes subsequently and are Europe's first private high-speed train operator, with a real emphasis on customer service. Travellers should be aware that the city stations used are not always the same as those used by Trenitalia.
Another useful car transfer website which has been recommended by HH guests is mydaytrip which can arrange private cars to and from most European cities.
 
See all city guides