Walking with Poles
Submitted by HedonisticHiking on 4 May 2023
First-time hikers with Hedonistic Hiking often ask about the use of poles. Whilst this is a very personal decision, we ourselves always use them and would highly recommend them to our groups.. However, like wearing in a new pair of boots, you will benefit from a little practice with them before the tour starts. On our Level 5 and Level 4 hikes we would regard poles as essential as there are generally steeper ascents and descents and longer distances.  Our Level 3 and Level 2 tours include some challenging hikes when poles would be advantageous. There are many benefits to walking with poles which have been well researched.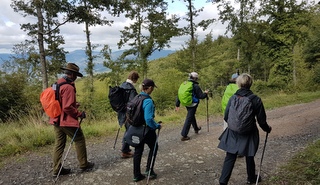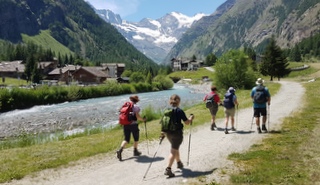 Increased comfort
Using the poles leads to an upright posture, as your weight is distributed across your arms and legs, therefore reducing the strain on knees and ankles. Walking with poles therefore works the upper and lower body at the same time.  Some hikers use just one pole, but for optimum comfort and stability we prefer two.
Feeling more Secure
The poles hugely improve your balance and stability, particularly over rough or difficult terrain.  When your legs start to feel tired at the end of the day, and on steep descents, the poles can significantly aid your sense of security.
Greater Endurance
As the poles are helping to take some of the strain on your body you will notice increased stamina and feel energised to hike further and for longer. Regular walking with the poles builds muscle strength in your arms and shoulders which is also a benefit if you are carrying a day pack.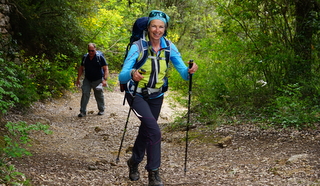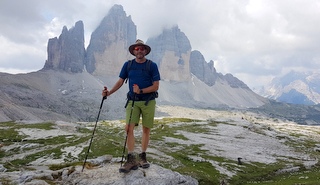 How to choose the right poles?
As a general rule, the height of the pole should allow your hand to lightly grip the handle with your arm at a right angle to the ground.  We sometime advise guests to adjust the poles according to the terrain, so we might suggest lengthening them for a steep descent, or shortening them for a steep ascent.
Try the handles before you buy to make sure they feel comfortable in your hand, and choose poles with a strap because they allow you to walk with a looser grip and a more relaxed style.
The strongest yet lightest poles are made from carbon fibre, but these are often the most expensive.  However, they are worth the investment as lighter poles are obviously less tiring to carry.  There are a number of accessories you can buy such as rubber tips for tough surfaces, or so-called mud baskets to stop you sinking in very soft ground.  Folding poles are excellent for packing in cabin baggage.  They can also easily be stored in your rucksack if not required on a section of a day's walk, or whilst stopping for lunch or visiting a local museum en route!
We do advise guests, when using the poles for the first few times, to be aware that someone will be coming behind you on the trail and to be careful not to inadvertently injure fellow walkers.  For more information about having the right walking gear, see our Kit List page.