Let's talk about train travel
Submitted by HedonisticHiking on 10 Aug 2022
At Hedonistic Hiking we are starting to think more and more about train travel within Europe. If you're beginning to make plans for travel in 2023, and you'll be visiting more than one country, then take a moment to consider letting the trains take the strain. Train travel in Europe is generally efficient, and the Italian rail network in particular is subsidised, making the railways a good value option. Driving and parking in Italian cities is often a hair-raising experience, and the distances between major cities are not as far as you might think: for example, Rome to Venice takes 3 hrs 45 mins by train, Milan to Rome 2 hrs 55 mins, almost the same amount of time as you would need to leave for airport check-in and security procedures.  Here are some of the distinct advantages as we see them: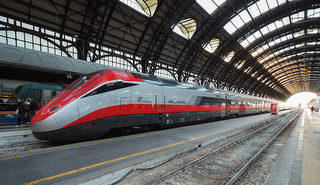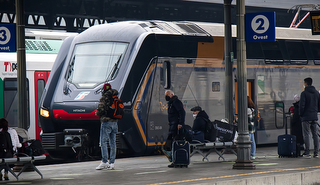 Relaxation
Many of Europe's airports post-covid have struggled with staffing issues and delays, and some of the stories people have of queues at security or border controls are quite bewildering. Major rail stations are always centrally located and well served by local transport links. There is no extended check-in time required for a journey, and you can leave your seat and stretch your legs whenever you feel like it, making for an altogether more relaxing experience.
Sense of Adventure
Travelling by train is an adventure and your travel days become part of the holiday itself, not days of queuing and stress which you are keen to see the end of. You have endless possibilities to explore points along the route, a night or two halfway to your ultimate destination might be a fun way to break up the journey, and there is the chance to visit a cultural attraction or gourmet region as you pass by. 
The European Landscape
Train travel offers a unique opportunity to understand the geography of Europe - something which is almost impossible by air. Flat plains, snow-capped mountains, agricultural valleys, wine country - all becomes clear with the view from your window - and you can start to piece together the jigsaw of Europe's different landscapes.  Slow travel is such an enriching experience, and something that we have always believed in with our love of exploring on foot.
The Environment
We cannot escape the fact that emissions from aviation have been a significant contributor to climate change in recent decades and anything we can do to help reduce this must be a benefit to all. Train travel produces in the region of 80% less CO2 than a flight.
Luggage allowance
You are not restricted by bag size or weight, meaning that you can pop in that extra pair of shoes, and you don't have to worry about organising the contents of your hold luggage and cabin baggage. That said, on our Hedonistic Hiking tours we do ask you to limit your tour luggage as we travel in two compact 9 seater mini buses, but we have lots of useful information about leaving extra suitcases at hotels or moving cases with luggage transfer services. 
Connections with our tours
Almost all of our tours have pick-up points at major train stations making it super-easy for you to join the group.
Lucca, Volterra and the Island of Elba - Pisa Central Train Station
Etruscan Trails in Central Italy - Rome airport - rail link to Roma Termini station
The Wilds of Abruzzo - Rome airport - rail link to Roma Termini station
Slovenia and Friuli - Ljubljana Central station
The Best of the Italian Alps - We meet at the Hotel Concord which is 300m from Turin Central Porta Nuova Station. 
The Palio of Siena - Pisa Central station 
The Italian Lakes - We meet at the Una Hotel Cusani which is 700 metres from Milano CADORNA train station (also known as Stazione Nord)
Parma, Tuscany and the Ligurian Sea - Parma train station
A Tuscan Harvest - Pisa Central train station
Northern Tuscany and Ravenna - We meet at the Star Hotel in front of the Central Train Station in Bologna 
The Jewels of Piedmont - We meet at the Hotel Concord which is 300m from Turin Central Porta Nuova Station. 
It is worth mentioning that you can reach Milan or Turin from London in under a day with high speed French TGV trains and Italian Freccia Rossa (Red Arrow) trains. From these stations you can easily connect to any other city in Italy, so it would be straightforward to join a tour say in Bologna, Rome or Pisa.
Here's an example: Leave London St Pancras at 09.31 on the Eurostar and arrive into Paris Gare du Nord 2 hr 20 mins later.  You will need to cross Paris on the RER or by cab to the Gare du Lyon where you'd have time for a light lunch!  You could then choose between the French high-speed TGV train at 2.43 pm or Trenitalia's all-new Frecciarossa at 3.18 pm.   The TGV reaches Turin in 5 hrs 40 mins and Milan Porta Garbaldi station in 7 hrs 6 mins. The Frecciarossa takes 6 hours to reach Turin but just 6 hrs 49 mins to reach Milan Central.  You can literally have breakfast in London, lunch in Paris and dinner in Turin or Milan. The Frecciarossa route makes a stop in France's culinary city of Lyon, meaning you could break your journey there if desired, spend the night and eat in one of the city's many Michelin starred restaurants.
There are some excellent websites which help you to put together your journeys by rail - for example:
In the coming weeks we will be looking at some of Italy's most scenic train routes and, as The Man in Seat 61 says, "Train travel is a more rewarding alternative to flying which reduces our contribution to climate change and brings us closer to the countries we visit."