Italy's Best Hiking Routes
Submitted by HedonisticHiking on 13 May 2018
Italy's best hiking routes: planning your holiday
One of the questions that crops up time after time is which is the best region in Italy for walking. Not surprisingly, there's no simple answer. Italy is hugely varied, not only in terms of landscape and geography, but also culturally. Each region is quite distinctive and each one justifiably proud of its attractions and heritage. So where do you start planning a walking holiday in Italy? We've identified a couple of things to think about to get you started.
Choosing your walking level
Making sure that you choose a walking holiday that meets your specific needs should be the first step. We've cherrypicked our favourite walks in Italy, ranging from gentle strolls to challenging full-day hikes, but our most memorable walks are not necessarily the most strenuous. Our advice is to think carefully about how long you want to walk each day and whether you enjoy steep ups and downs or prefer to keep things relatively level. If you'd like to find out more, visit our information on the grading of our hikes.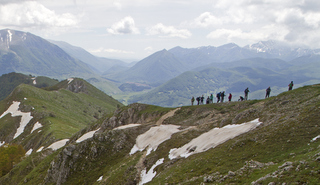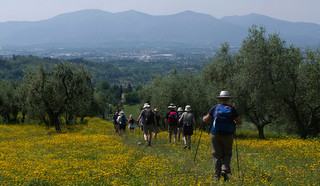 Mountains, lakes or rolling countryside?
Part of the attraction of walking in Italy is the many and varied backdrops. Head for the Dolomites and you'll find yourself amongst jagged peaks, sheer cliffs and deep valleys. In the Alps, the Gran Paradiso and Mont Blanc mountain ranges offer the most spectacular views, while further south, in Tuscany or Umbria, the landscape is more typically one of rolling countryside with olive groves and vineyards. If you like to be near to the water, think about hiking in the Italian Lakes, around the pretty villages of the Ligurian coast, on islands such as Elba or in the dramatic Basilicata.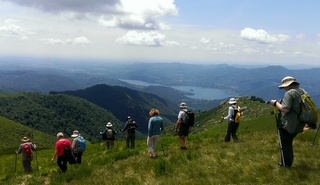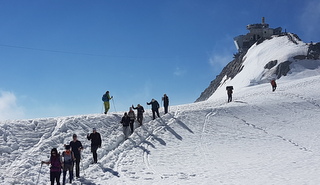 Regional food, wine and cultural sights
Whichever region you choose for your Hedonistic Hiking holiday, the walking is just one element of your trip.  You can learn as much about a region through its food and wine as its landscape – but be aware that the gastronomy in one region may assume a more significant role than in others! In foodie Piedmont, birthplace of the Slow Food movement and home to some of Italy's most iconic wines, our walking holidays are intrinsically linked to the food and wine.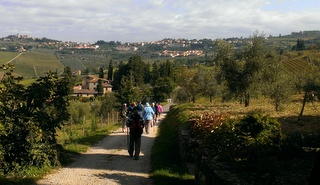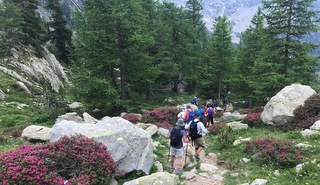 If you prefer to combine walking with visiting cultural attractions, tours which pass through the extraordinary towns of Ravenna in the north, or Matera in the south, are both good choices. History also plays a part – our Slovenia and Friuli tour for example travels through the fascinating area around Kobarid which bears witness to fierce struggles in both World Wars.  Art plays its part too - our Medieval Umbria tour incorporates the Piero della Francesca frescos in Arezzo in addition to exploring the region's Etruscan, Roman and medieval history.
North or South Italy?
The truth is that wherever you go in Italy, you'll see spectacular sights and enjoy extraordinary hikes. If you are already familiar with northern Italy, think about getting off the beaten track and heading for a less well-known area such as the Mugello in northern Tuscany.  It's true that the atmosphere and scenery of southern Italy are quite different from that of the north and a guided walking holiday in the Abruzzo or the Basilicata is a stress-free way of discovering their wilder, less explored landscapes.  They're also perfectly located for anyone tempted by the idea of topping or tailing a tour with a few days in the sun in Puglia or on the Amalfi Coast!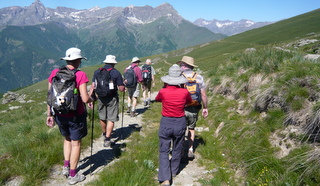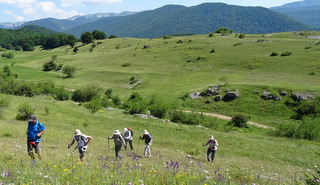 Still unsure where to head for?
Read more about each of Italy's regions here.  Our full programme of dates is already available for 2019.