The Best Time to Hike in Italy
Submitted by HedonisticHiking on 14 Jun 2018
Keeping your cool on a walking holiday in Italy 
One of the questions that pops up repeatedly from our guests is when is the best time to go walking in Italy. No-one wants to walk in sweltering heat, but some mild sunshine is always welcome! All of our walking holidays in Europe take place between May and October and are planned to incorporate several factors. With a distance of over 1000km between our most northerly hike in the Italian Alps and our most southerly one in the Basilicata, and a very diverse terrain in between, there is of course significant variation in climate between each region. However, we also try to include our favourite local events and schedule the tours to avoid the busiest times.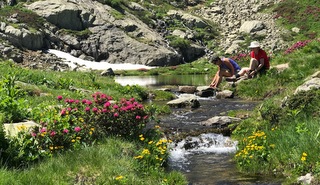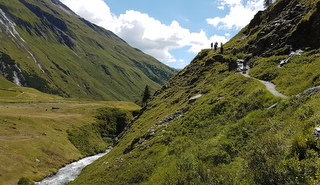 Temperature and climate 
Most places south of Rome are blessed with average highs of between 20-25°C in May and June and a few degrees lower in September and October, which is perfect walking weather. These are the months when we run our tours to the Abruzzo and Southern Italy although our specific schedule varies slightly from one year to the next. Temperatures naturally fluctuate, particularly in the more mountainous areas, but if we're lucky we enjoy pleasant days of brilliant blue skies and gentle sunshine. In the north of the country, and specifically in the Alps and Dolomites, our tours are predominantly in late June and July, when the last of the snows have melted and spring flowers are bursting through, or in very early September. Valley temperatures can be as high as 27 or 28° in early summer, with anything up to an average of 8 hours of sunshine per day, but the more challenging walks which characterise these tours lead us up into cooler temperatures at higher altitudes.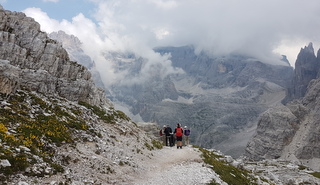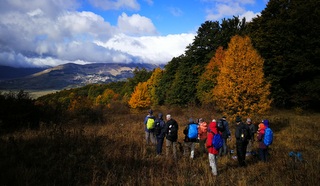 One of the things we love most about Italy is the differentiation between the seasons. We know that for many of our guests, nothing beats walking amongst the heady scent of spring flowers and indulging in the season's wonderful fresh food, while others prefer the rich colours and flavours of autumn. In several regions, tours are scheduled to run twice yearly so you can choose the one that suits you best. 
Festivals, harvest and other local events 
Another big consideration in our planning is what's going on locally. Experiencing a festival is a great way of getting involved in the local community and also a chance to sample the local food! While the Palio of Siena tour is the perfect opportunity to see Siena at its very best, festivals and events focussing on chestnuts, mushrooms, cherries and truffle hunting are all highlights of the Italian gastronomic calendar. Our Medieval Umbria tour is also timed to coincide with Gubbio's historic crossbow festival, known as Il Palio della Balestra, which takes place at the end of May.  September is, of course, harvest time in Italy and we organise tours at this time in the vineyards of Tuscany and the wonderful Friuli region in the east of the country.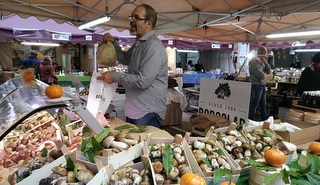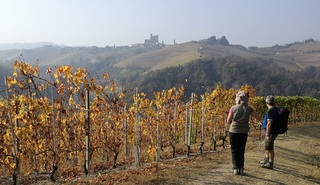 Crowd-free zones 
Even when we visit a region that is relatively popular with tourists, we make sure that our hikes take you through the less well-known corners of that region. In addition to this, we plan our holidays to avoid the busiest times. Our tours to regions such as the Italian Lakes and Umbria are in early May before each of these areas hits its busy time and if you like the idea of walking in Tuscany in 2019, you can choose between May, September or October.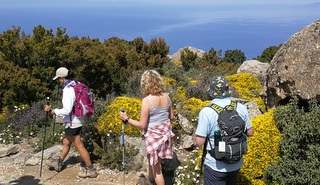 All our dates for 2019 have been published and you can start to browse for your hiking holiday next year right here!