Bolzano's Famous Frozen Man
Submitted by HedonisticHiking on 9 Aug 2016
On a sunny day in September 1991, two German hikers enjoying a walk in the Ötztal Alps, close to the border between Italy and Austria, decided to take a short cut. They left the marked path and continued past a rocky gully filled with meltwater. Noticing something on the bed of the gully which they first assumed to be rubbish they realised, on closer inspection, that it was in fact a human body. The back of the head and shoulders were visible and the two hikers believed the corpse to be the victim of a climbing or mountaineering accident. Little did they know that their discovery that day would soon become a worldwide sensation.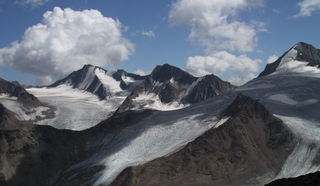 © South Tyrol Museum of Archaeology
It took four days to finally release the corpse from the ice with efforts being hampered by bad weather conditions and a lack of helicopters.  When it was recovered pieces of leather and hide were also found, along with lengths of string and straps and everything was carefully transferred to the Institute of Forensic Medicine in Innsbruck.
Irrefutable proof of the authenticity and age of the Iceman and his belongings was provided by C-14 analysis. This method is commonly used by achaeologists for dating organic material and four different scientific institutions analyzed tissue samples from the corpse, all agreeing that the frozen man was alive over 5,000 year ago. Giving an official name to the man proved complex and it was the Viennese reporter Karl Wendl who first coined the name "Ötzi", a nickname by which he has now become known througout the world.
© South Tyrol Museum of Archaeology
The finds next to the body gave an incredible insight into the life of the Ötzi Iceman. He carried a copper-bladed axe, a dagger with a flint blade, a quiver of arrows made from chamois hide and various tools to make him self-sufficent. He wore a bearskin hat, goat-hide leggings and shoes fashioned from hay and deerskin. Scientists have even been able to analyse the contents of his stomach to reveal that his last meal consisted of grains and ibex meat.
In January 1998, the Iceman and his possessions were transported from Innsbruck University to the newly-built South Tyrol Museum of Archaeology in Bolzano. The whole first floor of the museum is dedicated to the Ötzi Iceman. He is displayed in a darkened room and can be viewed through a window measuring just 40 cm x 40 cm to maintain optimum light and heat conditions for his conservation.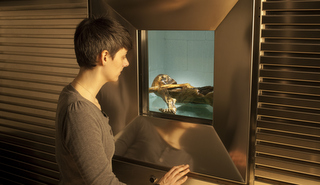 © South Tyrol Museum of Archaeology
Hikers who join us next year on our inaugural Austria and the Dolomites tour will have a chance to visit this fascinating museum as we make a stop in Bolzano on our way back to Verona. The brand new itinerary for 2017 starts in Innsbruck before crossing the border back into Italy on foot to explore the UNESCO world heritage scenery of the Dolomite mountains.  It will run from 15th - 23rd July 2017.