Amazing Abruzzo
Submitted by HedonisticHiking on 8 Nov 2022
If you're an Italophile in search of new vistas and experiences, make sure the Abruzzo is near the top of your list. While the central Italy Abruzzo region is one of the country's least well-known, its landscape and unique atmosphere certainly make it one of the most memorable. Walk through its national parks, sleep in its captivating medieval villages and you'll soon be wondering why it's taken you so long to discover it. Read on to find out why this region should be on your bucket list. If you think you'd like to see more of the Abruzzo, our next Wilds of Abruzzo tours run from 23-31 May 2023.  This is a Level 4 hike which starts and finishes in Rome, and many people choose to extend their stay to explore the Eternal City.
National Parks
With a third of the region made up of national parks, the Abruzzo is a natural choice for a hiking holiday. Follow walking trails through spectacularly dense beech forests and dramatic valleys set against a backdrop of rising peaks and sheer mountain ridges.  We explore the Gran Sasso National Park, the Majella and the Abruzzo, Lazio and Molise National Park on our tour.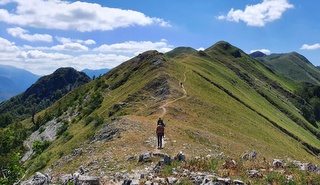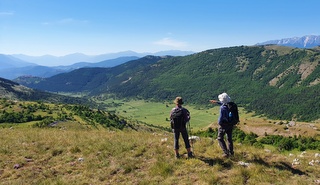 Flora and Fauna
King of the Abruzzo National Parks is the rarely-seen Marsican bear but there are also deer, wolves, wild boar and wild horses. Watch out also for Golden Eagles and Peregrine Falcons. We run our tours when the region is at its most beautiful – in spring when the ground blazes with a dazzling carpet of wild orchids and gentians and in autumn when the reds and golds of the forests blanket the landscape.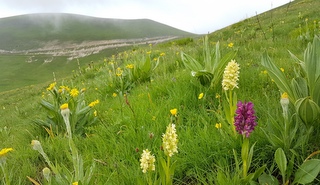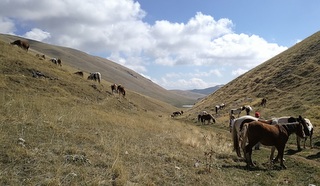 Cuisine
We love the Abruzzo's trademark 'spaghetti alla chitarra' pasta – so much so that we make sure there's a dedicated cookery lesson on our Wilds of Abruzzo tour! Other traditional Abruzzese favourites include 'caratelli con gli orapi' (pasta with wild spinach harvested from the high mountain pastures) and roasted lamb with a traditional sliced potato dish with 'scamorza' cheese. Lamb skewers known as 'arrosticini' are also a favourite of the Abruzzese.  All washed down, of course, with a glass of the fine red Montepulciano d'Abruzzo!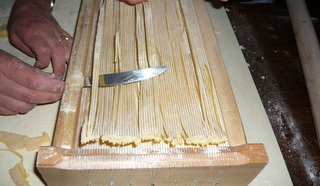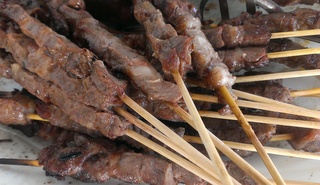 Unique Hotels
Delve deep into the heart and soul of the region by staying in traditional mountain village hotels. At the Hotel Sextantio, in the medieval village of Santo Stefano di Sessanio, guests at this celebrated 'albergo diffuso' stay in atmospheric village homes which have been faithfully restored with authentic furniture and textiles to preserve the integrity of the village.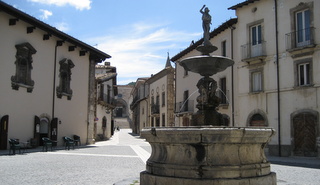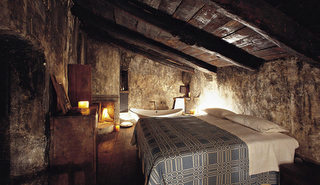 Medieval Castles
Discover the history of the region through its forts and medieval castles. The 10th century watchtower at Rocca Calascio, at 1460m, is amongst the highest mountaintop fortresses in Italy and we hike to it on the third day of our tour.  We also hike up to get the best views of the town of Pescasseroli from it's ruined Mancino Castle.