2023 Capital of Culture
Submitted by HedonisticHiking on 7 Mar 2023
This year the neighbouring cities of Bergamo and Brescia in northern Italy have joined forces and won themselves the title of Italian Capital of Culture 2023.  The region of Lombardy, where they are located, suffered hugely during the first wave of European lockdowns back in 2020 but these cities have turned a corner and in 2023 are facing a much brighter future.  Unusually for this title, this is the first time that two cities have united and pooled their resources to create a single Capital. The drive behind the initiative was to see culture as an inclusive and empowering tool for revitalising and regenerating their communities. Between the two there are five UNESCO World Heritage Sites, two of Italy's leading art museums and hundreds of churches and historic piazzas.
Highlights of Brescia
Heading due east from Milan the town of Brescia is, at first sight, disguised by its industrial suburbs.  However, once inside the historic centre are revealed Roman ruins, Romanesque churches and an enormous Medieval Castle. Remains of a Roman Temple built by Emperor Vespasian in AD73, a Roman theatre and parts of the Forum can all be seen in the heart of the town. The Pinacoteca Tosio Martinengo art gallery houses important works from the Renaissance, including artists Raphael and Lotto, up to the greatest 19th century painters. If you want to get involved with the local cuisine, Brescia's speciality may not be to everyone's taste but should be tried: "lumache alla bresciana" are snails cooked with parmesan and fresh spinach!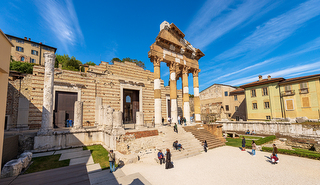 Highlights of Bergamo
Slightly north east of Milan lies Bergamo, which is more or less split into two towns, with the Citta Alta (upper town) being arguably the most interesting to visit.  The true heart of this Citta Alta is the glorious Piazza Vecchia which is surrounded on all sides by elegant architecture: porticoes, arches, columns and the lion of St Mark which bears witness to Venice's 350 year rule over the city. Bergamo's cathedral, citadel, botanical garden and art gallery known as the Accademia Carrara are all worthy of a visit.  The composer Gaetano Donizetti was born here and there is a small museum housing his piano and manuscripts.  For those with a sweet tooth "Polenta e osei" are small round cakes filled with jam and cream and covered with icing and chocolate birds.  Although named after the ground maize (polenta) which is eaten all over Lombardy, they are not actually made from it, but are a classic sweet treat of the town. Bergamo also has 9 DOP cheeses to its name.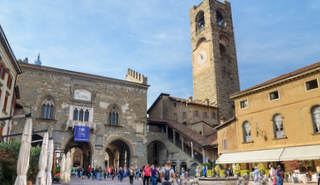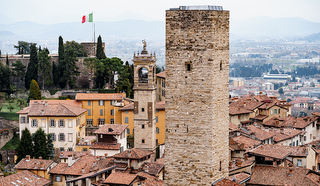 Anyone on our tours this year who may be passing through Milan and surrounding areas could take a couple of extra days to visit.  Unified tickets are available allowing access to public transport throughout the urban network of Bergamo and Brescia and free entry to museums in the two cities.
One day (duration 24 hours from activation): 38€
Two days (duration 48 hours from activation): 48€
Three days (duration 72 hours from activation): 60€
To find out more about the initiative and what's on offer visit the official website.