Our Hedonistic Heroes
Submitted by admin on 16 Dec 2013
As we (that is Jackie and Annabel) were sitting in a restaurant in Parma one evening, we thought how good it would be to recognise some of the people who help to make our Italian walking holidays so much fun. They are people who always say "yes" when we have strange demands, who take care of our guests as if they were their own and who add amazing humour and colour to all our holidays.   We decided to call them our "Hedonistic Heroes" as they are always there for us and help to make our tours a real pleasure.  This is by no means everybody that we love working with - but a selection of some real characters!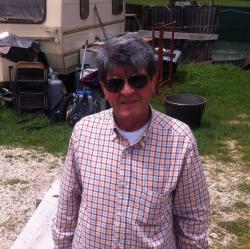 We first met Claudio when we were researching our new tour in Abruzzo back in 2012 and within 5 minutes of getting to know him he turned out to be our Mr Fixit par excellence in Pescasseroli. Not only do we take our group to his fabulous restaurant in the heart of the old town, but he gave us advice on the walks, introduced us to the wonderful Giuseppe who makes delicious Abruzzese goats cheese and helped Annabel on our high ridge walk to light a fire and cook local sausages in extreme weather conditions!  He's a true mountain man who can do EVERYTHING and we've loved working with him this year and can't wait for our two tours next year in the beautiful Abruzzo region.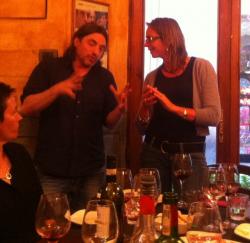 Massimo and his lovely wife Patrizia run our favourite Enoteca in Volterra and anyone who has walked with us on our Volterra trip will remember tasting some great Tuscan reds in his beautiful shop.  We source a lot of our wine for the tours from Massimo and ask his advice when we're walking in different parts of Italy.  He speaks 100% Tuscan and although Jackie translates you can get the gist of what he says from his wild gesticulations!   He's a huge wine expert and enthusiast and is always very entertaining!  He and Patrizia have become great friends to us over the last few years.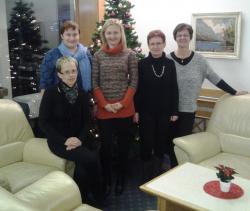 The all-female team at Hotel Jezero by the beautiful Lake Bohinj in Slovenia are a real pleasure to work with.   When we first designed our Slovenian tour they were immediately behind our vision for the trip and amazingly helpful in giving our guests a very memorable start to this tour.  They are always smiling and speak perfect English (which is a great help as our Slovenian is not quite as good as our Italian) and no request is ever too much trouble.  They persuaded the local tourist office to open the church outside official hours so that our guests could visit and have been known to call local farmers so that we can eat our lunch in one of their barns out of the rain!!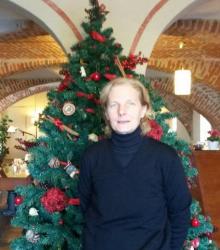 Jean, who was born in England but is married to Tony runs the fabulous Antico Podere Propano just outside Saluzzo on our Jewels of Piedmont tour.  The first Piedmont tour we ran was back in 2008 so we have been working alongside Jean and her team for over six years and our guests always love the tranquil setting of her beautiful hotel with its peaceful courtyard.   Jean is a person who ALWAYS knows the answer to even your most ridiculous question and she also knows everyone you need to know in this part of Piedmont.  She is totally fluent in Italian, French and German and wonderful friend to Hedonistic Hiking.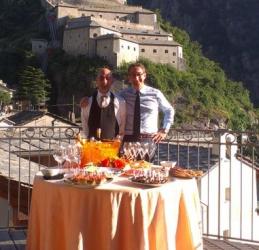 These two characters, Gian Luca  and Giovanni from the Ad Galias hotel in Bard at the start of our Best of Italian Alps tour are a comedy duo who should really be on the stage.  Very old friends who have worked together for decades, they are endlessly entertaining and our guests love the few days they spend here. Giovanni had been working in Tuscany when the chance to move back home to the Aosta Valley with his wife and children arose, and he persuaded Gian Luca to come too, so this sun-loving Sardinian now lives in one of the few land-locked regions in Italy!!  They are super-professional and Gian Luca's flambéed strawberries are the stuff of legend!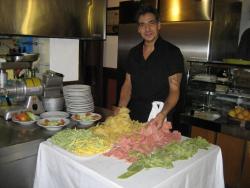 Alessandro helps to run one of Siena's most celebrated restaurants La Torre, just behind the Piazza del Campo in the heart of the city.  Its a real hole in the wall that you could easily walk past without spotting, but inside the fresh hand-made pasta which comes out every day is something to fantasise about.  If you only ever eat ravioli with butter and sage once in your life make sure you do it here!   Alessandro is married to Lara, the niece of the original owner Alberto who sadly passed away this autumn after a short illness but he is ensuring that the fine traditions of the restuarant live on.  He is also a fantastic help to us on our Palio tour each August as he organises for us seats at one of Contrade dinners in the streets the night before the race, and we are forever grateful for his assistance!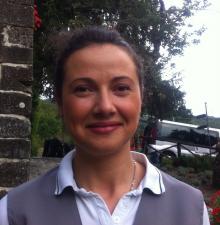 The lovely Giovanna works at the hotel Borgo Casale in Borgotaro which is the first stop on our Parma, Tuscany and Cinque tour.   We have known Giovanna for over seven years and she is forever kind, charming and goes the extra mile for us every time.  She gets up ridiculously early to ensure that our breakfast is ready on the day we have the sunrise visit to the parmesan cheese factory and she is still smiling last thing at night as she finishes serving dinner in the hotel.  She is very knowledgeable about the local food and wines and is an expert porcini mushroom gatherer!  She is warm and funny and its  wonderful to know she will be welcoming us all on our first night in Emilia Romagna.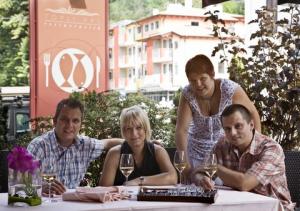 Ales and Tanja, owners of the Hotel Hvala in Kobarid in Slovenia are pictured here with the team at Topli Val restaurant, which is amongst the best we go to on any of our tours. The fish menu we have here is outstanding and guests are always surprised by the quality of food in Slovenia.  The wines of Slovenia are delicious too, not widely known outside the country and always an unexected surprise. The guys at Topli Val know better than anyone how to match the food and wines and they help to make our night here in Kobarid totally unforgettable.  Ales used to live in Piran on the Slovene coast so daily deliveries of fresh fish come to the restuarant from there.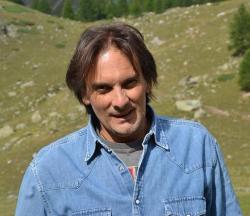 The delightful Bruno from the Corte Gondina hotel in La Morra is another of our longest standing friends.  His small, boutique hotel in the Langhe hills where many of Italy's greatest red wines are produced is always an absolute pleasure to visit with some of the most comfortable beds anywhere in Italy!!!   Breakfast at the Corte Gondina is something to behold with a truly mouthwatering selection freshly prepared each day and served in the hotel's elegant dining room.  Bruno is another who knows everyone you could ever need to know, and over the years he has introduced us to truffle hunters, winemakers and cheese producers, all of whom now form part of our gastronomic tour in Piedmont.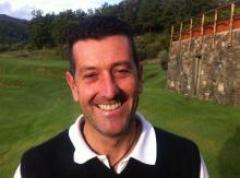 Need to book a restaurant?  Need a taxi in Pontremoli?  Need to know where the nearest mechanic lives?   Need a bakery open at 6 am on a Sunday morning?  The pharmacy?  The cash point?  Welcome to the world ofGianni.   His day job is running the gorgeous Costa d'Orsola agriturismo high in the hills of the Lunigiana region of Tuscany where we stay on our Parma, Tuscany and Cinque terre tour.   But, when a Hedonistic Hiking group comes through, this man can turn his hand to anything and everything, from creating a drying room for all our wet boots and coats to feeding us on wonderful wild boar and tiramisu, all the while smiling and entertaining us with a wry humour.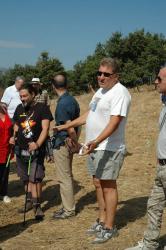 Our connection with Antonio came through a series of events starting with a small article that Jackie's brother Richard cut out of his university magazine. It spoke about Simon Stoddart, archeologist and lecturer at Magdalene College who was excavating an Etruscan site in Umbria. Jackie and Mick searched out the place and when they arrived saw a man a top a battered Land Rover with UK plates - they introduced themselves and were subsequently introduced to Antonio who is a wonderfully genuine man with a true passion for what he does. It was Antonio, manager of the land in Umbria, who had been the catalyst for the archeological work and without whose hospitality the project would not be viable. Moreover, he oversees the magnificent Montelabate Abbey and gives a private tour of the site to Hedonistic Hiking guests on our Tuscany and Umbria tour.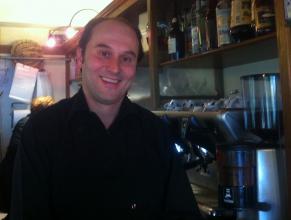 What Filippo does not know about Tuscan cooking is not worth knowing.  Proprietor of the fabulous Ristoro di Lamole which we visit on our Tuscan Harvest tour, Filippo's eatery offers some of the best food on this tour.  We enjoy a leisurely lunch here with a mesmerising selection of antipasti and freshly-made pasta dishes all washed down with the fine Chianti Classico which grows literally at the foot of the steps of the restaurant.  Filippo explains to our guests in his perfect English exactly what we are eating and the view from his long terrace overlooking the hills of Chianti help to make this lunch one of the most memorable of all our tours.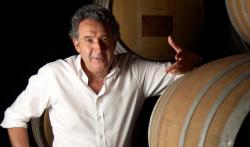 Renzo Marinai is one of our favourite winemakers in Tuscany.  His wonderful organic Chianti Classico is one of our absolute passions and guests on our Tuscan Harvest tour get to visit his winery, tour the cellars and hear the Mozart that he plays to his barrells in the sure belief that the wine responds to the sound waves of the music.   Renzo came to Australia last year to join our Winemakers' Dinner with the Dal Zottos in the King Valley. He is a true gentleman farmer, always the picture of Italian chic whether wine tasting, pressing grapes or hanging out with his dog Gino!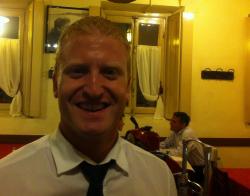 Marco comes at the end of our list because it was in his wonderful restaurant in Parma, Il Gallo D'Oro, that we came up with the idea for this Blog.  Everyone has heard of Prosciutto di Parma and Marco's restaurant celebrates this and many other specialities of the city of Parma, including the unbelievably delicious "culatello", which is the best part of the pig's thigh cured and thinly sliced so it melts in your mouth served with the torta fritta.   We kick-off our Parma, Tuscany and Cinque Terre holiday in Marco's place and guests always remember this start to the tour as the lunch is simple but stunning and we just can't wait to get here every year!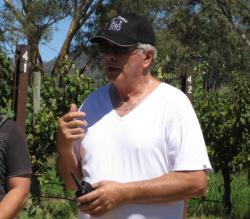 Just to keep the balance we decided to include aswell our favourite Australian Italian and there was really only one man for the job: the irrepressibleOtto Dal Zotto, King of the King Valley, father to the Dal Zotto clan and prinicipal pioneer of the Prosecco industry in our part of Victoria.   He is without question our Hedonistic Hero on this side of the equator and has been a great friend and mentor to us both.  We love the work we do with the Dal Zotto family here in Australia and we love just hanging out with all of them whenever we can. 
We are very grateful to all our Heroes for the amazing work they do to make our tours run so smoothly and for their support, good humour and endless help.
Grazie mille a tutti e ci vediamo in 2014!!