Ravioli del Plin
Submitted by HedonisticHiking on 10 Jul 2016
These tiny pasta parcels are a traditional dish from Piemonte and something which we learnt to make in our cooking class in Cuneo, as part of our brand new France & Italy tour. Cuneo is a wonderfully elegant city lying to the south of Turin and here we met up with the Fontanta sisters who run a fabulous cookery school above their beautiful kitchen shop in Via Roma.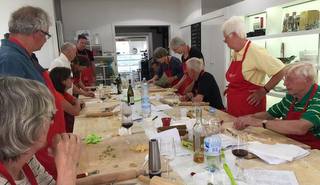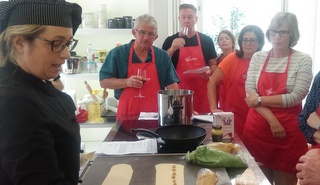 "Plin" translates into "pinch" and it refers to the characteristic gesture in which the dough is pinched with fingers to enclose the filling between one raviolo and the next.  The recipe below serves 4 - 6 people.
For the pasta:
4 medium eggs
400 gr of Italian 00 flour
Salt
For the filling:
200 gr pork
250 gr beef
200 gr rabbit meat
300 gr carrots
100 gr celery
1 onion
1 egg
30 gr spinach
30 gr endive
Grated Parmesan cheese, nutmeg, stock or water
Olive oil, salt and pepper.
Brown the pork and beef with oil. Brown the rabbit meat separately and then put them all in the same saucepan.
Cut the vegetables into small pieces and put them in the same pan with salt, pepper and stock and cook for one hour with the lid on. Stew the spinach and endive, de-bone the meat and put it in a mixer with the spinach, endive, parmesan, the egg, seasoning and a little of the stock.
Roll out the pasta dough until it is about 3 mm thick. Fill one pastry bag with the filling mixture and place 1 teaspoon of filling on the dough at intervals along the length of the pasta.  Brush the edges with water, fold over the other edge of pasta and pack the ravioli by pinching the dough between one mound of filling and the next.  Finally cut them apart using a pastry wheel cutter.  Place the ravioli on a floured tray until ready to eat. Cook for 2 - 3 minutes in plenty of salted boiling water and served with melted butter and sage.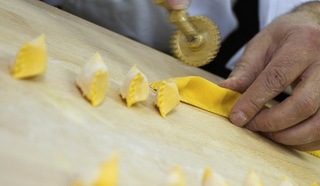 For a vegetarian filling mix 500 gr of spinach with 500 gr of ricotta, 100 gr of grana cheese or parmesan and a little nutmeg.
We have just completed our inaugural France and Italy tour and we absolutely loved it. The scenery and views along this border are spell-binding and the food and wine exquisite. This tour will run twice in 2017 in June and September and we cannot wait to get back there!