Making the perfect Italian picnic
Submitted by HedonisticHiking on 8 Nov 2023
We are lucky to work in Italy when it comes to rustling up picnic lunches because the selection of ingredients is extensive, high quality and delicious. The picnic lunches on our hiking tours in Italy are the stuff of legend (even though we say so ourselves!)  Anyone who has hiked with us will remember the joy of coming to a pretty spot along the trail to find a table laden with lunchtime goodies and a couple of bottles of local wine to wash it all down.  All the photos below show lunches prepared by the HH team.  Feast your eyes on them and enjoy!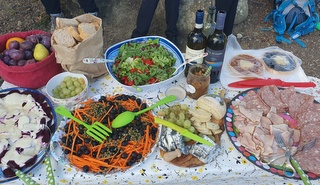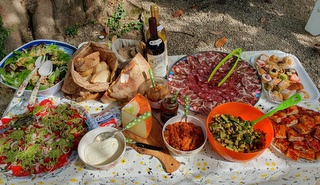 Meats and cheeses
The remarkable thing about Italy is that each different region continues to proudly produce its own cured meats, salamis and cheeses in time-honoured tradition. Our tour managers shop at local delis or markets and are spoilt for choice with the regional specialities. From the north of Italy we find cured pork products in the form of the lightly-smoked Speck and air-dried beef known as Bresaola. Emilia-Romagna is world-famous for its Prosciutto di Parma and Mortadella, and Tuscan salamis flavoured with fennel seeds are delicious.  In the central Appenine area salamis are often made with Cinghiale (wild boar) and further south are flavoured with chillis to make the spicy Sopressata. In the Alps we eat cow's milk cheeses from the high alpine valleys like Fontina, and Toma. In Tuscany the sheep's milk pecorino cheeses come in many different shapes and sizes, and can be flavoured with truffle, chilli or walnuts.  Down South in Basilicata we feast on the fabulous Mozzarella di Bufala and the pungent Provolone Piccante. Each of our picnic tables will reflect the local produce as well as the seasons.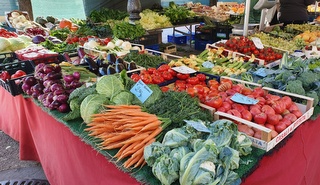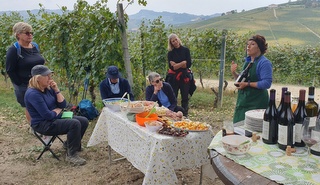 Salads
Italy's abundant selection of fresh vegetables and salads is world-beating. The volcanic soils and sunshine combine to grow delectable tomatoes, salad leaves, fennel bulbs, fresh green asparagus in spring, artichokes, shiny peppers, juicy olives - the list goes on and on. Our team of Tour Managers over the years have learned to create hundreds of wonderful salad combinations, many of which are shown on our Recipe Pages.  Add in a few local hazelnuts, a sprig of fresh basil, a spoonful of borlotti beans or a handful of sunflower seeds and lunch is both delicious and nutritious.  On colder days our team can also throw together a warming soup - just what is needed for that lunchtime re-boot.
Bread
Bread is an essential at any Italian meal, and is perfect fuel for a hiker's lunch.  Once again, the selection on offer across the peninsula is enormous.  From the Ligurian coast we buy fabulous Focaccia and the incomparably delicious Farinata made from chickpea flour. We choose crispy Grissini bread sticks in Piedmont, the wafer-thin Pane Carasau from Sardinia and the slipper-shaped Ciabatta from the Veneto. Most villages and towns still have local working bakeries and fresh bread can almost always be sourced daily.
   
Dolce
Little sweet treats are ubiquitous across Italy but of course they vary from region to region as you would expect. Siena has wonderful Pan Forte - a rich dense fruit cake - and the deliciously chewy Ricciarelli almond biscuits. In Piedmont we search out chocolates made with the local hazelnuts, and in Abruzzo we find the beautifully decorative sugared almonds known as Confetti. In Friuli we always hunt for their fabulous strudels, and in Naples the Sfogliatelle - little cornets filled with ricotta cheese, cream and candied fruit. 
Fruit
Fresh fruit is the ultimate hiking picnic snack as it can be carried and eaten when ready. The months of May and June see the markets filling with apricots, strawberries and cherries and you can still find tasty Sicilian blood oranges too. July heralds the arrival of juicy peaches and melons, and the autumn months bring crisp apples, sweet pears and fleshy plums. We also buy delicious soft figs in this season which pair so well with the salty prosciutto ham, and many bunches of sun-ripened grapes!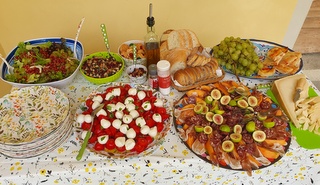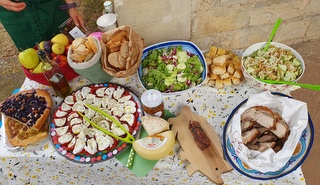 Napoleon rightly observed that an army marches on its stomach, and we are in agreement that a good lunch fuels our hikers for the afternoon walks.  We eat with all our senses and  a delicious lunch, in a beautiful spot, served with good company and a little story-telling, is a moment to truly savour.