Italy's favourite Easter dish
Submitted by HedonisticHiking on 9 Mar 2021
Torta Pasqualina
This pie has become a tradition at Easter time across the whole of Italy, although it is believed to have originated in the coastal region of Liguria.  The inclusion of the eggs symbolises life and rebirth, and many prefer to eat the pie cold.  It can make an excellent addition to a picnic spread. Some recipes call for chard, but if you can't find chard you can use spinach or finely sliced artichokes, which are in season in Italy around Easter the period. Here's how we did it:
500g spinach leaves
5 finely sliced artichoke hearts, preserved in olive oil
1/2 large onion finely chopped
225g ricotta cheese
30g parmesan cheese
30g pecorino romano cheese
6 eggs
A good pinch of nutmeg
Salt and pepper
Puff pastry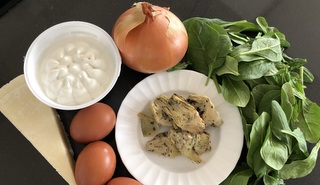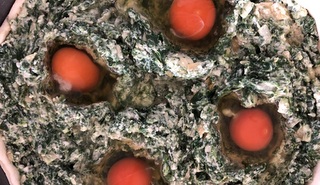 First of all sweat the onions and, in another pan, wilt the spinach down.  Make sure you squeeze all the excess water out of the spinach so it does not make the pastry soggy, and chop it finely.
Mix together the spinach, onions, artichokes, ricotta, grated cheeses, nutmeg, seasoning and one of the eggs.
Line a baking tin with the base layer of puff pastry and pour in the mixture.  With a spoon make four rounded holes in the mix and crack an egg into each one.  Cover the pie with the top layer of puff pastry and use some of the final egg whisked to seal the edges. Brush the remainder onto the top to give shine and colour.
Bake in the oven at 180 degrees for around 45 minutes.   We enjoyed it with a glass of prosecco and a tomato and avocado salad on the side.