The Hungry Hiker
Submitted by admin on 29 Aug 2013
I've just been staying with my friend Caroline on the stunning coastline of East Lothian, to the east of Edinburgh, on the Firth of Forth.  It is a really beautiful and unspoilt part of the UK with some great walking on the fabulous wild and empty beaches.  Caroline is a professional food writer and, as we were walking, we dreamt up and then created the perfect trail bar - a delicious mix of nuts, seeds, dried fruit and honey to keep even the hungriest hikers satisified.   Here's how we did it:
                     1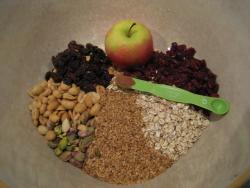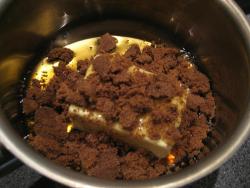 2
                    3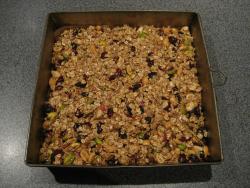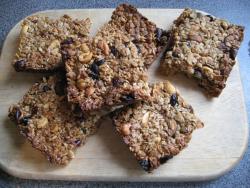 4
Ingredients
150g unsalted butter
150g runny honey
50g dark brown muscovado sugar
125g porridge oats
100g rolled oats
100g mixed toasted nuts - we used almonds, pistachios and hazelnuts
75g salted peanuts
1 grated apple
50g golden linseeds
50g dried cranberries
50g seedless raisins
1/4 teaspoon ground cinnamon
Line a 22cm square baking tin with non-stick baking parchment and heat the oven to gas mark 4 or 180 degrees. 
Melt together the honey, butter and sugar over a low heat, stirring occasionally.   Place the remaining ingredients into a large mixing bowl, pour in the melted honey and butter and mix well.
Spoon the mixture into the prepared tin and press down hard with a wet hand to level the surface.   Bake in the oven for 20-25 minutes until golden.
Remove from oven and leave to cool for a few minutes.  Cut into squares and then leave to cool completely before lifting them out of the tin.  Store them in an air-tight container.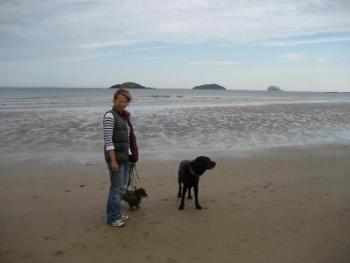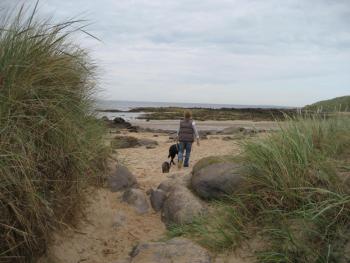 I thought they were delicious, as did Dolly and Elvis (pictured with Caroline), although they also enjoyed a rotting seagull wing on the beach so may not be the most discerning of judges!
Talking of Edinburgh, we will be back for one of our Information Evenings on 7th November 2013 at the George Hotel in George Street, so if you are in the area between 6-8pm, or have friends there who might like to come along, we would love to see you!