Championing Chestnuts
Submitted by HedonisticHiking on 4 Nov 2020
It's the time of year when the woods around our home in Tuscany would be full of locals foraging for chestnuts and, in normal times, many of the surrounding villages would be celebrating annual chestnut festivals.  A great favourite with the Italian people, the sweet chestnut was first introduced into Europe from Asia Minor and the humble fruit has been a staple food in southern Europe for millennia.  Where cereal crops would often fail in mountainous Mediterranean areas the Romans planted chestnut trees abundantly and found the fruit an important source of nutrition for feeding their armies.  They were once referred to by the Italians as "the bread of the poor".  There are many chestnut woods still today in the Apennine regions which we walk through on a number of our hikes in Central Italy.  There are many varieties, of which marroni are the most highly prized.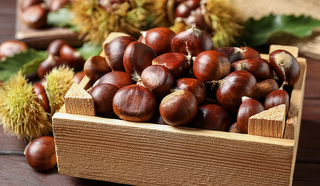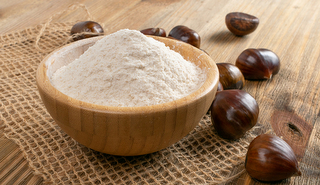 The gold rush of the 1850s saw the first recorded plantings of European chestnut trees in Australia, brought in by the first settlers.  Over the years most chestnut tree plantations were Castanea sativa stock (the same as in Italy) and some of these are still standing today. Some trees in northern Victoria are around 120 years old and up to 60 metres tall. Chestnuts also grow well in southwest Western Australia, which has cold winters and warm hot summers but about 80% of production comes from northeast Victoria. Chestnuts are slowly gaining popularity in Australia and increased production is expected in the future.  
Possibly the easiest way to enjoy sweet chestnuts is to simply roast them in a pan on the fire. A special pan with holes in the base is best, and they need to be turned every so often. Remember to make a small incision in the tough outer skin first to stop the chestnuts exploding.  The nuts can also be ground into flour and used in a variety of cakes, pastas and breads to replace ordinary flour.  One of Italy's most famous chestnut breads is known as Castagnaccio, a mix of chestnut flour with oil, pine nuts, sultanas and fennel seeds.  Chestnuts can also be eaten candied, boiled, steamed, grilled, or roasted in sweet or savoury recipes and used as stuffing for poultry and other game birds.  In the winter months chestnuts are roasted on street corners in Italy, and in local markets, so there are plenty of opportunities to enjoy them.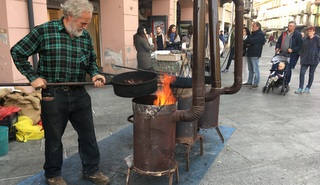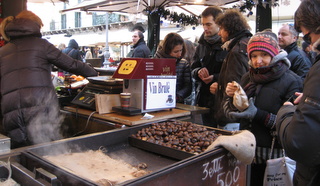 For those of you, especially in the northern hemisphere, who might like to try cooking up some seasonal chestnut cheer we have three recipes here from our friend Caroline Barty's cookery website which might inspire you to get started.  It's certainly a nut which heralds the onset of winter and cosy evenings by the fire.