Il Palio della Balestra
Submitted by HedonisticHiking on 30 Sep 2016
At the end of our Medieval Umbria tour we find ourselves in the stunning town of Gubbio. Next year it happens that we will be there on the final Sunday in May which means we will witness one of its most historic and spectacular events.
The Palio della Balestra is a crossbow competition between Gubbio and its Tuscan neighbour Sansepolcro, a town which we also visit at the start of the tour. In Gubbio the pageant takes place in May and in Sansepolcro the return match is always held on the second Sunday of September. Each town plays to honour their own patron saint - Saint Ubaldo for Gubbio and Saint Egidio for Sansepolcro.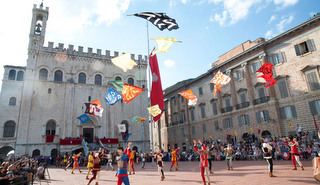 The aim of the competition is to hit the target which is placed at a distance of 36 metres, from a fixed crossbow, and the event is played out in the Piazza Grande, directly in front of the hotel where we stay. The winners take home a "Palio" or fine piece of cloth which is designed each year by a celebrated local artist.
After the competition the residents process through the streets of the town in full medieval costumes, at the same time displaying their ancient and awe-inspiring talents in the art of flag-throwing.
Back in the 15th century residents were encouraged to develop their archery skills as an aid to defending the city from attack but, in time, the use of the crossbow as a weapon obviously went into decline. However, these civilian recreational competitions remained part of the fabric of life in Gubbio and Sansepolcro.  In these two municipalities the skills have been preserved and the contests played out every year for centuries, with the exception of a few years during the great world wars.
It is a real experience and a unique chance to soak up the history and ancient culture of this beautiful Umbrian town. The tour runs in 2017 from May 22-29 and starts and finishes in Arezzo.