Foraging for Funghi
Submitted by admin on 23 Sep 2012
Our Parma, Tuscany & Cinque Terre tour takes us to the Slow Food town of Borgotaro in the hills of Emilia-Romagna at the time of year when the locals are celebrating the Sagra del Fungo Porcino.  This is an annual festival (2012 was the 37th) dedicated to the famous porcini mushrooms which grow so abundantly in this area.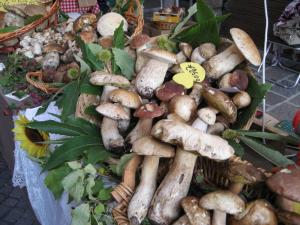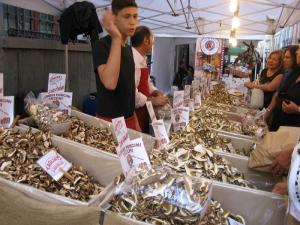 The streets of the small town are given over to stalls selling freshly collected porcini mushrooms of all sizes, along with dried porcini, porcini preserved in olive oil, and many interesting local specialities including cheeses and cured meats. For the Italians this is the "King of Mushrooms", revered for its exceptional flavour and texture and the many ways it can be prepared - grilled, fried, used in soups, risottos and pasta dishes or eaten fresh and simply dressed with a little lemon juice and olive oil.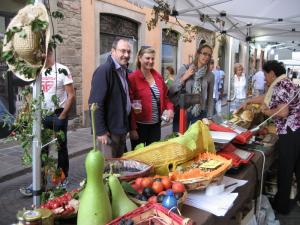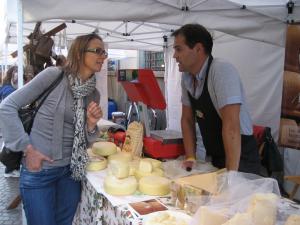 The season is short and usually centres around the months of September and October when locals are always pleased to see rain as it boosts the harvest.  The woods at this time of year are full of people gathering the precious fungus - always using baskets so that the spores will drop to the forest floor and therefore allow a new crop to grow the following year.  To collect the mushrooms a licence is required and the number of days limited when collecting can take place, with a restriction of 3 kg per day per person.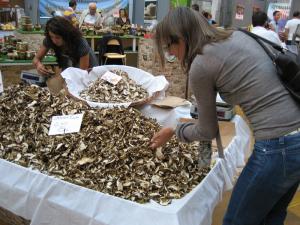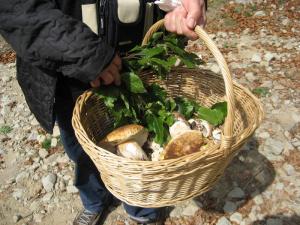 To fully enjoy the celebration we went for dinner with our group of Hedonistic Hikers to Fabrizio and Laura's wonderful organic farm on the edge of town.  This was our delicious menu:
                                   Sliced porcini dipped in beaten egg and breadcrumbs and deep-fried
                                                          Crostini with finely-chopped sautéed porcini
                                                                  Ravioli filled with potato and porcini
                                                 Sliced beef cooked on the fire and served with sautéed porcini
On a final note, we were amused to see the local Gelateria had been very innovative and created a porcini flavoured ice-cream.  Here's the proof of the pudding!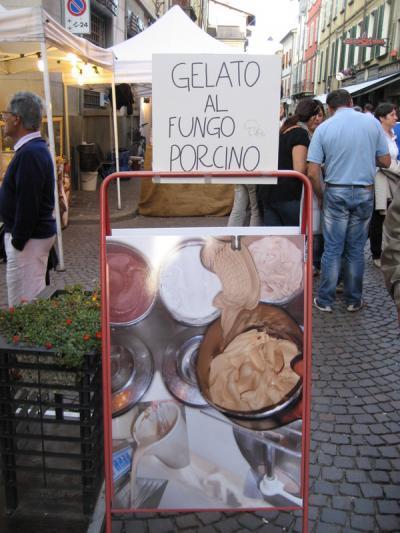 The Parma, Tuscany and Cinque Terre tour will run again in 2013 from 13th - 20th September, so if you happen to love porcini mushrooms, prosciutto and parmesan ....!