Mysterious Matera
Submitted by admin on 3 Jul 2014
The region of Basilicata in the southern part of the Italian peninsula is wild, dramatic and sparsely populated. Its geography has something "other worldly" about it, with majestic mountains, bare clay hills and dark forested valleys.  But it is the landscape of poverty. Less fertile than the rest of the country this southern region suffered huge emigration and a lack of investment in infrastructure and commercial development, offering a stark contrast to the northern regions of Italy.  However today, for those who love exploring undeveloped and remote panoramas, Basilicata has much to offer.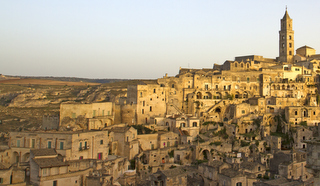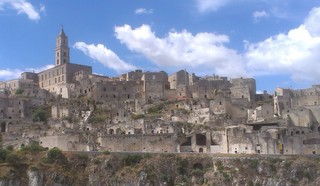 One of the most remarkable towns in Basilicata is Matera.  Its famous "sassi" are cave dwellings, carved out of the rock ravine in tiers, which were home to over half the population of the town right up until the 1950s. Thought to have been inhabited since the 8th century BC, the caves in the middle ages had an ingenious system of canals regulating the flow of water in and out of the grottoes. However later, as the population grew to unsustainable numbers, the dwellings became dangerously over-crowded and diseases such as malaria were rife.  In the late 1950s some 15,000 residents were removed and relocated to government housing schemes, and the reports of living conditions in the town were a great scandal across Italy. There are stories that children would stop strangers in the street and ask not for money but for quinine.
One of the best known books documenting life in Basilicata was written by Carlo Levi in the 1930s and called "Christ Stopped at Eboli". It gives  a real insight into the bleak conditions and poverty stricken lives of the local population.             
Ironically the town's history of misery means that today more people than ever are keen to visit. In 1993 the sassi became a Unesco World Heritage site and many of the caves have been gradually redeveloped to house craft workshops, restaurants and even hotel accommodation.
The hotel in which we will be staying on our new Southern Italy tour is just such a place. Developed by the same entrepreneur who transformed the tiny village of Santo Stefano where we stay on our Abruzzo hike, the hotel Le Grotte della Civita occupies original caves along the eastern edge of the town.  Each one has been been sensitively and painstakingly adapted for the 21st century traveller, and the project is helping to breathe life back into these ancient dwellings.