Highlights of the Goldfields Track
On the trail of a Golden History
The Goldfields Track offers some of the most stunning hiking trails in Central Victoria.  Our tour here follows 92 km of the trail's true highlights, starting in the beautiful landscape of the Great Dividing Range north of Castlemaine, and exploring native bushland, deep gorges and fern-lined creeks.  We head in a southerly direction, winding through open farmland and ironbark and stringybark forests, to unearth many vestiges of the rich gold rush history for which the area is famous.  We visit the mineral springs at Hepburn and follow a spectacular gorge to arrive at the lake in the charming town of Daylesford. We stay in a luxurious 19th century period private house, and Mick assumes his role as chef on the first two evenings.  Dinner on the final day is at the celebrated 2 Chef's Hats Lake House restaurant in Daylesford, with its beautiful setting overlooking the water. We have graded this a Level 3 hike.
We are a small team and do not run every tour each year.  There is no scheduled departure for this tour at this time.
What's included?
•    Two professional guides to look after your every need and bring the area to life
•    Six nights' accommodation, 3 nights each in Castlemaine and Hepburn Springs/Daylesford*
•    Six fully-guided hikes
•    Fabulous dinners every evening with excellent local and award-winning wines  
•    Final evening in one of Australia's most celebrated restaurants: the iconic Lake House in Daylesford
•    Exceptional picnic lunches and snacks en route
•    Entrance to the relaxation and mineral spa pools at Hepburn Springs 
•    Support vehicle
•    Free transfers to and from Melbourne
•    Comprehensive pre-trip information
*    Depending on the make-up of the group single travellers may be required to share a bathroom, but not a bedroom
Your Health and Safety
See our new protocols to ensure the safety and wellbeing of both our guests and HH staff.
Tour Highlights
Unearth the fascinating history of the gold rush era
Hike on some of Central Victoria's most stunning trails
Stay in a magnificent 1890 private house and dine in one of Australia's finest restaurants
Walking/Terrain
Shortest/Longest Day 9km/19.5 km
We walk on well-graded tracks in gently hilly terrain, through forests, open farmland and gorges.  The trails are well-graded but rocky in sections so sturdy walking boots, with good ankle support, are recommended. Walking poles would be an advantage, especially on steeper sections.  The support vehicle meets the group each day at lunchtime so, although some days are long, there is the option to walk a half day if preferred.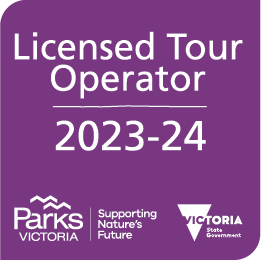 Accommodation
We stay in two different accommodations on this tour, 3 nights in each.
In Castlemaine:  The Colonial Motel – Executive & Luxury Heritage Rooms and a great central location
In Hepburn Springs/Daylesford:  A splendid period private house. (Single guests here may be required to share bathrooms but not bedrooms, depending on the make up of the group)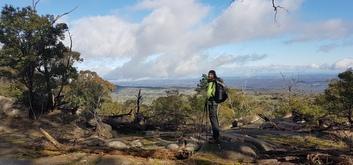 Learn more about our Victorian hikes