Sample Menu - Northern Tuscany and Ravenna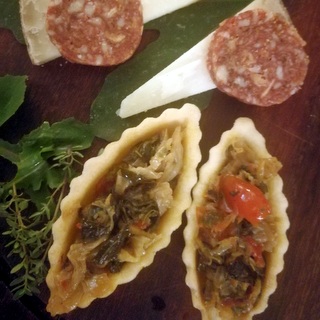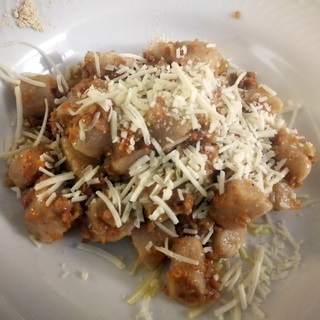 The village of Palazzuolo sul Senio was founded in the Middle Ages in 1373 and has a rather curious history. Situated in Tuscany in the countryside of the Province of Florence, not far from Florence itself, geographically it is located on the border with Emilia – Romagna. It therefore has the best of both worlds: all that Tuscany has to offer mixed with the friendly hospitality and culinary wonders of Emilia – Romagna. This is reflected in nearly everything, from its architecture to its food, wines, and landscape.   The people are special too - and Ercole and Roberta who look after us in the Locanda Senio are no exception!
Antipasto:
Aperitivo Autunnale   An autumn starter of pecorino cheese, dried figs, local salami and vegetable and herb tartlets.
Primo:
Gnocchetti di ricotta con farina di marroni al ragù bianco di pollo con scalogno    Home-made gnocchi made with ricotta and chestnut flour with a chicken and shallot ragout 
Wine Choice: Fattoria Monticino Rosso - Albana
The Fattoria Monticino Rosso is a family-run winery which was founded in 1965.  Located in the hills of Imola the winery has about 37 hectares of vines. The white grape Albana is native to this region and the family harvests by hand to make an elegant, characterful, mineral-tasting wine.
Secondo:
Coniglio marinato con limone e finocchio selvatico al forno con patate    Oven-baked rabbit, marinated in lemon and wild fennel, with roasted potatoes
Capriolo all'uso dell'Artusi con polenta fritta   Roe deer prepared from the recipe of famous 19th century writer Pellegrino Artusi, with fried polenta
Wine Choice: Fattoria Monticino Rosso - Sangiovese di Romagna
Produced by the same winery as the white wine above, the grape variety Sangiovese di Romagna is a close relative of the Tuscan Sangiovese.  This wine is a Riserva and is aged for two years in French oak barrels before a further twelve months in the bottle, making a wine with some good ageing potential.
Dolce:
Pera al vino rosso con mousse di ricotta e torta di farina di marroni   Pears cooked in red wine, ricotta mousse and chestnut cake with crème anglaise
On all our tours we offer a variety of dining experiences, from small characteristic osterias to restaurants of renown and, on occasion, award-winning establishments with big reputations. We work hard to plan menus which celebrate the best local and seasonal ingredients and which showcase the traditions of the regions where we are hiking. We are often quite literally walking through the menu each day as we pass vineyards, orchards, waving wheat fields or fishing ports, and our time spent with cheesemakers or truffle hunters truly helps to bring the menus to life. We also seek to balance the evenings so that dinners with four or more courses are interspersed with lighter meals, and we always take into the account the amount of walking completed on a given day. It goes without saying that all courses are matched with excellent regional wines and we like to share a little of our local culinary knowledge before the start of each meal.