Chocolate Chip Cookies
These cookies are an excellent hiking snack and taste even better when eaten out on the trail!
Ingredients
250g butter
1tsp vanilla essence
1/2 cup brown sugar
1/2 cup castor sugar
2 eggs lightly beaten
1.25 cups almond meal
2.5 cups spelt flour
1tsp good bicarb
200g toasted coconut flakes
200g toasted chopped almonds
250g dark salted caramel chocolate
200g 70% dark chocolate
Method
Beat the butter, vanilla essence, both types of sugar and the eggs with electric mixer until smooth.  Then stir in all the dry ingredients and mix well.
Place small blobs of the mixture about 5cm apart on a greased oven tray. Bake in a moderately hot oven for about 12 minutes or until they appear lightly browned. Stand for 2 mins before cooling on wire racks.  This quantity will make about 60 cookies and they can be frozen and eaten at a later date.
 
Mostaccioli
These biscuits are a great accompaniment to a cup of coffee and we discovered them on our Wilds of Abruzzo tour. This recipe makes a large quantity but the biscuits keep well in a sealed biscuit tin.
1 kg flour
15 g baking powder
450 g almonds, roasted and chopped
3 heaped tbsp cocoa
a good handful of grated chocolate
5 eggs
75 ml oil
lemon or orange rind, grated
300g honey
1 tbsp marsala
Mix all the dry ingredients together. Add the wet ingredients and mix well.  Divide the mixture into flattened logs and then cut into little biscotti sized pieces about 2 cm thick. Bake at 180 degrees in a regular oven for about 30 minutes.
Breakfast Granola
I love my own granola and often make it for our guests when we stay in lodges and self-catering accommodation.  There are lots of combinations of ingredients to try, but any home-made version is better than shop-bought.  This is how I like to make it:
2 cups of rolled oats
1 cup of buckwheat kernels
1/2 cup of coconut oil
1/2 cup of honey and/or maple syrup
1 cup of nuts and seeds - you could use pecans, walnuts, whole or chopped almonds, cashews, peanuts, pistachios, macadamia nuts, pumpkin and sunflower seeds.
1/2 cup of fruit - you could use dried cranberries, dried cherries, raisins, dates or chopped dried apricots, for an added chewiness and sweetness
1/2 cup of dried coconut flakes
A good grinding of sea salt
Preheat the oven to 350 degrees fahrenheit and line a large baking sheet with parchment paper.  Melt together in a large pan the oil, maple syrup and/or honey and then add the oats, salt and buckwheat. Mix well, until all the oats are lightly coated. Pour the granola onto the baking sheet and use a large spoon to spread it to an even layer.  Bake until lightly golden, about 20 - 25 minutes in all, stirring after 10 minutes when it's time to add the nuts and seeds. Let the granola cool completely for about 45 minutes before adding the dried fruit and coconut flakes.
For extra deliciousness you could add citrus zest, cinnamon or ground ginger or even chocolate chips, but remember to add the chocolate chips when the granola has cooled so they don't melt!
 
Lemon myrtle and wattleseed shortbreads
225 g butter
115 g caster sugar
1 tsp lemon myrtle
3 tsp wattleseed (ground)
340 g plain flour
Pulse half the wattleseed in a food processor briefly to release the aromas. With an electric mixer cream the butter and sugar until it becomes light and fluffy.  Then add all the wattleseed and lemon myrtle to the butter and mix and, on a slow setting, combine all of the flour.  Refrigerate this dough for 2-3 hours until it is firm.
Preheat oven to 150 degrees celcius and line two trays with parchment paper.  Roll the dough to the required thickness between an upper and lower layer of plastic wrap and then cut to size.  Transfer the shortbreads to baking trays and bake for 20-25 mins until golden. You can sprinkle them with extra caster sugar once cool.
 
Panna al Forno
This recipe is for a dessert we have at Locanda Senio on our Northern Tuscany and Ravenna trip. The dish was created by Roberta and perfected over many years. Roberta recommends a few practice goes to get the oven temperature just right!
6 egg yolks
1 litre cream
130g sugar
50g crumbled amaretti biscuits
Make a caramel with 150ml water and 350g sugar and pour into a dish or mould and allow to cool.
Whisk the sugar and egg yolks until they become pale and frothy. Add the cream and amaretti biscuits and pour the mixture in the cooled dish or mould. Then place this in a pan with water half way up the side (bain marie) and cook in the oven at 150 degrees for 2 hours 15mins.
 
Yoghurt and Rhubarb cake
This recipe for yoghurt rhubarb cake was a real favourite whilst hiking on Mount Buffalo just this year. We found the recipe on the Taste magazine website and it was written by Kerrie Sun.
Melted butter, to grease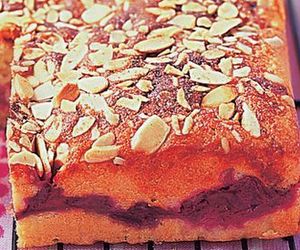 1 bunch (about 700g) rhubarb, trimmed, washed, cut into 2cm lengths
215g (1 cup) caster sugar
200g butter, at room temperature
1 teaspoon vanilla essence
3 eggs
375g (2 1/2 cups) self-raising flour
260g (1 cup) natural yoghurt
60ml (1/4 cup) milk
2 teaspoons brown sugar
1/2 teaspoon ground cinnamon
35g (1/3 cup) flaked almonds
Preheat oven to 180°C. Brush a square 22cm (base measurement) cake pan with melted butter to grease. Line base and sides with non-stick baking paper. Combine rhubarb and 55g (1/4 cup) of the sugar in a baking dish. Cook, covered, in oven for 20 minutes or until tender. Remove from oven and set aside to cool.
Use an electric beater to beat together butter, remaining sugar and vanilla in a bowl until pale and creamy. Add eggs, 1 at a time, beating well after each addition until well combined.
Stir in flour, yoghurt and milk until combined. Spoon half the mixture evenly over the base of prepared pan. Top with rhubarb. Spoon over remaining mixture and smooth surface. Combine brown sugar, cinnamon and almonds in a bowl. Sprinkle cake with almond mixture.
 
Bake in oven for 40-45 minutes or until a skewer inserted into the centre comes out clean. Remove from oven. Set aside for 5 minutes before turning onto a wire rack to cool.
Vanilla Panna Cotta
This was a favourite from Rundell's Alpine Lodge up in Dinner Plain in the heart of the Victorian High Country.
Ingredients for the Panna Cotta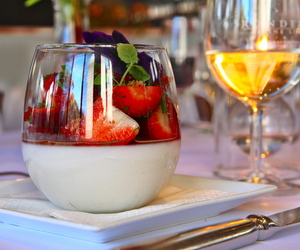 1½ cups milk
1½ cups cream
Cup caster sugar
1 vanilla bean
3 x 5 g gelatine sheets
Strawberries, mint, butterscotch schnapps to serve
Praline
½ cup castor sugar
2 tablespoons cold water
¼ cup slivered almonds
Method
Combine milk, cream and sugar in a saucepan. Cut and scrape vanilla bean, add to the mix and bring to the boil. Remove from heat. Add gelatine and stir until dissolved. Strain liquid, then pour into 6 glasses. Refrigerate overnight.
For the praline, mix sugar and water in a saucepan. Cook for 5 minutes or until sugar has dissolved. Bring to the boil for 5-7 minutes, until golden brown. Add almonds. Stir and pour into a lined baking tray. Allow to cool. Once set, blend in mixer to a large crumb texture.
To serve, cut the strawberries into halves. Place into bowl with shredded mint and schnapps to taste. Add mix to panna cotta glass. Sprinkle with praline to finish. 
Lemon Sgroppino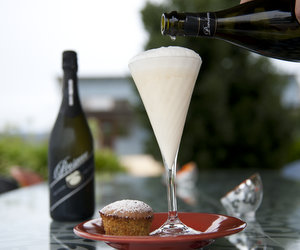 This recipe was given to us by Gwenda at Casa Luna in the King Valley.  Our Victorian Alps and Vineyards tour stays here and we always enjoy Gwenda's great cooking, influenced by her passion for all things Italian. The recipe originates in the north of Italy but is popular all over the peninsula.
Ingredients: (Serves 2)
Approximately 250 mls vanilla icecream, say 2 generous icecream scoops – either home made or high quality
The same measure of home-made or high quality lemon sorbet
1/4 cup fresh lemon juice
30 mls grappa, or vodka
¼ cup limoncello – can home-made, or Italian
Place all ingredients in a blender and process till smooth.  Pour into champagne flutes, to about two thirds full, place on a small plate, and top with a chilled King Valley prosecco at the table.
Lovely with an accompanying sweet treat.  Gwenda usually serves it with little Sicilian pistachio sponges. Her advice is to try to avoid having two, unless you are walking home!!
Apricot Oat Slice
110g melted butter
1/3 cup caster sugar
1 cup plain flour
½ cup of rolled oats
These ingredients above make up the base, combine them all well and press down into a shallow rectangle tin with a lip, line it with greaseproof baking paper initially. Prick lightly with a fork and place in preheated oven at 180c for 12 mins. Then remove ready for the topping.
Meanwhile combine the following ingredients:
2 eggs
1 cup brown sugar
1/3 cup plain flour
½ tsp baking powder
200g of diced dried apricots (you could use dates or other dried fruit)
1 cup of shredded coconut
Carefully spread mix all over the base with a spatula. Continue cooking for another 12 mins or until set. Cool and slice.