In search of the best wine tours in Italy
Submitted by HedonisticHiking on 13 Nov 2018
It turns out that we're not the only ones who love our food and wine! Gastronomic tourism is increasingly big news as more and more people appreciate that delicious wine, eating well, and learning about regional culinary traditions are a valuable part of any holiday experience. So where should you go for the best wine tour or food and wine holiday?
In Italy, every region is justifiably fiercely proud of its cuisine and local wine. Tuscany traditionally offers some of the best food and wine tours in Italy although interest in less tourist-populated regions such as Piedmont and the Abruzzo is picking up speed.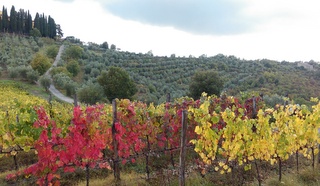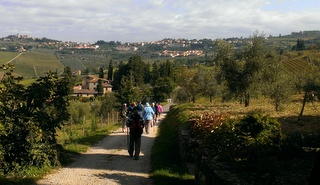 What is changing is that whilst wine-tasting holidays were traditionally taken by those in the know, the focus today is gradually shifting to include people who realise that a wine-tasting or gastronomic holiday can also be a gateway to understanding a region's culture. A hike across the rugged and remote landscapes of the Abruzzo is, in every sense, a world away from the pastoral panoramas of Umbria and Tuscany's Chianti!
Nevertheless, Chianti has been one of Italy's most significant wine-growing regions for more than three centuries and is home to some of the best wineries in Tuscany. If you're looking for a food and wine holiday that takes you off the beaten track, our Tuscan Harvest tour, which includes a stay in Radda-in-Chianti in the heart of the Chianti Classico region, is a good option. Rather than a classic Tuscany wine tour, we set off on wonderful walks to remote castles and formal gardens, hike through the Chianti vineyards, meet local winemakers and even have a go at making our own Tuscan dishes. The tour takes place in September, the best time of year to visit Tuscany, when the vines are heavy with the weight of the Sangiovese grapes before they are harvested to produce Chianti Classico.
Piedmont is another key region for anyone seeking the best wine tours in Italy, thanks to its production of Barolo, one of Italy's greatest wines, as well as Barbaresco and Asti. Sample these world-class wines on our Jewels of Piedmont tour which takes you into the heart of the Barolo vineyards and also takes you through hazelnut groves, on mountain trails and past shimmering lakes.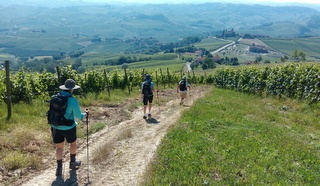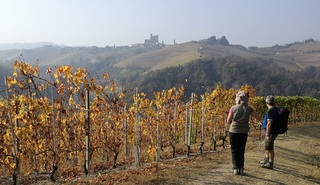 Of course Italy's not the only country to produce tasty food and great wines. Hop over to neighbouring Slovenia or France for more culinary magic. Our France and Italy tour starts in the south of France and the Mercantour National Park, where gourmet meals are paired with delicious wines, before crossing the Alps and heading into the Piedmontese city of Cuneo. Here, specialities include porcini mushrooms, chestnuts and artisan cheeses, washed down with local DOC wines such as Quagliano and Pelaverga from the Collline Saluzzesi. You'll also have the chance to try your hand at making the local pasta.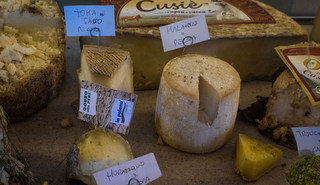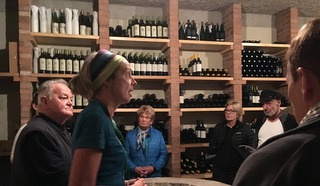 For a better idea of the culinary component of our tours, take a look at our new Sample Menu feature which highlights one of our favourite meals, with wine, for each tour (click on the link above the map on each tour page).