Your holiday checklist
Submitted by HedonisticHiking on 17 Apr 2018
With Spring well on track in Europe and our first tour just a few weeks away, it's time to start thinking about getting organised for your holiday. Although you don't need to think about finding accommodation or booking car hire on a Hedonistic Hiking tour, it's still a good idea to start planning early for peace of mind in the final run-up to your trip. Here are our top ten suggestions for a stress-free break.
Check your kit 
Even if you hike regularly, it's always worth checking your kit well ahead of your holiday to make sure you have everything you need. Our kit list gives full details of what we recommend in terms of clothes, waterproofs and sun protection. The weather in the mountains can be quite variable! Whether or not you bring walking poles is a matter of choice, but the general feedback is that they are a real bonus on the more challenging mountain hikes. Opportunities to buy extra kit once the tours have started are very limited.
Leisure clothes
It's not all about hiking gear! You will need clothes for the evening, but our advice is to keep things light and certainly informal. Read on to make sure you don't exceed our luggage limit!
Hiking boots
Hiking boots with strong ankle support are essential and an absolute requirement on our more challenging tours.  Choose waterproof boots with good grip (look for the Vibram brand on the sole) and if you're a relative newcomer to hiking and are buying new boots, be sure to try them with the socks you plan to wear on  the holiday. For anyone considering buying new hiking boots, plan and buy ahead so you have plenty of time to wear them in.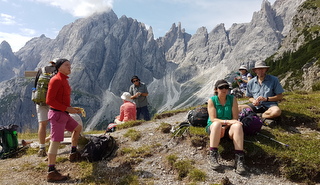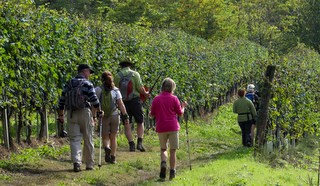 Fitness preparation
While there's no need to embark on a military-style training programme before your walking holiday, you will enjoy it more if you can tackle the walks with ease. Niggling aches and pains and general fatigue can drag you down and distract from the view! If the gym's not for you, think about swimming and increasing your daily steps. Ensure that you do some practice hikes on hilly terrain and hiking trails, not just tarmac.  Pilates is another excellent way of preparing for hiking, improving strength and balance.   We have more information here on being fit to hike.
Passports and documentation 
Allow yourself plenty of time to double-check the validity of your passport and visas, if required.  Some countries require you to have at least 6 months validity remaining on your passport. We also recommend photocopying your passport and travel documents and leaving a copy with someone at home in case of emergency.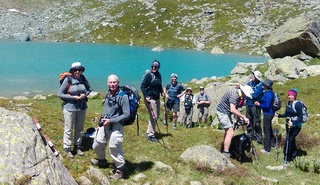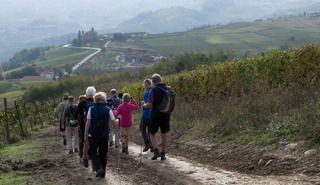 Luggage 
Do check the luggage allowance on your flight so that there are no nasty surprises at the airport! In the case of low-cost carriers (Easyjet, Ryanair) from the UK, you will probably need to check your luggage into the hold. In our minibuses, we are limited to one medium-sized suitcase per person plus your walking day pack, so long-haul travellers on an extended holiday may need to store excess luggage at a pre- or post-tour hotel. There are now car services in Europe which help to move luggage for you if you need to send excess baggage to rejoin you at the end of the tour. See www.sendmybag.com.
Digital equipment
All things electronic are great space-savers.  Plan your holiday reading on your e-reader and clear space on your camera and phone for new photos. You'll also need travel adapters and, of course, your chargers for tablets and phones.
Foreign cash
Sort out your travel money before your trip.  Exchange rates at airport kiosks are much higher and although all meals on your Hedonistic Hiking holiday are included, you will still want some euros.  If you're extending your holiday, we would recommend organising a prepaid travel card.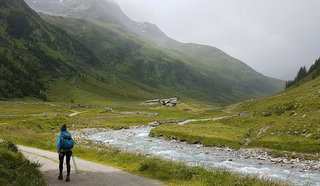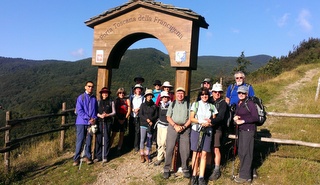 Extending your trip
You may have decided to snatch a few days before the tour starts, or extend your trip after your walking holiday, in which case do check that all your accommodation is confirmed. If your flight times leave you with a couple of hours' free to explore, we can recommend tour guides in several cities, including Rome, Milan, Pisa and Turin, in addition to local taxi services. 
Airport and check-in
Do your research early to decide on the most relaxing and cost-efficient way of getting to the airport. If you decide to drive there yourself, book ahead for the best rates for a parking space at the airport. Before you go, checking in online can take some of the stress and hassle out of flying but be aware that check-in times vary from one airline to another.